Jeep and WSL Create Virtual Reality Surf Experience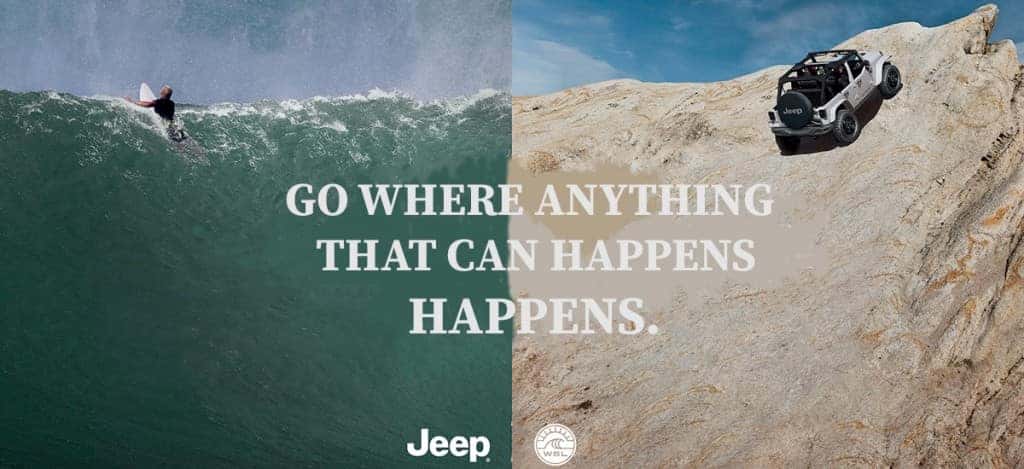 Have you ever wanted to know what it looks like to ride massive waves like a pro surfer? The Jeep brand and the World Surf League (WSL) recently announced the release of the all-new virtual reality experience, Jeep Sessions: A Surfing Journey in 360°.
The new program gives users the chance to see exactly what pro surfers experience out on the water! It gives people an insight into how surfers manage to climb over waves, compete amongst other pros and it also shows the vehicles they use to get to different surf spots, which can come with some challengers.
"Our project goal was to push the boundaries of VR technology to show what a surf trip feels like from the first-person perspective," said director Taylor Steele. And the entire experience is captured beautifully by the Jeep brand and their direct collaboration with the World Surf League.
Fans of the Jeep brand and WSL can view the whole experience online in the video series that has recently premiered. Visit the Jeep.com/en/WSL to find out more information and see these incredible VR captures and additional footage!
The journey of WSL Championship Tour athletes and Jeep brand ambassadors, Jordy Smith and Malia Manuel, is open to anyone who wants to follow their journey surfing around the world. From France to Hawaii, their journey on the WSL Championship Tour is fully captured in amazing high-definition showcasing amazing shots of beaches, surfers and their exhilarating surfing runs over very high and intense waves.
Closer Look Into Pro Surfer Lifestyles with Jeep Brand Ambassadors
When in Oahu, Hawaii, every Jeep brand WSL ambassador has their own Jeep vehicle. From the all-new 2018 Jeep Wrangler to the new 2018 Jeep Renegade, they ride over beach sands and through the Hawaiian forests. These Jeep vehicles are able to handle the off-road routes through all of the beautiful Hawaiian areas showcased in these videos.
These videos highlight the lifestyle of these pro surfers with footage covering every angle. From the 360 degree shots in the ocean to how their Jeep vehicles handle driving over sands safely. Showcasing their equipment allows viewers to see how useful and wonderful these Jeep vehicles can be for them, though they might not be able to handle the waves quite like these pro surfers; the Jeep vehicles can perform these tasks the same way they see in the videos.
"This was a special project to be a part of, and I am excited for the world to experience the journey with us," said Smith. "It is incredible to see all the innovation that goes in behind-the-scenes to bring to life such a unique perspective of our surfing experience. When you're surfing, many people just see the endgame, but it's the whole adventure to find great waves with a friend. When you do, it's the best feeling in the world," added Smith.
The group behind all of the magic is Rapid VR. Rapid VR has captured tons of footage of WSL athletes taking the beaches by storm. With custom built rigs attached to the surf boards, every trip was captured in unique 360 degree views, collecting all the adventure.
"Our project goal was to push the boundaries of VR technology to show what a surf trip feels like from the first-person perspective," said Steele, Rapid VR co-director. "I'm excited to share this. It's pretty incredible knowing my mom can now experience riding a 20-foot wave."  As the virtual reality allows the eyes of the user to control what they see and experience.
Where Your Jeep Adventure Begins
Now that you've seen up close exactly how powerful and useful Jeeps can be, begin your own Jeep adventure with either the all-new 2018 Jeep Wrangler or 2018 Jeep Renegade, visit us at Kendall Dodge Chrysler Jeep Ram. Our friendly staff is here to help you with any buying, selling or trade-in with our entire line-up of Jeep vehicles. Test drive with us any of our new Jeep vehicles or pre-owned Jeep vehicles.
Our top notch servicing team is ready to help with repairs, now or in the future. Just make an appointment, we can help you return to the road safely.