Jeep Brand Expands Badge of HonorAnd Earns Highest J.D. Power IQS Rating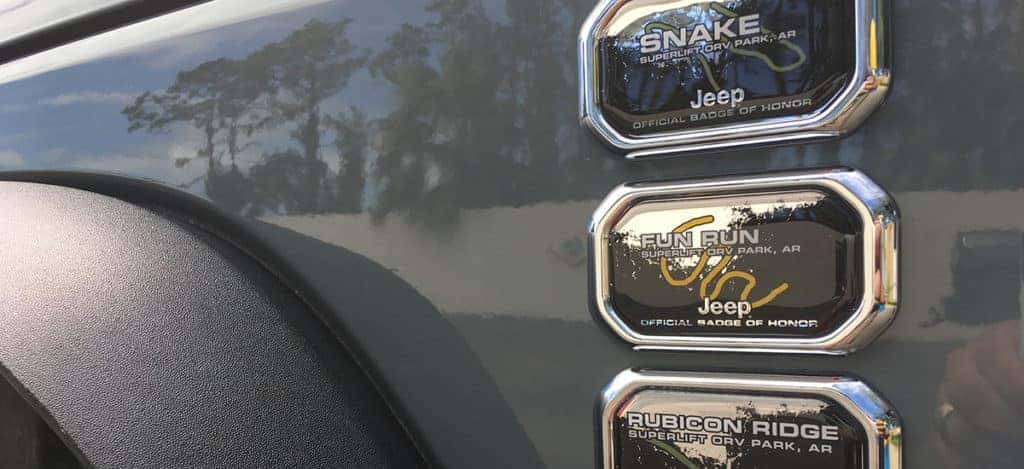 Photo Credit: FCA
The Jeep® brand has grown its Badge of Honor mobile app to reward Jeep off-road aficionados who complete the adventurous journey of off-road trails. Formed in 2013, the Jeep Badge of Honor program presents Jeepers with the ability to capture the experience with others, celebrate the adventures of driving new trails, and the opportunity to earn an exclusive trail badge for their vehicles right from Jeep. Let us share all the latest details concerning the Jeep brand as we touch on various topics from the latest J.D. Power Initial Quality Study and the new Jeep expansion of its Badge of Honor program.  
Jeep Expands Badge of Honor Program
The enlarged program incorporates a new collection of trails, including Northwest OHV Park in Texas, Tread Lightly! Four Wheel Drive Way in Florida and Bearwallow in West Virginia, for an entirety of 56 trails nationwide that includes the renowned Rubicon Trail in California, Hell's Revenge in Moab, Utah, and Imogene Pass in Colorado.
"We created the Badge of Honor program as a fun way to interact with our loyal off-road Jeep enthusiasts, allowing them to do what they love most and earn unique trail badges for their vehicles. The program has really taken off and we often see Jeep vehicles with many different badges that represent conquered trails around the country. With continued program interest, we've expanded the Badge of Honor mobile app with many new features our customers will enjoy," said Jim Morrison, Head of Jeep Brand – FCA North America. 
Jeep Looks To Add More For Customers
The Jeep brand has received straightforward feedback from those who were using the prior version of the Badge of Honor app. The new features are set to include a lot of ideas to track new Jeep experiences. The ability to suggest a trail, show all-new trails, trail check-ins and physical badge requests, enhanced Badge of Honor community engagement with information on upcoming Jeep brand events, the ability to share Badge of Honor accomplishments on personal social networks. There is also a detailed user profile complete with the ability to add and share personal Jeep vehicle information and modifications. Also, the ability to upload and share photos from any trail runs for other fans in the Jeep Badge of Honor community.
For readers that have not gone off-roading, the newly-added Off-Roading 101 section includes off-roading basics, vital safety reminders, a Jeep history of off-roading, information on dealing with different types of off-road terrain and Jeep Trail Ratings. Inside the app is a mixture of trails for all Jeep owners to enjoy. For each beginner off-roader to the expert trail guide, sharing for people to enjoy quick access to the outdoors. 
Jeep Performs Better In J.D. Power Rankings With 2020 Initial Quality Study
If the news about a reformed Jeep experience wasn't exciting enough, the parent company of Jeep, Fiat Chrysler Automobiles (FCA) received good news from J.D. Power. FCA's overall performance rose five spots to a fourth-place finish among the 15 companies evaluated by J.D. Power. This lists the first time in the study's history that FCA exceeded the industry average. J.D. Power studies reported difficulties or issues within the ownership of a vehicle within the first 90 days, per 100 vehicles. This measurement comes up with a score, where the better results are signified with a lower the score. FCA's total of 153 was 13 less than the industry average and 10 less than its nearest competitor.
Jeep surged six spots to 11th place – its best-ever ranking in the annual study, which examines vehicle performance during the first three months of ownership. J.D. Power is a worldwide leader in buyer insights, consulting assistance, and data and analytics. J.D. Power was created in 1968 and has reshaped customer value towards automotive brands by reporting on what is most appreciated and needs works regarding new vehicles. For those interested in driving new Jeep vehicles, check with us in Kendall.
We're Here For You At Kendall Dodge Chrysler Jeep Ram
We're all about helping our customers enjoy their shopping experience, even buying online. We have the 2020 Jeep Gladiator ready, just browse through our new Jeep vehicle inventory to see all our options. We have a friendly and passionate sales team that will make your buying, leasing or selling needs easy for any of our new vehicle inventory. We're happy to be your dealership home. Considering a used vehicle? We have a whole bunch for others to choose from.
Trust us to help you get your vehicle up and running like new with an online service appointment and visit to our service center.  At Kendall Dodge Chrysler Jeep Ram, we know what it takes to provide a worthwhile experience. Allow us the pleasure to help you!