Jeep Brand Shows Off New Gladiator Pickup Farout Concept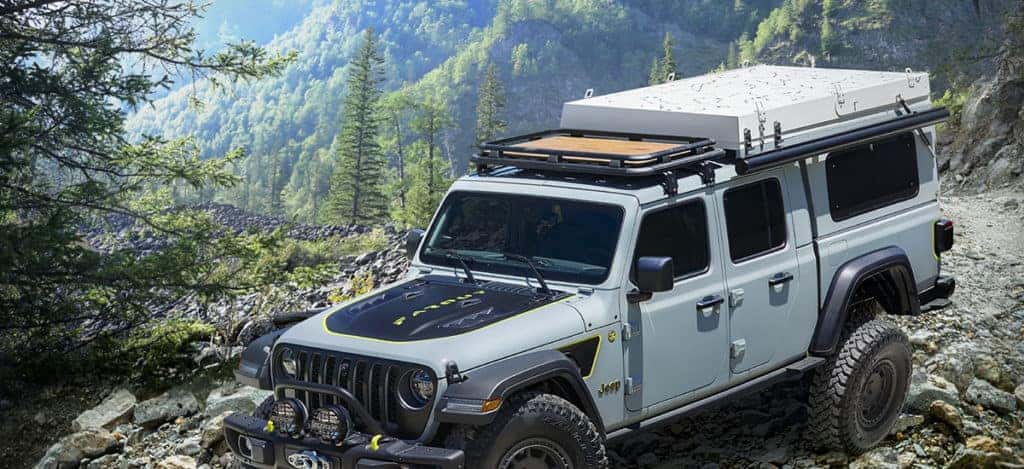 Photo Credit: Jeep
The 2020 Jeep Gladiator was introduced as an all-new mid-size pickup truck that can handle both everyday driving and offering the perks of adventure through off-road travel as few vehicles can. The Jeep brand has now introduced a new Gladiator concept called the Gladiator Overlander "Farout", meant for owners who are planning on camping out using the Farout and it's quite a special vehicle concept. The concept highlights some upcoming Jeep Gladiator traits that owners will gain in the upcoming 2021 model year that will come out later in 2020. 
A Beaut' of A Concept
Jeep included this concept with a 3.0-Liter V6 EcoDiesel engine, a sturdy rooftop tent, and a fully functional refrigerator and stove top. Consider the outdoors an accessible place thanks to this the far (pun intended) reaches of this Jeep vehicle. The Farout concept includes significant strength from its powertrain that supplies 260 horsepower and 442 lb-ft of torque. The specific mpg has not been measured, but the Wrangler that carries the same engine can provide a remarkable 538-mile driving range. Such fuel efficiency will attract drivers when its added to the 2021 Jeep Gladiator. 
2021 Jeep Gladiator Gains EcoDiesel Performance
The EcoDiesel powertrain was added to the Wrangler last year, but will find its way into the 2021 Jeep Gladiator pickup for the first time. The second model-year of the all-new Jeep mid-size truck will improve upon the introductory Gladiator. Offering more for customers the bonus of an improved driving range. The custom-built rooftop tent on the Farout concept is large enough to cover above for nearly four people to sleep protected. The interior of the vehicle has also been upgraded for multi-day adventures, highlighted by wood trim, the aforementioned fridge and stove, a seating area, and table space.
More on the Farout Gladiator Concept
The Farout concept provides the off-road capable prowess owners clamor for. A Jeep joined 37-inch mud tires encased around 17-inch wheels, a 2.0-inch lift from Jeep Performance Parts, and a remodeled bumper outfitted with a winch rated to 12,000 pounds. Custom rock rails run the front and rear of the truck, and the shocks are enhanced to Fox performance suspension. However, this is purely found in the concept for now. While we await all the details that will come with the upcoming 2021 Jeep Gladiator pickup. We're excited about the 2021 Jeep Grand Cherokee that also has new perks added to the vehicle. Check out the 2020 Jeep Gladiator for now as its still phenomenal choice in the ever-growing popularity of the truck segment. 
Drive Home the Latest Jeep Vehicles With Our Help
We're here to assist our customers in many ways, including going out for a test-drive with one of our vehicles from our wide new vehicle inventory. Go through our entire brand new Jeep vehicles to find more choices. We have the all-new 2020 Jeep Gladiator. Whether you're in Doral, Kendall, North Miami, Homestead, we're happy to help our South Florida and local Miami customers. We're professional and here to assist our customers with all buying, leasing, or trade-in offers. 
We have a whole bunch for others to choose from. We can also help our customers out with any auto financing support they might need as well. Don't forget we have a trained service team that can help with an online appointment to get started on all maintenance work and repairs. At Kendall Dodge Chrysler Jeep Ram, we know what it takes to provide a worthwhile experience. Allow us the pleasure to help you today!