Jeep Brand Teams With Now United For Worldwide Renegade Campaign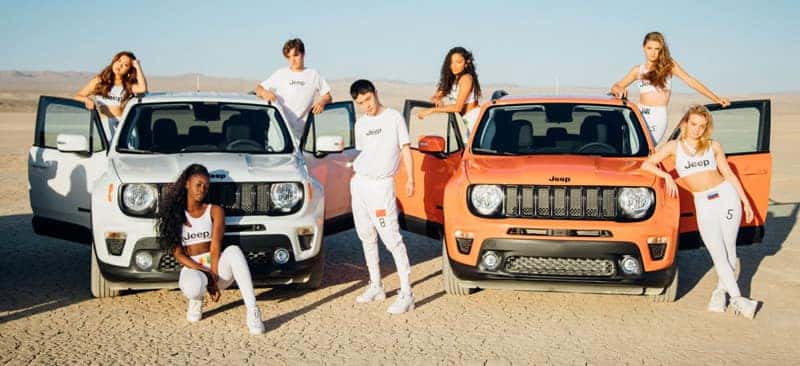 Photo Credit: Jeep
The Jeep® brand has announced an innovative deal with the world's first global pop team, Now United, to showcase the popular new Jeep Renegade through a cross-promotional series of brand integrations. The Jeep brand's digital and social media will include new content that features music videos, updated videos with the music group and Renegade paired, live performances and the unifying theme will be known as "Come Together." The Jeep brand is using this Come Together aspect to help attract attention to the brand's less visible, yet coveted compact SUV, the Jeep Renegade.  
Cross Branded Promotion Serving Jeep Well
The music group Now United offers a presence of over 40 million fans and followers around the world. Jeep has had a banner 2020 with viral videos, including the popular Super Bowl commercial that featured actor Bill Murray reprising his role as Phil Conners, the famous Groundhog Day weatherman. The past month, a series of Jeep teasers were featured on Now United's social media outlets with the campaign formerly being announced on Saturday, March 7, 2020 with the official release of the new Now United song "Come Together." With over 1.8 million views captured in just 24 hours, this campaign has already been a success.
 The Now United partnership was a smart choice as Jeep aims to use digital and social media to capture a new audience for first-time car shoppers.  Now United is a large scale group with 15 group members that are working to produce new content, fresh music, even daily and YouTube shows, and real-time social engagement across multiple platforms including Instagram, TikTok and Twitter. Jeep has supplied matching onstage uniforms for the band members to wear, as pictured above with the Jeep logo on t-shirts.
"The Jeep brand is unique in that it is truly a global automotive brand, one that is instantly recognizable across every continent. Our fans and followers around the world understand that passion, authenticity and freedom drive the Jeep brand. Now United shares these same core attributes with us. As the band undertakes its summer tour, we look forward to a partnership with Simon Fuller that both represents and unites our fans in a way that only Jeep and Now United could make possible," said Olivier Francois, Chief Marketing Officer, FCA. 
Who Is Now United?
For those who do not use those apps or social media platforms that might have missed the formation of Now United, they have strung together an audience across the globe due to their unique talents. Now United is the world's first global pop team, making up 15 different singers and dancers across 15 different countries: Australia, Brazil, Canada, China, Finland, Germany, India, Japan, United Kingdom, Mexico, Philippines, Russia, South Korea, Senegal, Russia, and the United States of America. Now United was formed by music industry icon Simon Fuller, known for this work as a judge in the massively popular American Idol. The group first formed back in 2017. Today, with 40 million followers respectively, they represent a large demographic that Jeep is happy to partner with. 
"I am excited to be collaborating with Olivier Francois, who is a branding genius with an extraordinary innovative mind, and welcoming Jeep as a global partner of Now United. Jeep is such an iconic brand and we share their powerful spirit and sense of adventure. Jeep's involvement in our Come Together video is the first of many pioneering things we plan to do together, which will empower new ways to collaborate and engage our fans around the world," said Simon Fuller. 
Shop With Us To Drive the Latest Jeep Vehicles
Come find the 2020 Jeep Renegade at Kendall Dodge Chrysler Jeep Ram right now. Our professional and friendly sales staff will be happy to assist you with either or any of the newest Jeep vehicles in our large selection of new vehicle inventory. If you're wondering if you should buy or lease? We can help you make the right decision. From trade-ins to selling, we're ready to provide a solution. 
Want to get started on a vehicle repair on your current vehicle? Our professional service team handles repairs and regular maintenance daily. With an online service appointment, we can get started to making you a happy customer. We look forward to seeing you soon at Kendall Dodge Chrysler Jeep Ram. Stop by today!