Jeep Expanding 4xe Vehicles Perks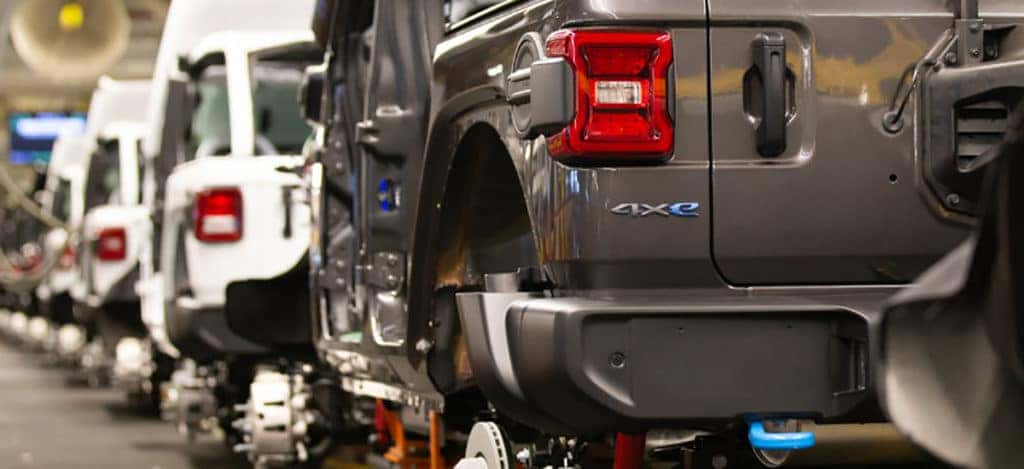 The perks of Jeep are obvious with the amount of decades entrenched in a rich history that dates back to the days of World Wars and life decades before television, let alone the internet. Keep in mind, Jeep has pushed ahead and sought to advance technology as a main focus and continues to do so this decade. Some of the highlights include the introduction of 4xe trim. Jeep also created the Wrangler 4xe; the first-ever hybrid to offer all-wheel-drive. We know even with new tech, Jeep is pushing ahead with making their rides have the same appeal they have always had.
More On 4xe Trims In the Future For Jeep
The next move for Jeep involves getting closer to holy grail of EVs; an entire lineup of EVs. That could one day be the future for the entire lineup. Look at the Jeep Grand Cherokee 4xe that brings a total driving range of 470 miles, as the Grand Cherokee is set to gain even more attention. The EPA Energy consumption in EV mode supplies 56 highway MPGe and 57 MPGe ratings. The new Jeep Grand Cherokee 4xe will begin at $57,000 MSRP (Plus destination fee).

More Options From Jeep 
The next move Jeep made recently was adding the new Jeep Grand Cherokee L to the lineup as we have already seen the next EV to come to a new Jeep.  The Jeep Grand Cherokee already has its 4xe trim. Sales numbers will show a lot more promise as customers discover these Jeep vehicles. As many owners can tell, SUVs are very prevalent in North America, as are luxurious new pickup trucks. Jeep could offer a 4xe version of the Jeep Gladiator pickup. We can't wait to see what the beloved Gladiator would look like, as well as the Grand Wagoneer and Wagoneer luxury SUVs offering the 4xe.
"We are fully committed towards a vision of zero emission future, and by 2025 we will be offering a zero-emission fully electric Jeep 4xe in every SUV segment."
Jeep is looking to become more efficient in the way they build their vehicles and one surefire way is to create EVs that keep down the number of greenhouse gasses and stay true to the Jeep brand's goal of being the green company they are. Want to see the exciting future of the Jeep lineup? 
New Jeep Vehicles Waiting For Your Test-Drive!
Go through our entire brand new Jeep vehicles. We're more than able to assist our customers for any buying, leasing, selling, or needs they may have. We can also help buyers trade-in their current vehicle. Our knowledgeable sales team shows off all our new vehicle inventory and high-quality pre-owned vehicles with pride. 
Not sure if your current vehicle is running well or needs some work? We're here! We are able to make sure you're back on the road fast with our experienced service staff. Make an online service appointment and we can help you with your vehicle problems. We look forward to being your center for all things automotive. Check with us today at Kendall Dodge Chrysler Jeep Ram and we'll be there to support any of your automotive needs.