Jeep Made of Cans Benefits Worthy Cause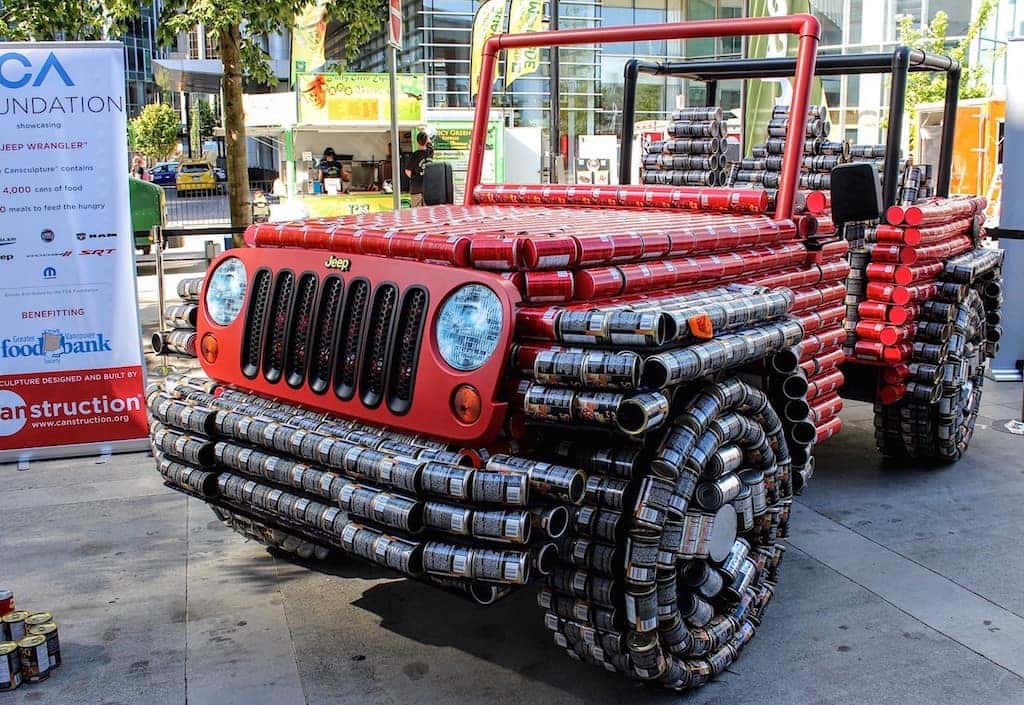 Those Canadians are nice people, eh? So are the people over at Jeep, so it shouldn't be much of a surprise that the brand teamed up with a foundation to honor Canada and help out a worthy charity.
How did they go about doing this? They had a group of teenagers design a new Jeep vehicle. However, you likely won't find this SUV sitting on your nearby South Florida Jeep Dealers' lots…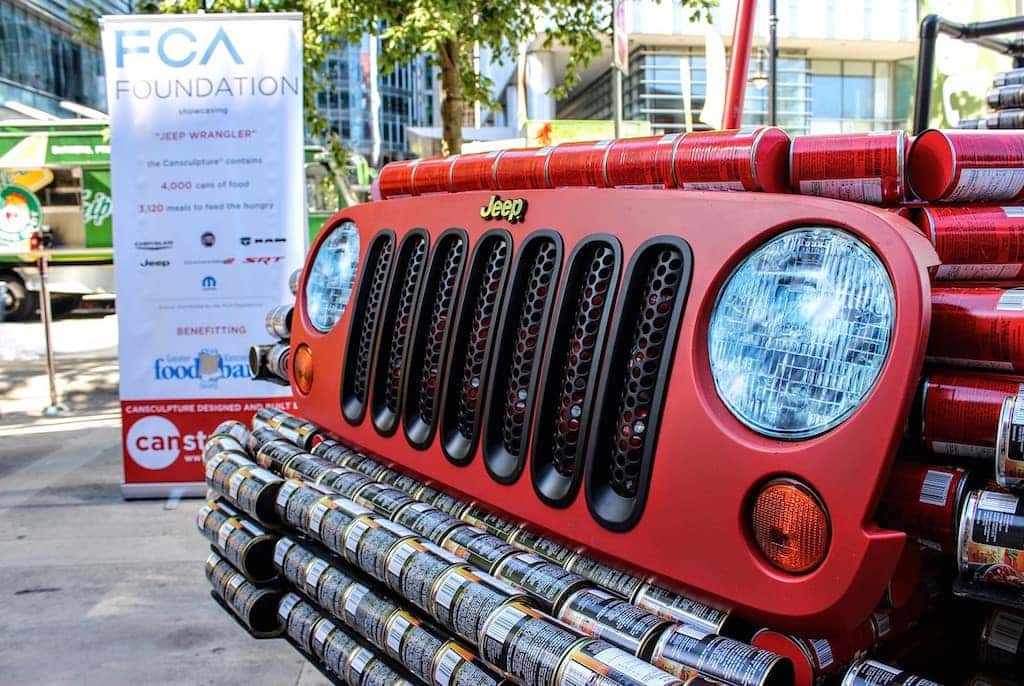 In honor of Canada Day (which was on the first of July), Jeep created a Wrangler made entirely of canned goods. The 12-hour project was completed by a group of 12-18 year olds, and their work was displayed on Vancouver's Canada Place waterfront throughout the duration of the Canada Day festivities. The public was allowed to take a "ride" in the Wrangler, with the hope that they'd share their #JeepCanselfie on social media.
Jeep teamed up with Canstruction Inc., a charity group focused on "fighting hunger and poverty, [serving] the community, and [promoting] science, technology, engineering and math," as Noah Joseph of AutoBlog.com explains. When the replica Wrangler is finally removed from the waterfront, the organization will help dismantle the project. The 4,500 cans of food will then be used to provide an estimated 3,120 meals through the Greater Vancouver Food Bank Society.
"This unique Canada Day Canstruction project not only serves as a tool to raise awareness for issues of hunger and poverty in our country, it also demonstrates to the students involved how critical – and fun – subjects like science, technology, engineering and math can be," FCA Canada (formerly Chrysler Canada) President and CEO Reid Bigland said in a statement. "This project also provides a wonderful opportunity for us to give back to a community that has helped drive FCA's success in Canada."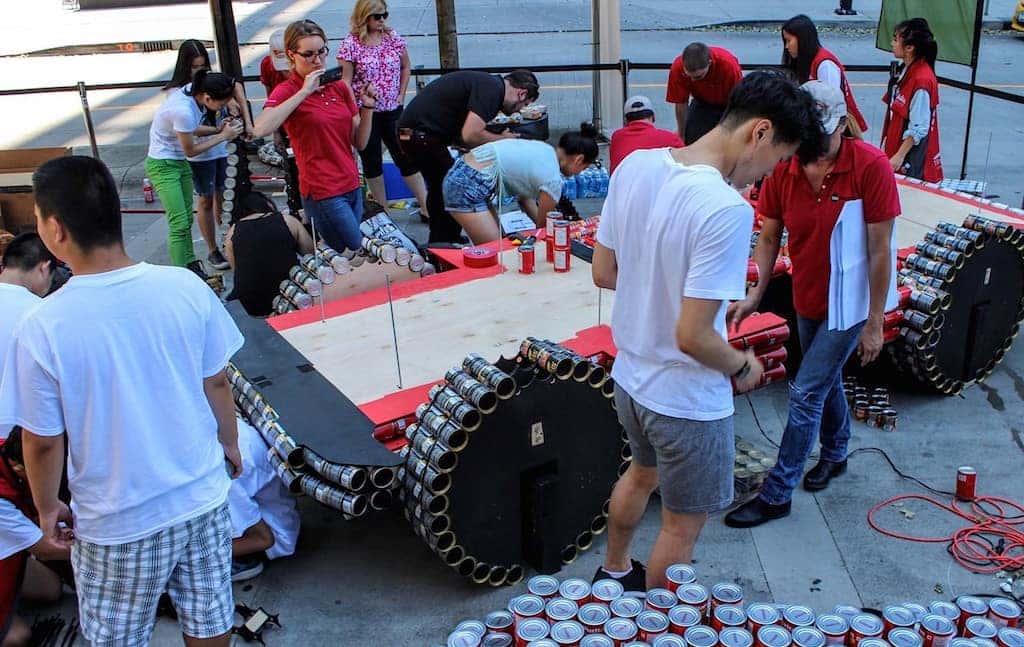 As Bigland also noted, the FCA is currently the top-selling automaker in British Columbia, and the Jeep Wrangler is the best-selling small SUV in the country.
This isn't the first time we've seen FCA Canada and Canstruction team up, as the groups constructed a "canny" Dodge Grand Caraven to celebrate the van's 30th anniversary. That 30,000-can design ultimately led to the distribution of 2,000 food baskets via the Daily Bread Food Bank.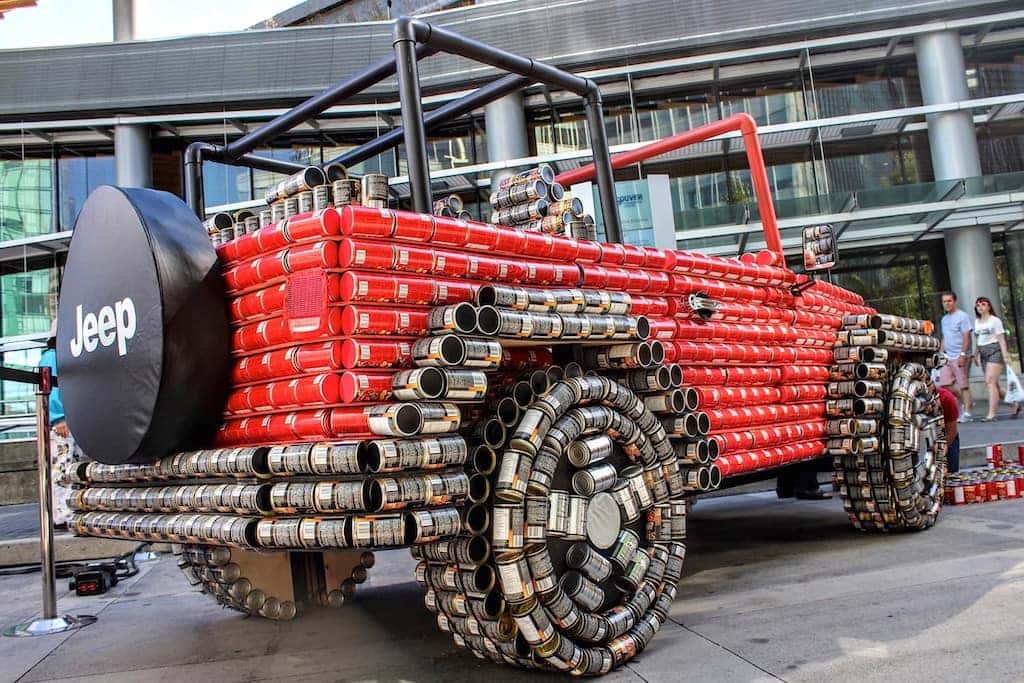 As mentioned earlier, you won't find this replica vehicle on any car lots (especially since it's been dissembled). The idea's clearly brilliant, however, and visiting your local Jeep dealership (like, for instance, Kendall Dodge Chrysler Jeep Ram in Miami, Florida) may inspire you to construct your own creation!