Jeep Miami
There is just something that sets Jeep apart from other automotive brands. It's probably the brand's distinguished reputation for precise design and sound build. If you are already a loyal Jeep driver, you'll be excited by all of the latest features. If you don't own one yet but think it might be brand for you, keep reading to learn more about all Miami Jeep dealerships have to offer.
Jeep Culture

We've all witnessed the insider Jeep wave or pulled up behind someone with a bumper sticker that reads "It's a Jeep Thing…You Wouldn't Understand!" Similar to motorcyclists, Jeep owners have a shared passion for a type of vehicle that takes you out of the norm.
When you drive away from your Miami Jeep dealer in a brand new Jeep vehicle, you can go anywhere, which makes life more exciting and fun. It opens up new possibilities. And Jeep drivers in Miami feel confident because their vehicles don't lose traction or get stuck; they can be relied on. No matter if you're talking about the Wrangler or one of the company's lavish SUVs or Crossovers, Jeep can take you further than anyone else.
The fascinating thing about Jeep culture is that it isn't limited to a specific type of person. Some owners have lots of money and some don't have as much. Some use their vehicles for the whole family and some are lone explorers. There isn't any one thing that Jeep owners have in common other than the fact that they deeply love Jeeps.
In addition to unparalleled off-road abilities, many owners also seem to share these reasons for loving their vehicles so much:
They can be modified to suit the drivers' needs or to showcase personal style.
Repairs are simple and inexpensive.
Passengers love riding in Jeeps. They're a blast, and everyone wants to join in.
You look forward to driving every day when you own a Jeep; it's not a chore but a privilege.
If you haven't joined the Jeep club yet, wait until you see the new Renegade to down to a Jeep dealer in Miami. Its versatile design is a great way to get acquainted with the brand. And if you're already a diehard fan, you'll enjoy all of the timeless Jeep qualities it encompasses.  
Jeep History
This firmly rooted Jeep culture came out of nowhere. It's based on years of trust in the brand. Throughout the decades, Jeep's hardy vehicles have protected American soldiers, safely taken families to their outdoor destinations, and steadfastly roughed it through the wilderness with enthusiasts.
It's no wonder that Jeep has been named America's most patriotic brand for the last two years in a row. Consumers gave it higher ratings than other big-name companies like Coca-Cola and Levi's. Jeep dealers in South Florida work hard to preserve its history. The body structure of each of their vehicles maintains the same look and feel because it's representative of the Jeep story.
However, honoring their heritage does not mean that Jeep isn't always on the leading edge of innovation. The variety present in their lineup shows just how serious they are about creating high-quality models that are for everyone. Any of their vehicles can take off down the trail or hit the highway because performance is Jeep's number one concern. Consider the exceptional style, comfort, and features an added bonus.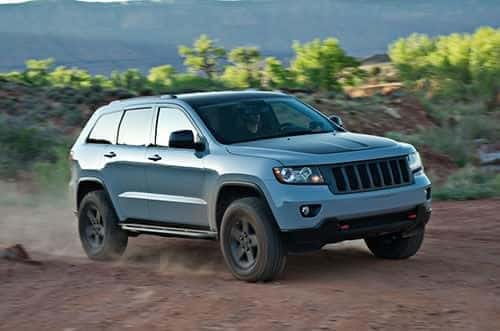 Jeep Functionality
Jeep develops top-of-the-line options for power and agility and lets you choose. With many models, there are several different engines and four-wheel drive systems that you can select to match your off-road habits. In some Jeeps, you can switch between two and four-wheel drive easily at speeds up to 55. Locking differentials also evenly distribute power and give better traction on a slippery or loose terrain.
Jeep's smart Selec-Trac and Selec-Terrain systems have multiple modes to help increase traction no matter what kind of whether you're driving in. The Grand Cherokee even has Quadra-Lift, an air suspension system that can raise and lower the suspension to reach optimum height for traveling on trails versus pavement.
No other brand provides the same kind of adaptability that Jeep does. With an exciting array of options geared toward off-road performance, Jeep does a phenomenal job melding form and function.
The Newest Jeep
One of their most exciting releases ever, the Renegade, Jeep's new crossover, is aimed to hit the market in 2015. The Renegade is for everyone. It's meant to open the door so even more people can enjoy fall in love with the brand.

The starting price will most likely land between $15-20,000, making it very affordable for those of you looking at your local Jeep dealership in Miami. Consumers won't have to just stare at this model and dream. With such reasonable pricing on this Jeep, Miami dealers are expecting the Renegade to become one of the brand's most popular vehicles. It's a great balance between the Wrangler and the Cherokee in both cost and design. It comes with a lower price tag, but still has plenty of power. It also has a polished look that may be a better fit for some. The appearance isn't as intense as the Wrangler, nor is it as large as the Cherokee.
It's the Jeep for everyone. It has a 2.4L Tigershark engine and an exclusive nine-speed automatic transmission that give it the power needed to crawl and handle the messy terrain. Throw in the fact that it has great fuel economy, and what more could you ask for? Though it's not official yet, it's rumored to get 30 miles per gallon on the highway. That's pretty excellent for a four-wheel drive vehicle.
And in terms of the interior, Jeep didn't let any creative idea go to waste. Off-road trail maps are actually embossed on different areas in the cabin. Other parts of the interior are based on the styles and colors of outdoorsmen gear. Jeep wants the Renegade to give drivers a feeling of genuine adventure.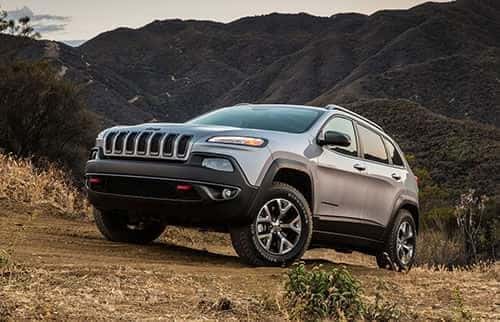 Vehicle Overviews
Each model in Jeep's unique lineup has been created with Jeep dealer customers in mind. What works best for drivers who think outside the box and lead exciting lifestyles? In the following models, Jeep has answered that question. And if you're looking for even more added touches, all vehicles are available in several trim levels as part of Jeep's Altitude lineup.
Cherokee
This SUV comes in one nice package. It's got it all. Fit everyone and everything you need. Drive to somewhere adventurous in a vehicle that doesn't falter. And on the way, relax in a cabin full of intuitive details that will make your drive a gratifying experience.
Starting at $24, 995
Up to 31 miles per gallon on the highway
Engine options:

2.4L Tigershark I4 / 184 hp
3.2L Pentastar V6 / 271 hp
Compass
The sophisticated look of the compass flows between its exterior and interior. A leather-wrapped steering wheel, power sunroof, large cargo area, and advanced sound system guarantee that you'll quickly fall for this dynamic SUV. It's also packed with features to give you high performance and keep you safe.
Starting at $18,795
Up to 30 miles per gallon on the highway
Engine options:

2.0L DOHC 16V / 158 hp
2.4L World / 172 hp
Grand Cherokee
If you want luxury, look no further. With more amenities and power than you could have ever imagined, the Grand Cherokee rises to the top. A welcoming interior with wood accents and leather trim demonstrates Jeep's flawless attention to detail. Choose from three engines that can each uphold Jeep's promise to take you anywhere, anytime.
Starting at $29,495
Up to 30 miles per gallon on the highway
Engine options:

3.0L EcoDiesel V6 / 240 hp
3.6L Pentastar / 290 hp 5.7L V8 / 360 hp
Patriot
Ranked as number one on Kelley Blue Book's list of the most affordable SUVs, the Patriot gives big comfort and functionality returns. Even with a build intended to accommodate multiple passengers and lots of cargo, it has highly impressive fuel economy. Industry experts have also acknowledged it for exceptional safety. It's clear that this compact SUV was thoughtfully designed.
Starting at $16,395
Up to 30 miles per gallon on the highway
Engine options:

2.0L DOHC 16V / 158 hp
2.4L World / 172 hp
Wrangler
The Wrangler comes with all of the unsurpassed off-road tenacity that Jeep commands contained within a state-of-the-art design. Built for ultimate enjoyment and usability, you'll find that Jeep had fun packing this one full of features. From a Uconnect navigation system to a superior sound system, The Patriot has everything you need no matter where you want to go.
Starting at $22,395
Up to 21 miles per gallon on the highway
3.6L Pentastar V6engine / 285 hp
Wrangler Unlimited
The Wrangler Unlimited takes off-road capabilities up a notch for those who have a serious need for adventure. It includes special features like sway bar disconnect to drop front wheels further and the Rock-Trac four-wheel drive system that allows for lower speed crawling with increased torque. This is one Jeep Miami drivers love to put to the test.
Starting at $26,195
Up to 21 miles per gallon on the highway
3.6L Pentastar V6 engine / 285 hp
Grand Cherokee SRT
This powerful SUV can shoot from 0-60 miles per hour in 4.8 seconds, showing off the ability of its intense engine. Unbelievably, this vehicle can bring you back down from 60 mph to a complete stop in only 116 feet. And its new eight-speed transmission improves performance and fuel economy.
Starting at $64,380
19 miles per gallon on the highway
6.4L HEMI V8 engine / 470 hp
Owning a Jeep in Miami
Miami is the perfect place to own a Jeep because you can take it for a ride on the beach or explore one of Florida's many scenic trails. Breathe in the fresh air from behind the wheel of a Wrangler or open up the sun roof in your Compass. These vehicles are made so you can take pleasure in the beautiful outdoors.
Because your Jeep can take you to spots that other vehicles can't reach, you'll be able to expand your horizons. Pick out new favorite places to kayak, mountain bike, camp, and just plain relax.
You can even join one of Miami's off-road clubs. Mingle with other Jeep lovers and find out where they go when they leave the pavement.
Now that you've seen an overview of all the models' Jeep has to offer, we hope you'll start planning your next or first Jeep purchase. Whether you're looking to upgrade to a newer model or if you're ready to test drive your first Jeep, we can help. Explore our inventory online and come to our dealership for a visit so you can see what makes Jeep so unique.