Jeep Promises New Concepts Will Be Revealed In 2020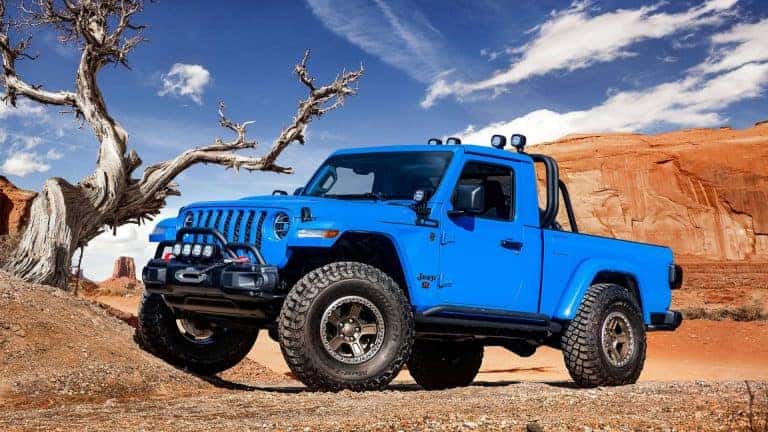 Photo credit: Jeep
Some great news came in an announcement by Jeep and parent company Fiat Chrysler Automobiles (FCA) last week. While the Jeep brand has announced they are not going to officially debut new concept Jeep vehicles at the 2020 Easter Jeep Safari, they will find a new location and time to do so. Working on this goal for a later date in 2020 is welcomed news to Jeep fans around the world. Autoblog spoke with FCA to report the news and a Jeep spokesperson has confirmed the report. Surprisingly, the Easter Jeep Safari is now set to go through with its 2020 event. This will continue the tradition of the Jeep Safari, which has run successfully for over 53 years. 
The Show Must Go On!
The city council of the tourism-driven town of Moab, Utah has very few events that gain as much attention and visiting tourists as this annual event. While the outbreak of the Coronavirus has cancelled nearly every social event, the difference between the Easter Jeep Safari is how it requires very little human contact. Social distancing is able to be maintained, thus allowing organizers to continue the event. Large groups will gather, but anyone that travels to Moab is going to be in their own Jeep vehicle and no interactions have to take place. This is a very visual event with lots of Jeep vehicles showing up with modifications on their rides and people just hoping to show off and see other Jeep products with unique looks. 
The measure to have severe restrictions on any large gathering was reversed in order to make this event happen next April. The news while shocking, only proves that the love for Jeep vehicles and continuing tradition is as strong as ever in Moab, Utah. The Jeep Safari is one of many that take place as a part of the Jeep Jamboree series across the United States. The Moab Jeep Safari is among the longest with over nine days worth of riding Jeep vehicles throughout the desert terrain and over the famous Moab trails of rocks, with thousands of Jeepers enjoying the off-road treks. 
Jeep Brand As Beloved As Ever
We love the Jeep brand as well here at Kendall Dodge Chrysler Jeep Ram and can't wait to get started to share our newest Jeep vehicles to our customers. We can fully help our customers to get the right Jeep vehicle they are looking for, including the new 2020 Jeep Wrangler and highly-popular 2020 Jeep Gladiator. For those who can't wait to find out the details of the upcoming Jeep concept vehicles set to be revealed at a later point in 2020, check out what the best concept Jeep vehicles were like last year. We covered all the best concept vehicles and hope to see a few more surprises sooner than later. We'll provide the coverage of when the new 2020 Jeep concepts debut, just like we always have. For now, take a look at the current Jeep line-up ready to go for our customers. 
Find the Newest Jeep Vehicles Today at Kendall Dodge Chrysler Jeep Ram
At Kendall Dodge Chrysler Jeep Ram, we know we will do our best to take care of our customers. From sales to servicing, we're here to assist! If you're hoping to go off-roading, we can help make sure your Jeep is ready to handle the adventure. We have the new Jeep Wrangler ready for your test-drive. If you're wondering if you can buy or lease? We can help you make the best decision. From trade-ins to selling, we're here to provide a solution.
Our knowledgeable servicing team handles repairs and regular maintenance every day, we look forward to helping your vehicle return to top shape. With a simple online service appointment, our service team can begin making you a satisfied customer. We look forward to helping you out!