Jeep Renegade, Compass Gain Electric Powertrain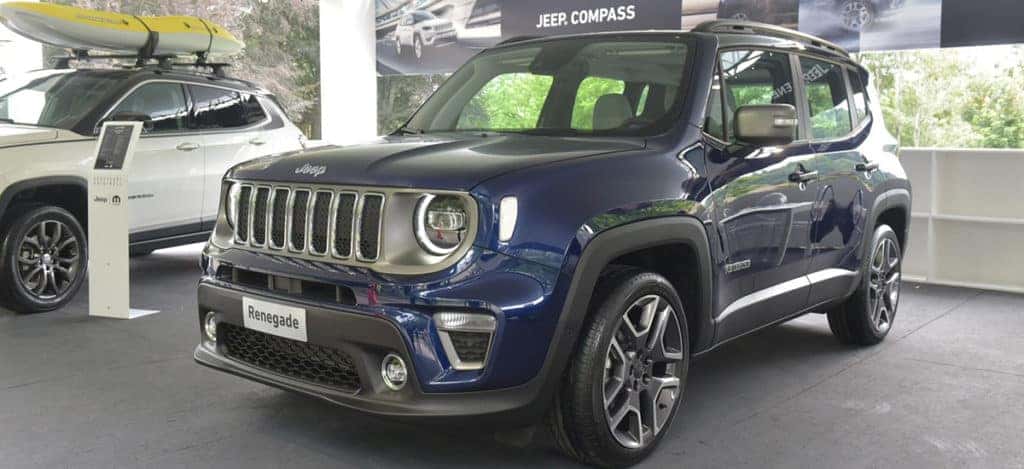 Photo credit: Jeep
Fiat Chrysler Automobiles (FCA) set aside $4.5 billion to help prepare for the future of their vehicles by investing in their Michigan production plants. A large part of the goal is to increase its plug-in hybrid vehicles. In the future, Jeep will have quite a lot of new technology to help boost fuel economy. Jeep is advancing with its electric future with the all-new Grand Cherokee set to arrive in 2021. Today, two new Jeep vehicles have been released with electric power; the new 2019 Jeep Renegade and new 2019 Jeep Compass.
2019 Jeep Renegade
The 2019 Jeep Renegade is the smallest SUV in the current Jeep lineup. This year, owners gain the latest powertrain option in a new turbocharged 1.3-Liter gasoline that is paired with an electric motor. In electric mode, an owner can hit a top speed of 81 mph. A refreshed look comes with reshaped fascias and newly available LED headlights and taillights. A sharper look than the previous Renegade, moving away from the boxy appearance the Renegade carried.
The Renegade provides four trims ranging from the base trim Sport, Latitude, Limited, and Trailhawk. Additional features for the 2019 Renegade include new wheel designs and exterior colors being added. There will no longer be a manual transmission as the nine-speed automatic takes over. There is an option for a 2.4-Liter powertrain that gains 240 horsepower as well. Both engines come with standard front-wheel drive or the optional all-wheel drive. The new 2019 Jeep Renegade starts at $22,025 MSRP (plus destination fee).
2019 Jeep Compass
Drivers looking for a fantastic, more traditional looking SUV can opt for the new 2019 Jeep Compass. The 2019 Jeep Compass also carries the same powertrain as the new 2019 Jeep Renegade. The new 1.3-Liter gasoline engine paired with an electric motor helps the Compass stand out. The 2019 Compass provides 23 city and 32 highway mpg for solid gas mileage. The Compass shares the same four trim names as the 2019 Renegade and a similar starting price at $21,845 MSRP (plus destination fee). Roomy seating and high-quality materials are found inside as the same nine-speed transmission is also inside the Compass.
More On Both New Jeep Vehicles
Both the 2019 Renegade and 2019 Compass can travel on the electric battery power alone up to 31 miles before the battery is out of energy. Each vehicle gains a new unique instrument cluster and infotainment screen showing all the latest details regarding the efficiency gains and they will both offer faster acceleration and engine response with the electric-infused powertrain. Those looking for a way to save some money on their day-to-day travels will be wise to take a look at either of these new Jeep vehicles. But, where to buy or lease one? We know just the place to come in for a test drive today and experience these fantastic offroad capable SUVs.
Find the Jeep Vehicle You've Always Wanted
We have the new 2019 Jeep Compass and new 2019 Jeep Renegade at Kendall Dodge Chrysler Jeep Ram right now. Our professional and friendly sales staff will be happy to assist you with either or any of the latest Jeep vehicles in our large new vehicle inventory. If you're wondering if you should buy or lease? We can help you make the right decision. From trade-ins to selling, we're ready to provide a solution.
Our professional service team handles repairs and regular maintenance daily. With a simple online appointment, we can get started to making you a happy customer. We look forward to seeing you soon at Kendall Dodge Chrysler Jeep Ram.