Jeep Shares Teaser of Two New Concepts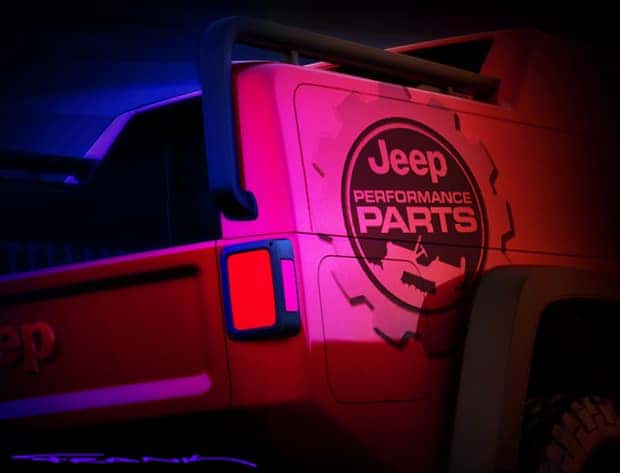 Jeep is starting its own Easter egg hunt a few weeks early. Instead of chocolate or other treats, these Easter eggs contain nuggets of information about the new Jeep Chief and Jeep Wrangler Red Rock Responder concepts. Jeep is teasing these concepts ahead of its annual Easter Jeep Safari, which will take place on March 28 in Moab, Utah.
Jeep plans to release seven new concepts at the Easter safari, but it only teased information about two of them. Not many details were released in either the press release or the photos, including whether either vehicle could be found at Jeep dealer later this year.
Very little is known about the Jeep Chief. The photos show only a small patch of the vehicle, which has a boxy design with squared wheel arches and vintage-style tail lights with chrome bezels. Other details include a sloping tailgate and long sides with graphics.
Some industry insiders believe that the Chief will harken back to the 1960s' and 70s' Jeepster, which was created to compete with the Ford Bronco and International Harvester Scout. The Jeepster was produced as a station wagon, pickup and convertible, so if the new Chief takes its inspiration from this retro model, Jeep fans may have several options for the model.
A fully convertible option is unlikely for the Chief since the teaser photo appears to show exoskeleton roll bars.
The image for the Jeep Wrangler Red Rock Responder shows a truck bed and a decal indicating the model will use Jeep Performance Parts. FCA officials said that all seven new Jeep concepts will use performance parts.
Little other information was provided about either model, nor was revealed in the photos. Fortunately, Jeep fans won't have to wait until the Easter safari starts on March 28 to get more information. Jeep plans to release more information and photos for all seven concepts next week. Of course, the automaker could still play things close to the vest and keep those details as limited as what was released for the first two models.
Luckily, we'll all get to sample the treats from our collective Easter baskets once the safari is in full swing from March 28 to April 5. All the details will be revealed then, including full photos and information about when you can expect to buy any of the models at your local Jeep dealer. We'll be keeping our eyes open for any information before then!