Jeep Wrangler Lifts For Different Types of Off-roading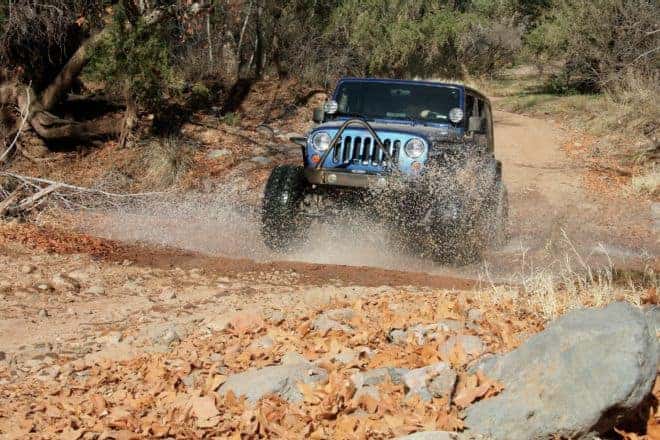 Have you been struggling with trying to figure out which Wrangler lift is for your Jeep? Well, it all depends on what kind of off-roading you like to do. Are you a mudder, rockcrawler, trailblazer or water forder? Depending on the answer to that is the answer to which lift is for you.
Mudding
Mudding requires a set of big ole mud tires, which are typically 32-inches or more. With that being said, you will need a lift kit that can accommodate bigger tires. A suspension lift kit (generally four-inches or higher depending on tire height) could be exactly what you need for your Jeep. This type of lift will likely be big enough for your tires and give your Jeep enough clearance to prevent it from bottoming out.
Rock crawling

Like mudding, ground clearance is key for rock crawling. This requires bigger wheels, tires, and of course a Wrangler lift kit, but which one? There are lift kits known as "Rock Krawler" kits which are made for this very purpose. Most are five-inches or higher, but the more clearance you need, the higher you will need to go. Consider the height and angles you will be working with when crawling.
Trail Riding
The difficulty of trail riding depends on where you ride and what level of driving skill you have. Regardless, trails usually include some mud, inclines, and even a bit of rock crawling. With that being said, if you plan to hit the trails you will want to be prepared. Suspension lift kits are good for trail riding. A suspension lift will keep your Jeep leveled throughout any type of terrain you may experience on the trail. The height really depends on the type of off-roading and if you plan on adding new tires with the lift.
Water crossing
Some people are into crossing water. Of course if this is you, you have probably already added or plan to add a snorkel to your Jeep, but you can benefit from a lift kit as well. The deeper you plan to go, the higher you should get the lift. At a slow speed, a Wrangler can already ford up to 30-inches of water. Each inch of your lift allows for higher clearance (and more water fording capability).
Need a new Jeep to lift up? We have plenty at Kendall Dodge Chrysler Jeep Ram Check out our inventory online here. You can also contact our parts department for questions and products to get started modifying your Jeep for your driving needs.
Photo source: Four Wheeler Network