Jeep's Moab Easter Safari concepts teased early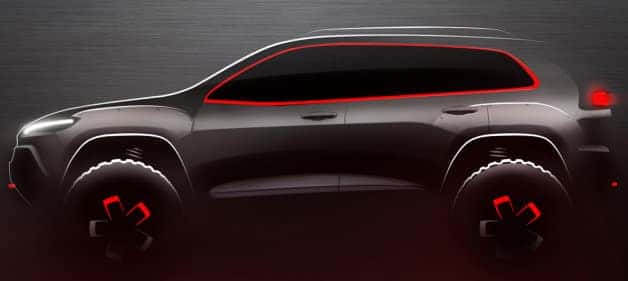 Lots of automakers have traditions. Jeep, however, has one of our absolute favorites, as it brings about some awesome vehicles. We are talking about Jeeps annual tradition of debuting wild, new concepts during its Easter Jeep Safari, and thankfully, this year looks to be no different. As a Jeep dealer, Miami is the perfect location for us, but we would love to be in Utah this year for the event! The automaker has already confirmed two of the six vehicles for 2014 in the Cherokee Dakar, which is shown above, and the Wrangler Mojo.
The event is running this year in Moab, Utah, from April 12-20. As of now, there are no official details about either of the concepts, but don't fret, as Jeep is planning to release more info on the new models next week. We can begin to to make some details by looking at the pictures, though. The Cherokee Dakar appears to be lifted with some knobby off-road tires. The Wrangler Mojo looks to have a bulging hood, which might hint at a more powerful engine hidden underneath.
In the past, there have been some great Jeep concepts. Included amongst the ranks are a Hemi V8-powered Wrangler, a classically inspired pickup and modernized Jeep Forward Control. This event is really the brand's chance to express itself every year with new and fantastic concepts. We are eager to see if they have anything else spectacular up their sleeve for this year, but it seems like we will just have to wait it out until the event. We don't know about you, but we are so excited. Is there anything you would like to see from Jeep this year? Let us know in a comment!