Join Fellow Jeepers In Upcoming Jeep Jamboree Events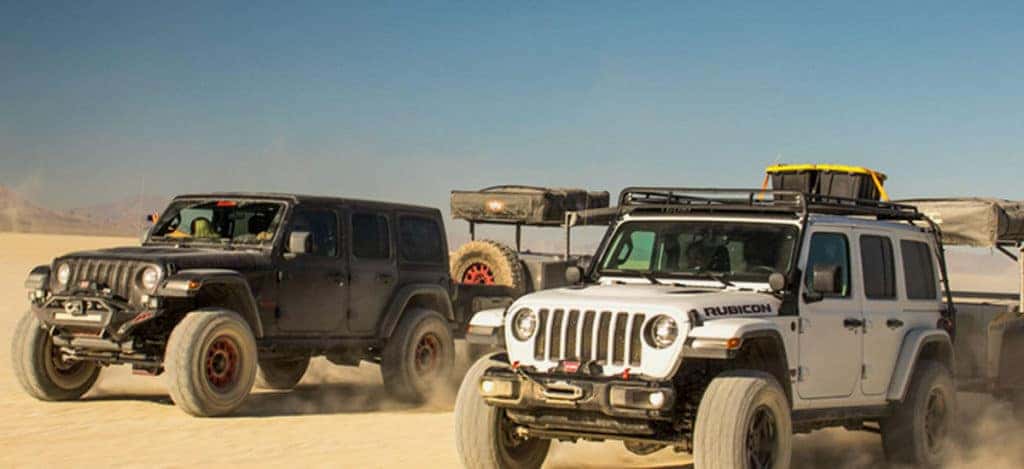 Photo credit: Jeep
Jeep®  owners are commonly referred to as Jeepers, based on their love for their prized Jeep vehicles. They love exciting off-road drives and the real enthusiasts are found at Jeep Jamboree USE events. Halfway through the year, there are still plenty of remaining Jeep Jamboree USA events just about everywhere in the U.S. for those who are looking to show off their Jeep vehicle, perhaps new owners of the 2020 Jeep Gladiator. Love traveling and enjoying the great outdoors? So do we as we want to remind our readers of all their options. Each Jeep Jamboree is a fun event with close-knit families, long-time friends, and new friends coming together with their 4×4 Jeep vehicles that travel to explore exciting trails and have a little off-road fun.
Enjoy the Next Jeep Jamboree Near You!
Considering driving up on a road trip to the next Jeep Jamboree event? Jeep vehicles are made to be upgraded, and many events take place so other Jeep owners can view and discover the freshest modifications prepared by fellow Jeep fanatics. Many Jeep brand vehicles are set to make their way with plenty of activities to enjoy during the events. First time Jeep Jamboree visitors are sure to enjoy the company and different sights all from the comfort of their Jeep vehicle. Below are the next four months of Jeep Jamboree events happening all around the United States through summer and into the fall, which are some of the best turnouts since kids are out of school and the weather is fantastic.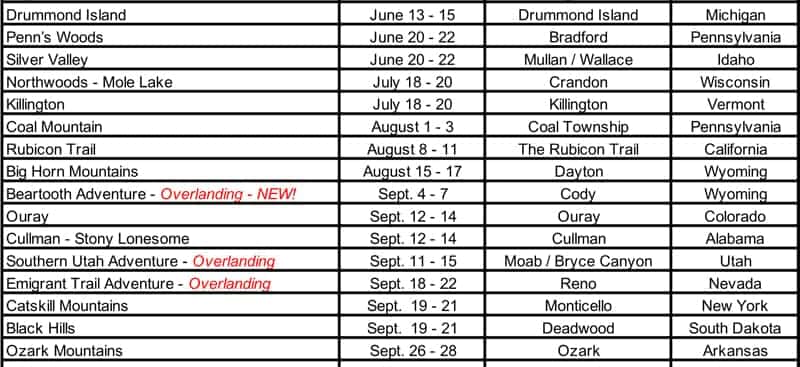 While Florida is not one of the cities listed during the summer and through the fall, don't worry. A new event called the Snowbird Jeep Jamboree event debuted earlier in January 2019 and is expected to return next year if traveling is not within the budget for a Jeep Jamboree event. Although, part of the fun of traveling to a Jeep Jamboree event is the journey on the way to the unique location.
Enjoy the Jeep Jamboree In the Latest Jeep Vehicle
Thinking about going to a Jeep Jamboree event in a new 2020 Gladiator? The Gladiator looks a lot like a Wrangler with a bed tacked on the back, but it's more complicated than that. It shares front fenders, hood, and doors with the Wrangler, but not much else. The Gladiator grille is unique, laid back at a steeper angle than the Wrangler. Jeep added to the Gladiator the same rear suspension as fellow FCA brand Ram, and their prized Ram1500 pickup. This aided to support the Gladiator's towing strength. Perfect for a road trip on stops is the portable, removable Bluetooth-connected speaker that contains a charge for several hours. Gain impressive strength with a trailer-towing capacity of 7,650 pounds, way more towing power than the Wrangler which can only offer less than half that figure at 3,500 pounds. Don't worry about where to find this vehicle as we have it ready to go at Kendall Dodge Chrysler Jeep Ram.
Drive Jeep at Kendall Dodge Jeep Chrysler Ram
Looking for a Jeep vehicle? Why not try out the proven 2019 Jeep Wrangler, the newest Wrangler available or shop for the 2020 Jeep Gladiator. Come by for a test-drive at Kendall Dodge Chrysler Jeep Ram. We are happy to assist our customers to find a vehicle that provides everything they're looking for.
Trust us to assist you to get your vehicle up and working like new with an online service appointment and visit to our service center. We look forward to seeing you soon at Kendall Dodge Chrysler Jeep Ram and providing an unmatched full-scale automotive experience.