Last Call to Own a Dodge Challenger SRT Demon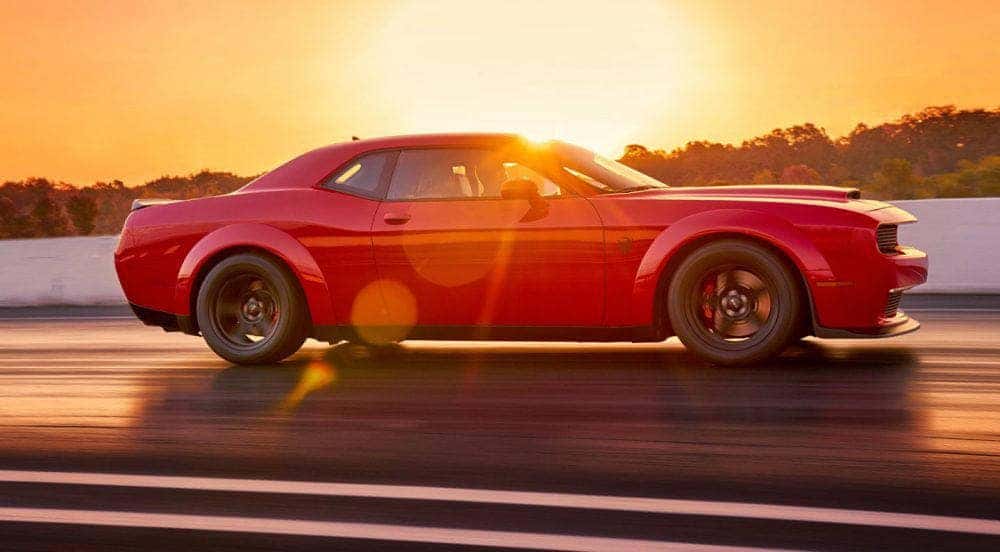 Sometimes there's a feeling that certain things are too good to be true. For racing and auto enthusiasts, that might be the 2018 Dodge Challenger SRT Demon. After one year in production limited to only 3,300 models, there is no plan for Dodge to create any more Challenger SRT Demon models.
The Dodge Challenger SRT Demon is an 840-horsepower vehicle and it is the King of the SRT clan, but Dodge wanted to create a truly limited-edition model. A quote further cementing the reality that there's only one year of production for this memorable muscle car was by Tim Kuniskis, the Chief Executive Officer of Dodge. "2018 only, one-and-done. The people who sit back and wait for the next year are going to miss out."
What Makes The Dodge Challenger SRT Demon Special?
From the record-breaking engine, to the fierce muscle car exterior design, the attention to detail throughout, the 2018 Dodge Challenger SRT Demon is a tremendous production muscle car. The Challenger SRT Demon produces up to 840 horsepower and 770 lb-ft of torque from its supercharged 6.2-liter HEMI Demon V8 engine, which is the most powerful factory-produced production engine on the market. The Challenger SRT Demon accelerates from 0-60 mph in only 2.3 seconds and can complete a quarter-mile in 9.65 seconds!
Unique to the 2018 Dodge Challenger SRT Demon is the award-winning SRT Power Chiller, which uses the Demon's air conditioning refrigerant to help further cool air entering the engine's eight cylinders. Since cooler air contains more oxygen molecules, this helps the engine deliver maximum output.
Unique Interior Options
While speed and performance might have been the main reason someone would want to own this special Dodge muscle car, there's now more incentive than ever to own this piece of history.  Unique interior options have made this vehicle special. The 2018 Dodge Challenger SRT Demon is built with only one seat for the driver. However, for $1 buyers could add a passenger seat and for a second dollar add a back seat.
Future of Dodge Muscle Cars
Naturally, if Dodge is removing the SRT Demon from their production lineup, there has to be a vehicle in mind that takes its place. FCA filed a trademark application for the name 'Angel' with the United States Patent and Trademark Office, but we don't know any other details about what that could be. Additionally, FCA renewed their trademark for 'Barracuda,' and many sources have speculated on a possible new Barracuda model, so that could be in the works as well. One thing is for sure, the 2018 Dodge Challenger SRT Demon is a one and only.
Drive the Exclusive Dodge Challenger SRT Demon Before They Are Gone
So, you want a piece of unique muscle car history? You want to own the one and only 2018 Dodge Challenger SRT Demon? There's few places that have them and not for long, at Kendall Dodge Chrysler Jeep Ram. Stop by for a test drive and experience what few ever will. Our friendly staff can't wait to help you with any buying, selling, leasing or trade in offers. We look forward to providing you complete service from start to finish at Kendall Dodge Chrysler Jeep Ram.
Even if you haven't made a purchase with us, our professional full servicing team is ready to help you maintain your current vehicle. See you soon!