Latest News On Upcoming Jeep Grand Wagoneer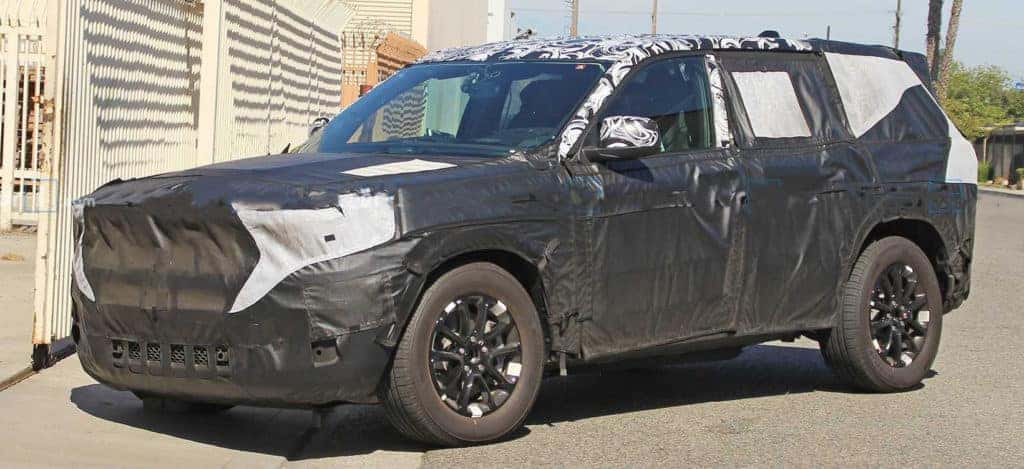 Photo credit: Motor1
What does the future look like for Jeep SUVs in the next decade? Jeep has lined-up a number of new as well as returning nameplates to extend their SUV catalog. Fans of Jeep were recently introduced to the 2020 Jeep Gladiator, a mid-size pickup that has become a hit from day one. Will future Jeep vehicles see the same results? We have all the latest details about what to expect in the coming year.  
FCA's Plan For Jeep Three-Row SUVs
Jeep has been shy with regard to what they will exactly deliver with their Jeep Grand Wagoneer Trackhawk. Only spy photos have revealed the size and shape of the upcoming three-row Jeep SUV, but we know Jeep is going to be able to get their product out quickly once it's finished. The investment by Fiat Chrysler Automobiles (FCA) to spend $4.5 billion on improving their plants and building a brand new one in Michigan was made to produce the upcoming Jeep Grand Cherokee and an un-named Jeep three-row SUV. We are fairly certain this unnamed SUV is the Jeep Grand Wagoneer. The Mack Avenue Engine Complex will have all the latest technology to create this vehicle as its debut is expected as a 2021 model. There is a chance Jeep decides to name the vehicle simply the Wagoneer, as to not confuse buyers with the already popular and long-running Jeep Grand Cherokee. 
More Speculation On the Wagoneer Vehicles
The Grand Cherokee is expected to have a major overhaul for the 2021 model year as well in part due to these massive changes at FCA's assembly plants. Before long Jeep will offer two different three-row full-size SUV vehicles that are aimed at different price points. Many reports have both the Jeep Wagoneer and Jeep Grand Wagoneer coming out to highlight both of those price differences and different amenities for customers to enjoy. The latest Jeep is expected to debut their take on the Wagoneer, a former nameplate last used by Jeep in 1993, by the 2022 model year. 
Expectations For the Wagoneer
The previous Wagoneer held a 5.9-Liter V8 engine, but the latest engines going in Jeep vehicles these days are even larger and stronger. The Jeep Grand Cherokee Trackhawk has a massive and strong 6.2-Liter supercharged HEMI engine that packs 707 horsepower. The same iconic wood panels are expected to stay with its exterior design and large frame, but the rest is still speculation based on previous Wagoneer models. For those that want to try out the newest Jeep SUVs currently on the market, we suggest looking into our line-up at Kendall Dodge Chrysler Jeep Ram.
Choose Ram At Kendall Dodge Chrysler Jeep Ram
We have the newest Jeep SUVs at Kendall Dodge Chrysler Jeep Ram including the 2020 Jeep Wrangler, the latest Wrangler available, the new 2020 Jeep Compass, and the 2020 Jeep Cherokee. Come visit to find the Jeep want you to take home with our help. We are thrilled to assist our customers to find a vehicle that provides everything they're searching for. Our sales team provides help with buying, leasing, trade-ins and selling a vehicle. 
Visit us if you need any servicing, repairing or maintenance as we can help you get your vehicle up and running like new with an online service appointment and visit to our service center. We look forward to seeing you soon at Kendall Dodge Chrysler Jeep Ram. Stop by soon!