Lease a Jeep Wrangler Hard Rock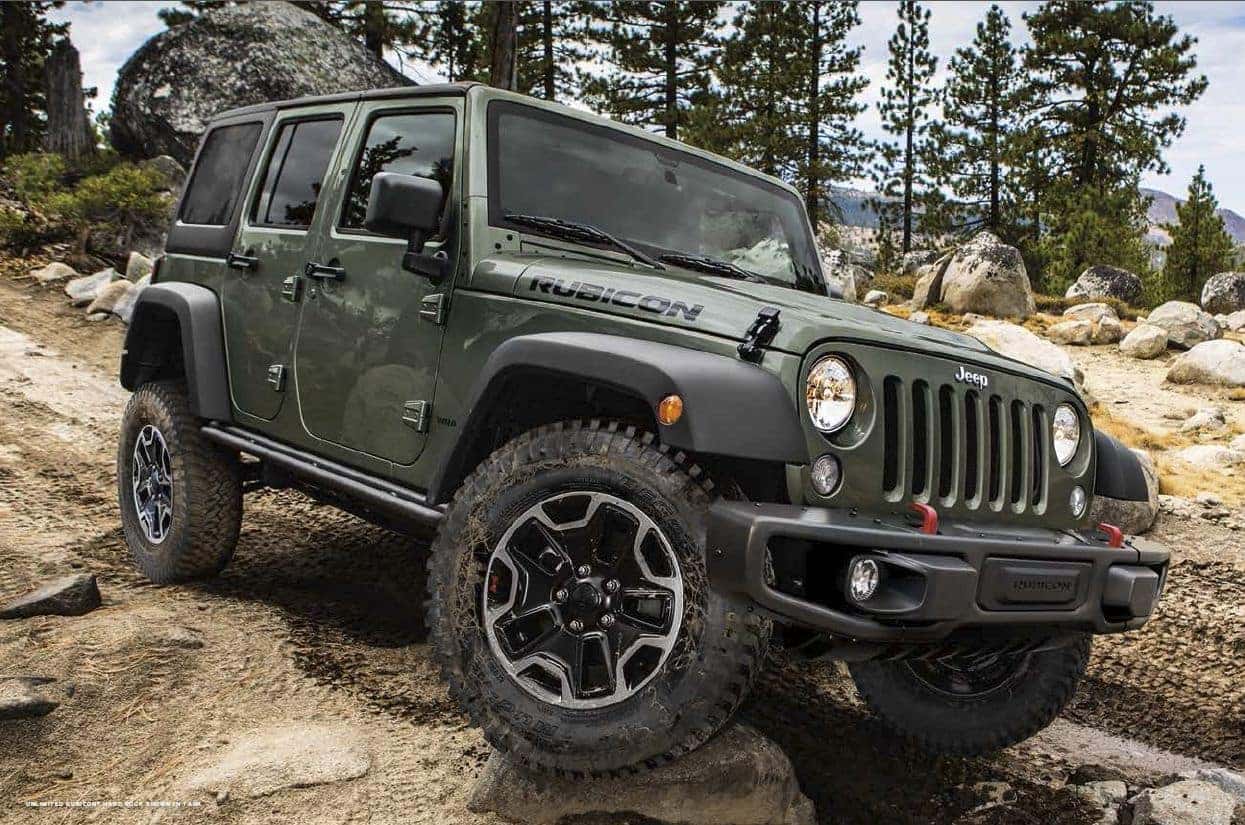 Unless you've been hiding under a rock for the last 60 or so years, I don't need to tell you why Jeep Wranglers are one of the most celebrated SUV's out there. Not only do they garner their own community of enthusiasts, but they also support the world of aftermarket modifications, allowing owners to completely customize their Jeep to their needs and wants.The mere fact that Jeeps can go anywhere and climb over anything, plus take you comfortably to and from work every, makes the desire to own or lease Jeep Miami, a great choice.
The 2015 Jeep Wrangler Hard Rock
The Jeep Wrangler Rubicon's newest trim for 2015 is the Hard Rock and it is aptly named. It is just that. Jeep has equipped this top trim Wrangler ready to leave the hit the trails immediately upon leaving the dealership. It's purpose is to perform. Available in two or four door configurations, all passengers are sure to enjoy the ride when surrounded by the luxury that Jeep has drenched this Rubicon in.
For those about to rock, we salute you.
Dressed In Leather
The interior is all black leather. Could a Hard Rock trim really afford not to be? We didn't think so. Not only does black leather always look good, it looks even better when contrasted against the bright bold color palate of the body, which offers a choice of ten different striking colors, each one ensuring to stand out from the crowd.
Adding to the rich feel of the leather upholstery are the seats, which are also heated, perfect for freezing winter nights. The steering wheel like the seats, is also draped in leather and heated. Does there need to be a leather-clad steering wheel? No, but what kind of lead singer goes on stage without being dressed in leather pants?
Devil's In the Details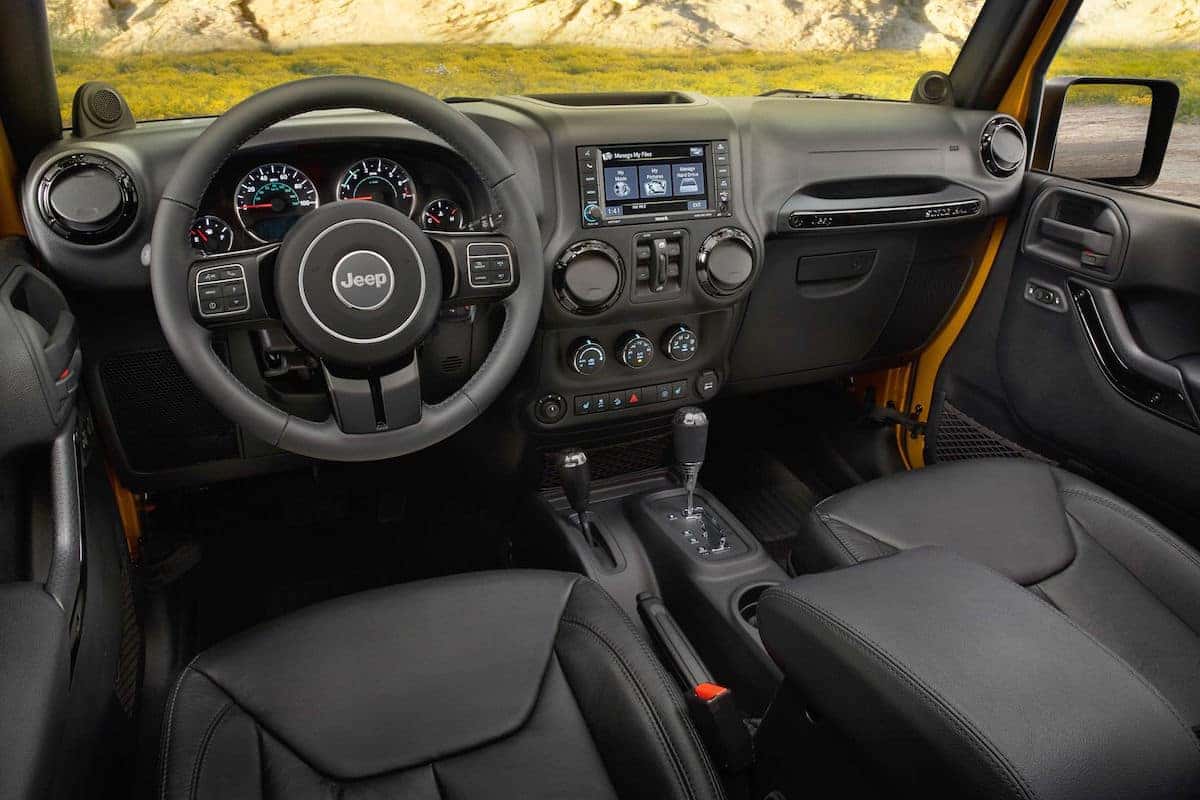 The devil really is in the details of this Hard Rock Unlimited Edition. The Rubicon emblem is embroidered on the seats along with ornamental stitching along the leather seats. The all-black dashboard is broken up by select accents of QuickSilver hardware that add an overall modern and finished style. It's a finishing touch which solidifies the sophistication and refinement.
See Me, Feel Me
Along with Bluetooth connection and Alpine Audio, Jeep Rubicon is offering UConnect, an onboard computer system that allows you to stay connected. By Offering steering wheel controls as well as a touchscreen display on the dashboard, you can also choose to operate this system by voice or remotely from your cell phone via Bluetooth compatibility.
Keep Your Eyes on the Road, Your Hands Upon the Wheel
Syncing UConnect with your cell phone allows all your contacts to become available. Once you enable voice activation, you can use hands-free calling, send text and voice messages by speaking into the bluetooth mic placed around the vehicle.
Voice activation commands will also direct you to applications like navigation, satellite XM radio or hands-free calling. Through the convenience of voice activation, you won't have to take your eyes off the road or your hands off the wheel. With Wifi connectivity, you have access to email, weather, websites and all information to guide your trip.
Crank it to Eleven
What would a Hard Rock Jeep be if it didn't come equipped with an outrageous audio system?
Alpine Audio is one of the world's best automated audio systems and the Hard Rock has it. Boasting a nine-speaker system to fully emphasize surround sound, the appropriately placed speakers provide you with the experience of being in the middle of a full stadium while driving down the open road. An all-weather subwoofer protects your base against the elements ensuring that rain or shine, you feel the music way down inside, as Robert Plant intended.
Thunder Road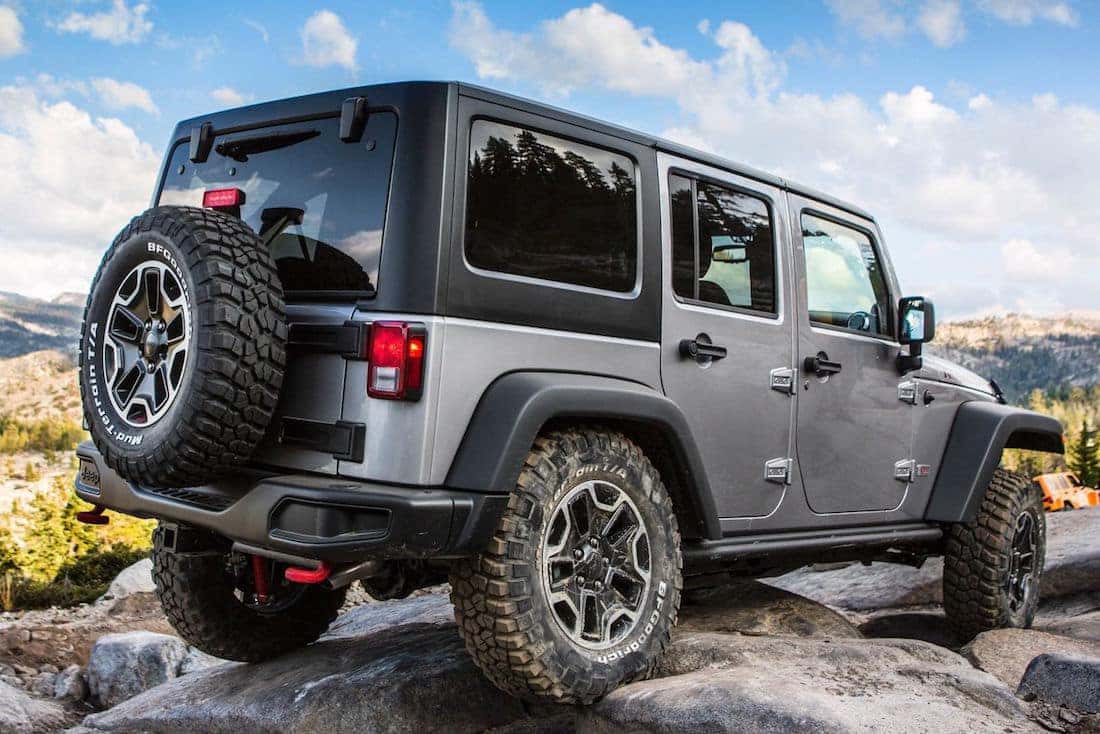 The 2015 Hard Rock offers all sorts of cool new packages that appeal to the hardcore off-roader that lives in all Wrangler owners and drivers. That's why the Hard Rock Jeep is the perfect answer. Powered by a 3.6L 24-valve VVT Pentastar V6 engine that muscles out 285 horsepower with 260 lb/ft of torque, it leaves the dealership ready to prove its strength on the trails. Standard Hard Rock comes with a five-speed automatic but a six-speed manual is also available.
Rocky Mountain Way
Adding to its off-roading prowess is the Roc Trac 4×4 System, 4 Red Tow Hooks, and Jeep Official Trail Rated Capabilities. The steel front bumper has removable end caps for improved clearance while approaching rocks and obstacles. The bumper is winch-capable and includes integrated fog lamps. With 17" aluminum wheels shod with LT255/5R17 black sidewall off-road tires, and a dual intake power hood dome that is custom designed with functional vents for cooling and added performance.
Make It Hardcore
When you own or lease a jeep this hardcore, you've tapped into a special part of yourself. You're celebrating that part of you that loves to get lost in the wilderness, who seeks outdoor adventure. As lovely as it is to sometimes be alone in these moments, it's comforting to know that there's an entire community of people who've tapped into that same part of themselves. Jeep owners and enthusiasts are just those people. Stay connected by sharing your stories with other owners who have the same cravings for getting muddy and getting outside on the Jeep Blog.
Hard Rock is a celebration of loud aggressive riffs played by professional musicians clad in skin-tight leather whose job it is to transcend an entire audience to another place; to take you to the very edge. The 2015 Hard Rock trim on the Jeep Wrangler Rubicon does exactly that. It appeals to the teenager in us all who cranked it loud. It appeals to the extremist in us who sees that mountain and needs to climb it. And it appeals to the adult in us who still knows how to rock, but now does it with a bit more polish.