Local Holiday Events in Miami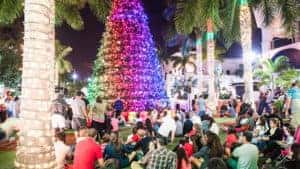 Photocred: timeout.com/Redinger-Libolt Photo
It's that time of year again – snowball fights and hot chocolate around a warm fire … JUST KIDDING! If you're from South Florida or just visiting, it's no surprise that our version of a "white christmas" is laying on the beach and enjoying the cool 70 degree weather. However, Miamians (and all South Floridians) know how to bring in the holiday cheer with some awesome events happening throughout the month of December.
Santa's Enchanted Forest
A popular one for locals is Santa's Enchanted Forest is a perfect way to start the Holiday's. Considered one of the world's largest holiday theme parks, Santa's returns for it's 35th season with more lights, carnival rides and delicious food!
"We have three new displays this year, including Casa de Salsa, which has Latin music and a salsa-dancing Santa Claus," says park director Buddy Cormican.
Not only that, the FOOD! Alongside the basic funnel cakes and such, Santa's is sure to include some Cuban favorites like croquetas and of course, Cuban coffee.
Come experience a Miami Annual "tradition" and bring in the holiday's Cuban-style!
George Balanchine's The Nutcracker
Performed by the Miami City Ballet, The Nutcracker is another annual event – 27 years in a row to be exact. As a personal childhood memory, The Nutcracker is an exact replica is Balanchine/Tchaikovsky's fairytale. This year, the Miami City Ballet has reinvented this fairytale with new set and costume choices thanks to an all-new production by Cuban-American artistic power couple, Isabel and Ruben Toledo. Even those who aren't exactly wooed by ballet, the Nutcracker keeps audiences anticipating the next scene of this timeless performance.
Please visit their website for available ticket purchases and more about the Miami City Ballet Company.
Holiday Evening at Vizcaya Museum & Gardens
James Deering, who once called Vizcaya home just 100 years ago, left a lasting impression with this beautiful and popular venue for South Floridians and visitors. Guests are given the opportunity to roam the grounds of Vizcaya while enjoying the picturesque view of the beautifully decorated home specifically for the holidays. An opportunity that only comes twice a year, guests can also wander through the main house after dark to get an up-close and personal feel of those christmas lights inside and out. Additionally, traditional holiday songs with be played around the organ paired with complimentary cocktails and delicious treats.
Please visit their website for ticket purchases and more information.  
Looking for a new vehicle to haul everyone around for the Holidays? Come stop by Kendall Dodge Chrysler Jeep Ram located in Miami, FL to check out our Holiday specials or visit our website for available inventory.