Make This Fall Memorable with the New Chrysler Pacifica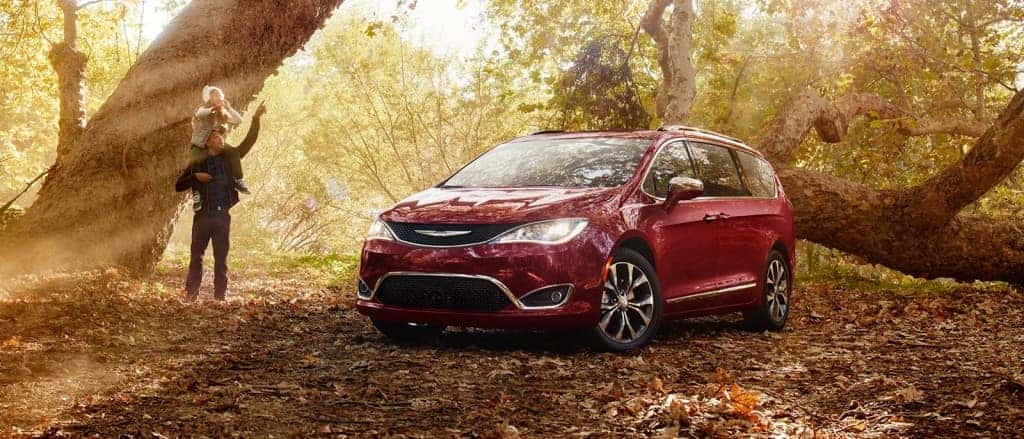 Fall is a great time of year. Tailgating, bonfires, camping, holidays, what could be better? We might have the answer to that. The all-new 2017 Chrysler Pacifica is a new minivan and it is the perfect vehicle for fall activities. Let us explain.
Tailgating
It's fall and that means it's time for football and some tailgating. It's about as American as apple pie. If you are taking your kids' to their first tailgate this fall, the Pacifica is an awesome vehicle for that.  The Pacifica has Stow n' Go seating, which makes it really easy to fold the second- and third-row seats into the floor storage compartments, allowing for tons of flat storage space. Or if you have a van full of passengers, the floor compartments that would store the folded seats, doubles as storage space. So you can load up all of the food and drinks in those compartments and put the grill and chairs in the back.
Additionally, the 2017 Pacifica is available with some helpful tech components that make a tailgating experience much better. Features like ParkSense Parallel Park Assist, rear park assist with stop and cross path detection, and 360-degree Surround View camera make it easier and safer to park and get out of the tightest tailgating spots.
Camping
Fall is especially great for Floridians to go camping because it's finally starting to cool off.  Fires, storytime, grilling, fishing and time spent with family make for an awesome weekend.  There are plenty of beautiful places around Florida to go camping, including the Everglades National Park, which isn't a far drive. In addition to the convenient storage options the Stow 'n Go seating offers, the Chrysler Pacifica is also available with a built-in vacuum cleaner, so even the cleanest parents don't need to stress about the dirt or leaves getting tracked inside — it's only temporary.
Long Thanksgiving Road Trips
If you are making a long road for Thanksgiving this year, the 2017 Pacifica is available with one of the best entertainment packages on the market and it offers an excellent fuel economy. The available UConnect Theater Package comes with the best entertainment equipment to keep the kids busy. The Uconnect Package includes two high-definition 10-inch touchscreens that have a Blu-Ray player, USB video input, built-in games, and can connect to personal devices to surf the Internet and stream content. The package includes two pairs of wireless headphones.
Finally, the Chrysler Pacifica is one of the most fuel efficient minivans on the market. The Pacifica offers drivers excellent horsepower and a fuel economy of 18 mpg in the city and 28 mpg on the highway. But if you are looking for e minivan with even better fuel economy,  a hybrid Pacifica will be available soon. So if you are into hybrids but need the space of a van for the types of activities previously mentioned, the Pacifica Hybrid is perfect for you.
The Pacifica Hybrid will be the first hybrid minivan ever. It is powered by a 16-kWh lithium-ion battery and a 3.6-liter Pentastar V6 engine. The Pacifica Hybrid is expected to be able to go 30 miles on electricity, and have average 80 miles per gallon equivalent (MPGe) when driving on the highway and in the city. Now you don't have to feel guilty about long driving trips releasing too many emissions.
Interested in a Chrysler Pacifica? Come down and test drive one at Kendall Dodge Chrysler Jeep Ram, also browse our online Pacifica inventory here.
Photo source: chrsyler.com