Make Way For the Ram Rebel TRX, Coming In 2021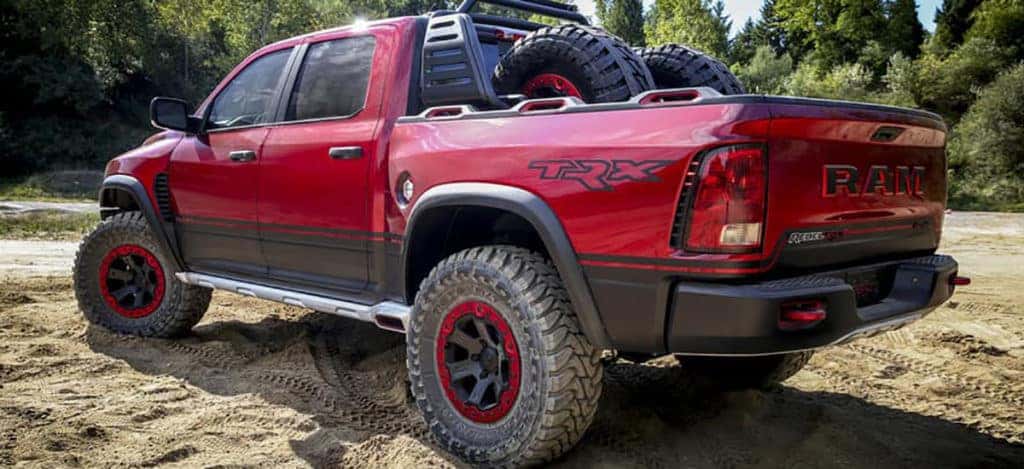 Photo credit: Ram
Fiat Chrysler Automobiles (FCA) has come up with a plan to push their 2016 Ram Rebel TRX concept into production. FCA is the parent company of Ram. The performance pickup is about to see an all-new entry with a fierce, bold display that resembles a monster truck with its 37-inch tires, factory stock 6.2-Liter HEMI V8 that produces 575 horsepower. First shown at the 2016 State Fair of Texas, the Ram Rebel TRX has been on the books as apart of FCA and the Ram brand's plans dating back to 2018. The first announcement was about two years ago and now we're just one year away from the day the vehicle goes on sale. Expected to be ready in 2021, the Ram Rebel TRX will offer customers an extremely reliable vehicle that offers a world-class chassis and the ability to travel nearly anywhere, over nearly anything!
Why Was the Ram Rebel TRX Selected?
Competition for Ram is expected to offer choices like the Rebel TRX. Customers have embraced pickup trucks in the last few years. In fact, the percent of owners have gone up more so than for SUVs and especially over cars. As the truck segment becomes a popular alternative for customers, vehicles like the Ram Rebel will be made. The Ram Rebel is like the ultimate vehicle option for those who love to go outdoors and off-road and want a stylish ride. It's been said that Mike Manley, CEO of FCA, asked engineers to come up with a vehicle that was capable of going over 100 mph off-road, and the result is the future Rebel TRX.
FCA Has Big Plans For Ram
How is FCA able to make these niche vehicles like the Ram Rebel TRX or other vehicles apart of their brand? Similar to the Dodge Challenger SRT Hellcat Redeye, now in its second year as the 2020 model year, becoming greenlit, FCA has been experiencing a wonderful growth with the Ram brand leading the way. FCA has been wildly successful with the Ram 1500 pickup and FCA has invested in the future with many EV models, premium vehicles, and a bevy of choices for buyers of every price range. 2019 was a remarkable year for FCA and with the partnership with the French-owned PSA Groupe, Ram and FCA at large can continue to build these remarkable pickup entries. Not to mention, Ram has seen a robust amount of demand and generated a significant amount of popularity in 2019. 
"Last year was a historic year for FCA. We continued to deliver value for our shareholders and we took actions to thrive in the future by substantially strengthening our financial position, committing to key product investments and entering into a combination agreement with PSA," said Mike Manley, CEO of Fiat Chrysler Automobiles.
Test-Drive the Newest Ram Pickups With Us
Wanted to step into a new Ram pickup? We have plenty to choose from at Kendall Dodge Jeep Chrysler Ram. We have over new 250 Ram trucks and a fantastic selection of pre-owned Ram pickups. Starting with our professional and courteous staff that can assist with any buying, leasing, selling or trade-in offers you have. We're ready to start the process!
Our helpful service team works to make sure you get a better vehicle than before and in a timely fashion. With an online service appointment, our service team can handle any oil changes, tire rotations, coolant flushes, brake repairs, tire changes, and more. Visit us at Kendall Dodge Jeep Chrysler Ram for a test drive on any of our newest Ram trucks today.