Mopar Is Your Source For Great Gift Ideas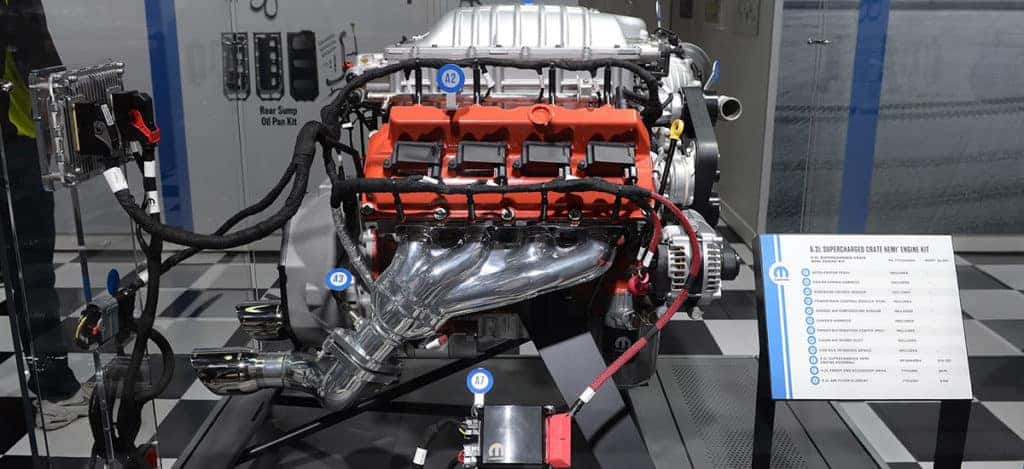 Photo credit: Mopar
The holidays have arrived and the time to get great gifts is running out! Mopar has a great list of items to provide customers this holiday season, from apparel to supercharged engines, there's something for all friends and family members. Just how many items and unique parts are available through Mopar? Search over 500,000 parts, accessories and Mopar-branded gear, equipment and materials, there's a lot a vehicle owner would love as a gift. We're pleased to go over our desired items offered presently with Mopar right now. Regardless of budget, there are many choices that can work as a phenomenal option for the car enthusiast on any holiday wish list.

Simply visit Mopar.com to begin shopping for those who have been really nice this year. The dream of any racing fan is to have their own supercharged engine inside their rid; look no further than the 707 horsepower Mopar "Hellcrate". This crate includes one 6.2-Liter Supercharged Crate HEMI engine and it will unquestionably become the best gift for any lucky person who receives it. Other holiday gifts can be quickly found on the brand's official website. Tap the "Store" tab to survey Mopar parts, accessories and merchandise/gear, and choose the "Care" tab for Mopar Vehicle Protection plan information. Giving a great protection plan on a vehicle is a fine and very helpful gift. Let's look at some of our ideal favorite items this holiday season, shall we?

Favorable Gift Ideas On Mopar.com

Embrace the Mopar brand with all sorts of wearable items like a Mopar Armour Quarter Zip ($94.75) that carries the Mopar logo and offers a sleek, comfortable look. Discover shirts, jackets, hats and other wearable items that show off Mopar, the brand responsible for helping to create the high performance and heart racing horsepower in so many Fiat Chrysler Automobiles models. Mopar's merchandise also carries Chrysler, Dodge, Jeep and Ram apparel. Not a bad choice!

For those that want to provide the option to allow others to find what they want, a Mopar gift card makes it easy. Visit WearMopar.com where gift cards of $25, $50 and $100 are readily available.

For pet owners that travel with their animal often, there's a Mopar kennel. A collapsible pet kennel that delivers the easiest way to house a small pet when traveling is only $190. Keep any pet safe when traveling with this fabulous gift.

Upper Echelon Holiday Gifts

Those that own a Jeep® vehicle can enjoy the perks of a 5-inch Jeep Performance Parts LED light kit for $475 or snorkel for $665. There's a whole bunch of great accessories for Jeep owners to find and embrace.

We highly recommend not only as a gift for others but going with the Mopar Vehicle Protection for any FCA vehicle purchase. This service includes Road Hazard Tire/Wheel Protection (starts at $390) with complete repair or replacement coverage for every tire/wheel damaged due to road hazard conditions and Maximum Care (starts at $1,020) factory-backed mechanical protection beyond the factory warranty on over 5,000 parts.

For Ram pickup owners, give the gift of a new Tonneau cover that ranges in price from $450-$1,400. Every truck merits proper truck bed protection and that's precisely what a Tonneau cover gives. Get a one-piece, hard folding or soft roll-up Tonneau cover ready to be shipped out now; a perfect gift for any truck owner.

The prize gift available through Mopar is the Hellcrate; keep in mind this is the ultimate game-changer engine that will make a definite statement. The 6.2-Liter Supercharged Crate HEMI engine, though it costs $20,020, is an immense powertrain capable of upgrading almost any vehicle that's eligible to carry this big and powerful motor. The Mopar "Hellcrate" Engine Kit is $2,265 for a plug-and-play installation, the Engine Kit makes it easier to install the engine. Make sure to capture the reaction and send it to us on social media! The greatest part about any Mopar gift that needs installation, our parts and service team is available to help with adding any gift received to your vehicle.
Get Any Mopar Gifts Installed With Us
At Kendall Dodge Chrysler Jeep Ram, we want to take care of our customers. From sales to repairs, we're here to help! If you're wondering if you should buy or lease, let us help you make the right decision. From trade-ins to selling, we're ready to provide a solution for all our customers.
If you have any repair or service needs for your current vehicle, now is a great time to have those issues taken care of. Our knowledge maintenance staff is highly trained and can help you maintain and raise the value of your current vehicle. We are ready to solve your situation, even if you didn't buy with us.