Mopar's Wild New Jeep Gladiator Top Dog Concept Appears!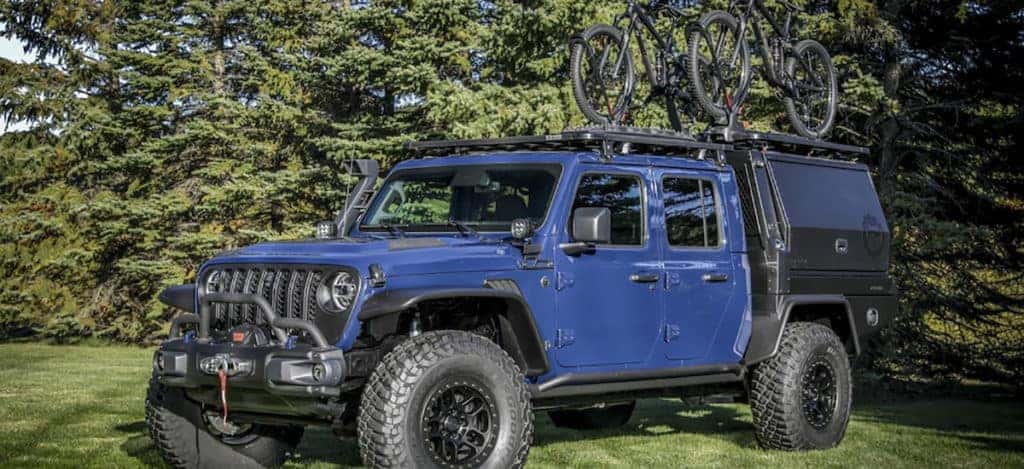 Photo Credit: Mopar
The auto parts distributor for Fiat Chrysler Automobiles (FCA) is Mopar, who have dabbled recently with creating a new concept partnering with FCA's Jeep brand to create a new concept. This exciting concept is a unique blend of both the Jeep Gladiator and something similar to a concept that debuted at the 2019 Moab Jeep Jamboree Easter Safari a little over a year ago. Due to COVID-19, the world was without an official Jeep Jamboree Easter Safari this year, but the concepts have found their way out for readers to enjoy before the year ended. 
Mopar Goes All Out With Jeep Gladiator Concept
The new Mopar Jeep Gladiator Top Dog includes a unique bicycle holder that can also hold supplies fit for camping in the deep woods. Should this concept become a production vehicle, the Jeep brand would find out exactly how many cyclists would appreciate having a pickup truck that can handle the off-road traveling with ease and offer the ideal setup for both camping and allowing owners to enjoy the perks of mountain biking nearly anywhere! The Mopar parts and customer care division has added 20 original equipment upgrades to the Gladiator that enhances the experience a driver would have. 
Gotta Love a Custom Jeep
The standard cargo box is replaced with a new custom PCOR flatbed storage box that includes improved cargo space with two bike racks on top. The passenger side presents pull out drawers that can be used to house tools or supplies. On the driver's side, the Gladiator Top Dog has a battery-powered fridge with an added electric roller grill stand that can be used to cook meat like hot dogs. Included is a storage box that provides external lighting and extra power outlets to help with night maintenance as well. Mopar also can go just about anywhere; exactly as Jeep vehicles are made to be for drivers. 
Enjoy the Off-Road With the Top Dog
The Top Dog carries a JPP two-inch lift kit with Fox shocks added. This raise of the vehicle provides ground clearance and the drive is improved with its 17-inch aluminum wheels with massive 37-inch BFGoodrich KM3 mud tires. Two winches are included along with an 8,000-lb-capacity Rubicon Warn winch, plus a snorkel that works incase waterfording is needed.   The famed Pentastar engine is included with its 3.6-Liter powertrain V6 that offers 285 horsepower and 260 lb-ft of torque paired to a TorqueElite eight-speed automatic transmission. The K-9 blue color is the only color and the Top Dog has a matching interior that comes with all-weather floor mats inside and is currently on display at the SEMA show that is only hosting visitors via the internet as there is no in-person attendance. 
"Loaded with nearly 20 Jeep Performance Parts, we built this go-anywhere Jeep Gladiator Top Dog Concept for passionate mountain bike enthusiasts. Across the entire Jeep lineup, we offer more than 500 quality-tested, factory-backed parts, and accessories," said Head of Mopar Service, Parts and Customer Care Mark Bosanac. 
Where To Drive These Award-Winners Today
Whether you're in Doral, Kendall, North Miami, Homestead, we're happy to help our South Florida and local Miami customers. We're ready to help our customers with any buying, leasing or trade-in offers towards any vehicle in our new vehicle inventory, including our brand new Jeep vehicles. We're here to help at Kendall Dodge Chrysler Jeep Ram. We are the place to buy the award-winning 2020 Jeep Gladiator and 2020 Jeep Wrangler. 
Allow us to help you get your vehicle up and running like new with an online service appointment and visit to our service center. We look forward to helping you during these unprecedented times to get back to normal. Count on us at Kendall Dodge Chrysler Jeep Ram!