Do You Need a Heavy-Duty Truck or Commercial Van?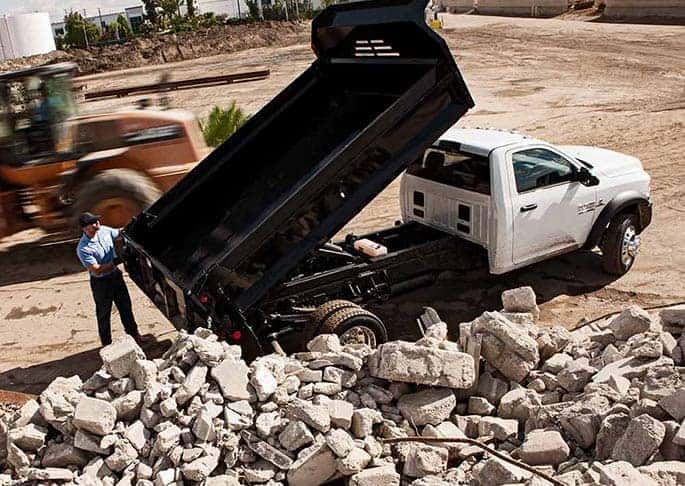 Need a truck that can tow heavy loads, or carry the large loads of cargo you may need it to for your boating company. So, here are four commercial Ram vehicles that are perfect for all of your business needs, and why now is the time to buy them.
Ram 3500 Tradesman Dually
The Ram 3500 Tradesman dually is the base trim of the Ram 3500 heavy-duty truck. The Ram 3500 is a step up from the Ram 2500 and is the smallest Ram truck available with dual-rear tires,  but don't be fooled, it is not small. It has the towing capacity and payload capacity for a variety of businesses.
The Ram 3500 Tradesman dually is available with 6'4" and 8' truck bed lengths and a few different engine options. The two most powerful engines available are the 6.4-liter HEMI V8 MDS engine and the 6.7-liter Cummins turbo diesel engine. The 6.4-liter engine gives the Ram 3500 Tradesman dually a payload capacity of 7,390 pounds and 16,500 pounds and the 6.7-liter Cummins turbo diesel has a payload capacity of 6,580 pounds and a towing capacity of 31,200 pounds.
Ram Chassis Cab
The Ram Chassis Cab trucks are available on Ram 3500, 4500 and Ram 5500 models and chassis cabs are built for medium-duty truck commercial vehicles. Rather than building the truck with a truck bed, behind the truck cab are just "chassis" rails on dual rear tires. This allows the buyer to configure any desired aftermarket equipment on the back of the truck.
Work Truck Magazine named the Ram 4500/5500 Chassis cab the Medium-Duty Truck of the Year in 2015 and they definitely live up to the title. The Ram 4500 Tradesman Chassis cab dually with a 6.7-liter Cummins turbo diesel engine has a maximum towing capacity of 17,750 pounds and a maximum payload of 8,400 pounds. The Ram 500 Tradesman Chassis cab dually with a 6.7-liter Cummins turbo diesel engine has a  payload capacity of 11,450 pounds and a towing capacity of 17,800 pounds.
The Ram 4500/5500 models have a best-in-class 50,000 PSI rear frame steel strength. Other features that make the Ram Chassis cab trucks excellent for commercial needs are the electronically controlled throttle, vinyl 40/20/40 split bench seats and 17-inch steel wheels. There are also some key available features to mention such as the power take-off with split shaft and aisin six-speed automatic transmission and the best-in-class 74 gallon fuel tank capacity.
Ram ProMaster
The Ram ProMaster is the brand's powerful commercial van. The van has four different trims/styles including the Cargo Van, Chassis Cab, Cutaway, and Window Van trims. This van has the "best-in-class cargo width between the wheel wells with the power to haul your load" according to Ram. The Ram ProMaster can be equipped with a 3.0-liter I4 turbo diesel engine or a 3.6-liter Pentastar V6 engine.
Standard features include a 36-foot turning diameter (best-in-class), 16-inch Brembo brakes, over 460-cubic feet in cargo capacity, and up to 18,000 mile oil change interval. Additional features like a parkview rear backup camera, and a 5-inch UConnect touch screen are available. This van can tow up to 5,100 pounds when needed.
Ram ProMaster City
This cargo van is available in four trims and styles. The trims include Tradesman Cargo Van, Tradesman SLT Cargo Van, Wagon, and Wagon SLT. The standard 2.4-liter Tigershark Multiair 2 engine is paired with a nin-speed automatic transmission that gets an impressive 21 mpg in the city and  29 mpg on the highway. The ProMaster City can tow up to 2,000 pounds if needed. Up to 10,000 miles between oil changes, 131.7 cubic ft of cargo capacity, and 60/40 split rear doors for easy loading are also key features to pay attention to.
Incentives
No matter which commercial truck or van is best for you and you company, every one of them are included in two incentives currently going on. The trade in and trade up event as well as the commercial truck season incentive are both in place to help your company get the best buy possible for their vehicle(s) need. Commercial truck season means up to $500 on-the-job upfit cash allowance for Ram Commercial truck purchases.
The trade in and trade up event varies depending on the dealership, but basically when you trade in a Ram commercial vehicle for another, a cash allowance up to $500 may be awarded on qualified vehicles. These incentives won't last forever, so consider checking out these four Ram vehicles and figuring out which is best for your commercial needs sooner than later!
Interested in one (or a few) of these vehicles for your company? Check out our inventory of all four vehicles here.
Photo source: ramtrucks.com