Our Three Favorite Attributes of the Ram Chassis Cab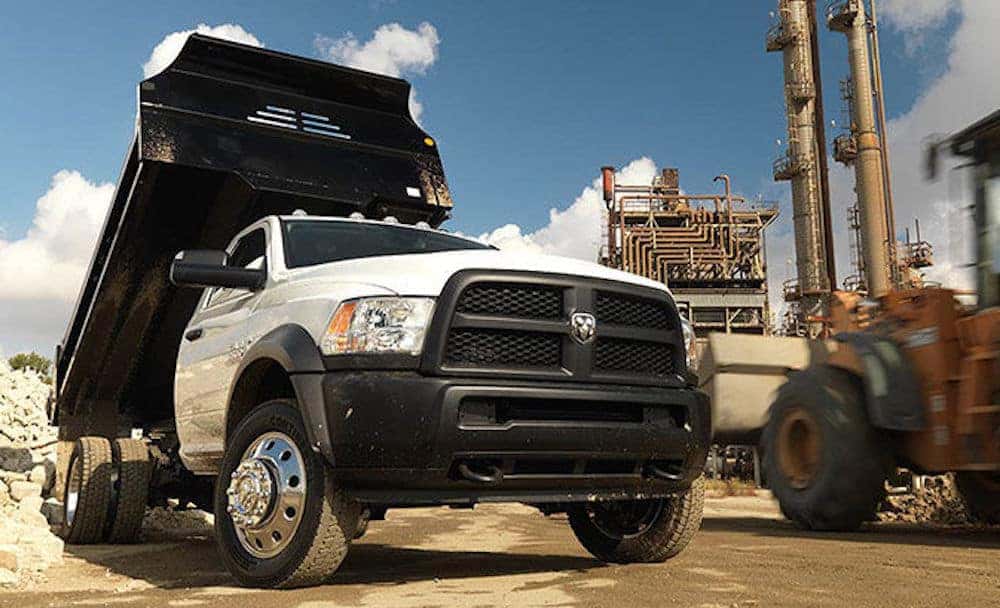 The Ram Chassis Cab certainly isn't for everybody, as the rugged truck is often targeted by those seeking a heavy duty vehicle for the construction site. Sure, the affordable pickup ($32,470) may not be a reasonable choice for a commuter vehicle, but Ram's version is certainly underestimated for its features and capabilities. Check out our favorite attributes of the 2016 Ram Chassis Cab. If you've been considering Dodge Ram trucks to accompany you at work, see why this pickup may be the choice for you…
Mechanics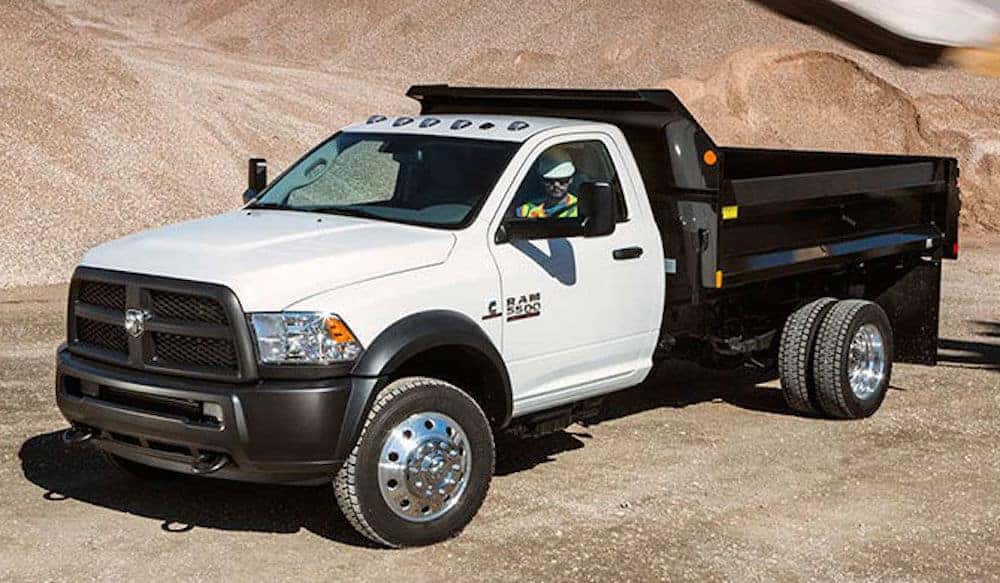 We have to start with the vehicle's rugged and durable body, as the engineers included a number of design features to maximize the vehicle's capabilities and the driver's experience. For example, the flat rear frame rail means all of the wiring runs through the frame, ensuring that no chassis parts stick out over the rear frame rails.
This configuration "allows upfits to mount flush and easy with less need for frame modifications," an essential function for a heavy-duty construction project. Furthermore, the best-in-class steel rear frame results in a strength of 50,000 psi, making for one of the strongest vehicles in the class.
That's not it for exterior amenities. The body rides on dual rear wheels that have been designed to improve the vehicle's stability and traction. If you're going to be driving your Chassis Cab on rugged terrain, this feature will be much appreciated. The Automatic High-Beam Control Headlamps utilize sensors to sense oncoming traffic, toggling between high and low beams.
Meanwhile, the fog lamps help add more visibility on those dark roads. This means your vehicle can accompany you on any project, regardless of the time of night. While most consumers would assume that the Chassis Cab's design and body are only worth talking about, they'd be making a mistake by ignoring the powerful and dependable engine. The standard 6.4-liter Hemi V8 engine features a pair of transmission options: the standard 66RFE six-speed automatic or the available AISIN AS66RC six-speed automatic.
The latter, when coupled with the fuel saver technology, will help increase the engine's overall fuel efficiency, especially while on riding cruising mode. While we're on the subject of fuel, we should note that the two available fuel tanks (22-gallon and a rear 52-gallon tank) will increase the fuel capacity to a best-in-class 74 gallons.
The engine includes a number of other exclusive features, like fuel save technology, Power Take Off capabilities (allowing for greater flexibility in powering upfits when the system is coupled with split-shafts tandem pumps), available dual alternators, an engine shut-off timer, and a best-in-class front Gross Axle Weight Rating.
The unit can pump out 370 horsepower and 429 pounds-feet of torque, leading to a 19,950-pound towing capacity and a 12,480-pound payload. Alternatively, a consumer could opt for a 6.7-liter Cummins Turbo Diesel 16 engine, which produced 325 horsepower and 750 pounds-feet of torque.
The unit includes a class-exclusive smart diesel exhaust brake system, a best-in-class maximum GCWR (up to 37,500-pounds), a max trailer weight of 29,600 pounds, and a best-in-class 15,000-mile oil change intervals. Considering the vehicle's competition, these are very impressive accolades.
Finally, the system includes several safety technologies that will not only improve your driving experience, but it will make it significantly safer. The Electronic Stability Control system combines a number of exclusive capabilities, like Trailer Sway Control (which assures that your hauled trailer isn't switching lanes), Hill Start Assist (protects your truck from rolling backwards on a hill), Rain Brake Support (assists you in bad weather by helping you maintain control), and all-speed traction control.
Interior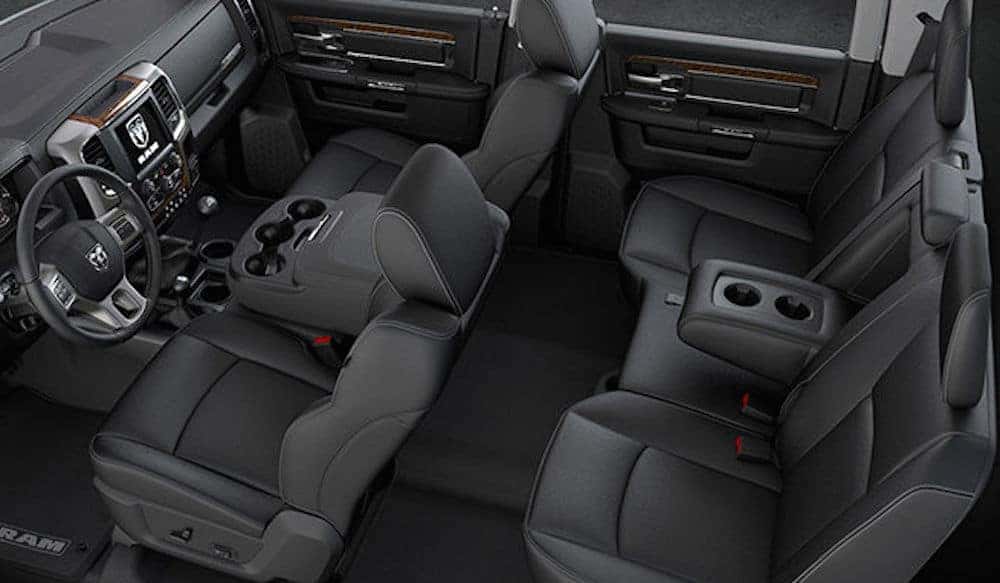 The inside of the Chassis Cab is a lot more innovative and a lot more luxurious than you'd ever expect.
The first thing you'll likely notice is the largest-in-class full-color 8.4-inch touchscreen system, which features the class-exclusive Uconnect Access system. The infotainment center allows the driver to access a number of technological features, like SiriusXM Satellite Radio, a 3-D Navigation system, and even a number of downloadable apps (like Yelp).
Furthermore, you can access many of your phone's basic capabilities, which includes the hands-free calling ability. With accompanying controls on the steering wheel, you can access the entire system without every taking your eyes off the road.
That's not it for the exclusive technology. With the seven-inch configurable multiview display, driver's can customize the instrument cluster to display the info that they consider most important.
Besides essential information (like speed and tank capacity), you can also pull up vehicle diagnostics and even weather reports. Finally, the interior contains plenty of hidden storage spaces. Besides the lengthy bed, drivers will have no issues storing the rest of their cargo with the behind-the-seat storage area.
Durability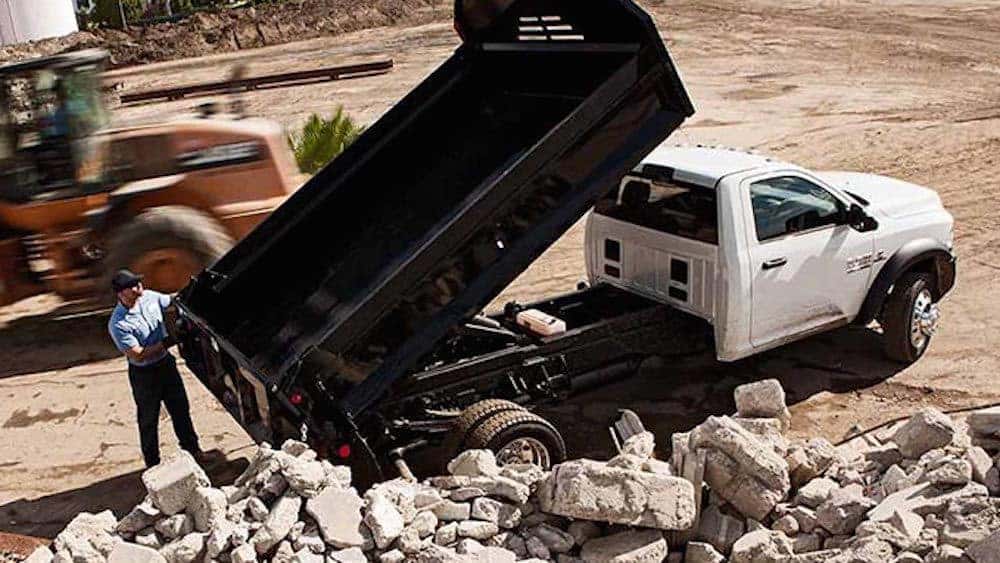 The word durability should be synonymous with the Chassis Cab, but we're still surprised at how rugged and dependable the vehicle actually is. Considering the size of the large Chassis Cab, you'd assume that braking could be an issue. That isn't the case, as the vehicle includes 15-inch Front and Rear Brake Rotors, meaning the driver will never have to worry about stopping. That system can be coupled with the class-exclusive Cummins Smart Diesel Exhaust Brake system (with the 6.7-liter Cummins Turbo Diesel).
The unit will sense when the vehicle is traveling downhill with a heavy load, adjusted the antilock brake system to maintain a safe speed. If you're annoyed with constant trips to the mechanic, you'll appreciate the best-in-class 15,000-mile oil change interval. This will be especially useful if you're using your Chassis Cab all day, every day.
You won't have to worry about immediately exhausting your vehicle's capabilities, and you won't have to dish out as much money for a trip to the shop. To put it over the top, the brand offers a powertrain limited warranty. The diesel-powered trucks are backed by a five-year/100,000-mile Diesel Powertrain Limited Warranty, while the gas-powered trucks are backed by a five-year/60,000-mile Powertrain Limited Warranty.
What did we tell you? Besides being a reliable and durable choice for any construction site, the Ram Chassis Cab also features a number of impressive attributes!