Protect Your Family In The New Dodge Durango

When it comes to protecting the ones you love while out on the road, nothing is too much. That's why a great family car must have certain basic elements, including but not limited to an excellent safety system, entertainment to keep everyone happy and focused on the road, and plenty of storage space for everyone – and everything – to reach their destination safely.
That being said, it's no simple task to build a great family car, especially with so many options out there already. However, for those especially choosy drivers looking for a family car, there may be a certain something waiting on the lot of your local Dodge dealer in Miami that could fit just about all your requirements: the 2016 Dodge Durango.
Loaded with over 60 available safety features, a ton of cargo space, and plenty of entertainment for everybody, the new Durango offers one of the best rides for any family looking for a modern upgrade. If you're looking for a good way to protect your whole family without sacrificing an ounce of quality, look no further than the impressive Durango.
Here's a quick look at this amazing new vehicle from Dodge – and don't blame us if you find yourself needing one in the near future.
Loaded With Safety Features
If there's one thing that makes the new Dode Durango really shine in the family vehicle segment, it's the over 60 safety features that the Durango offers its passengers to keep everybody from the driver's seat to the rear row as safe as can be on the road.
The best cure for a problem, so says common wisdom, is the prevention of that problem; likewise, Dodge has decided that the best way to mitigate the damage caused by accidents to its vehicles is to try and avoid accidents altogether – and that's exactly what the Dodge engineers did with Durango. Packed full of preventative safety technology – like adaptive cruise control that can automatically brake and alert the driver when too close to the nearest car, or blind spot monitoring thanks to an array of cameras and sensors.
Plus, with an advanced braking system guaranteed to stop you safely in bad conditions and electronic stability control to keep you driving smooth on the road, the Durango is sure to keep a sure footing on just about any surface. The Backup Assistance system, featuring a rearview camera with Park Assist, also helps make pulling into and out of tight spaces a breeze like never before – and helps keep you from ever getting in an accident in the first place.
And if the unthinkable were to occur, the Durango is there to protect with a high-strength steel frame with specially designed crumple zones, whiplash-reducing head restraints, and seven advanced airbags for 360-degree protection. While the best kind of accident is one that never happens, it's important to be prepared for the unexpected – and thanks to all these impressive safety features, the Durango is certainly more than capable.
Plenty Of Space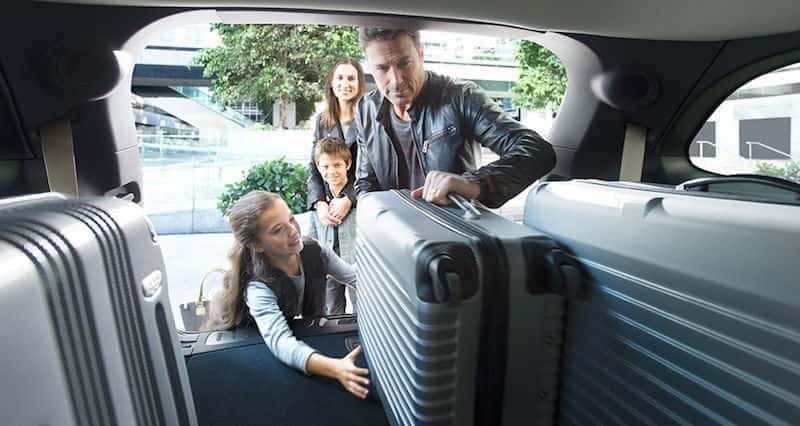 Of course, the one thing that everybody looks for in a quality family vehicle is space. Whether it's those long road trips that can make the cabin feel more cramped than usual or those heavy vacations that require tons of luggage, there's always a reason to need more cargo space – and with up to 84.5 cubic feet available in the Durango, you can be happy knowing your Dodge can handle even your toughest trips.
This spacious cabin features seating for seven on premium cloth or upgraded leather seating that's sure to be comfortable no matter where you're sitting. The rear 60/40 seats can be folded down for the amount of cargo room of your choosing, or all filled up to fit the whole family in one comfortable trip.
Entertainment For Everybody

Of course, no family vehicle is good if it doesn't make those long, boring trips at least a little easier on your passengers – and with all the impressive entertainment tech included in the 2016 Durango, you can drive with the confidence that the silence from the backseat doesn't mean everybody has fallen asleep, no matter how easy the premium upholstery might make it.
That's because your guests will be too entertained by Dodge's UConnect infotainment system, controlled by an available 8.4-inch diagonal touchscreen and boasting connections to streaming audio, SiriusXM Satellite radio, and live sports updates. Feel free to crank up the volume through the available 12-channel, nine-speaker BeatsAudio Premium Sound System and let everyone on the block hear the power of the Durango.
Meanwhile, backseat passengers can enjoy the dual 9-inch Blu-Ray and DVD Entertainment system by watching their favorite movies or connecting their favorite video games for hours of entertainment. This innovative system allows for HDMI input for your favorite devices and comes with available wireless headsets for everyone to listen in peace.
The driver, on the other hand, can stay focused on the road thanks to minute-to-minute updates from UConnect's traffic and weather service. And for planning that big night out, passengers can even access local movie showtimes and local gas prices to keep everything rolling smooth.
As if that wasn't enough, the Durango can function as a mobile Wi-Fi Hotspot, providing seamless connectivity for your phones and wireless devices no matter where you travel. And no need to worry about weak batteries – the Durango's scattered USB and standard 115-Volt power outlets keep everything charged up and ready to go on the road.
This may seem like a ton of tech, but no worry – controlling everything from the driver's seat is seamless thanks to a customizable 7-inch digital cluster display on the dashboard that gives the driver a safe look at the audio information, vehicle status, fuel level, and available navigation all without taking eyes off the road.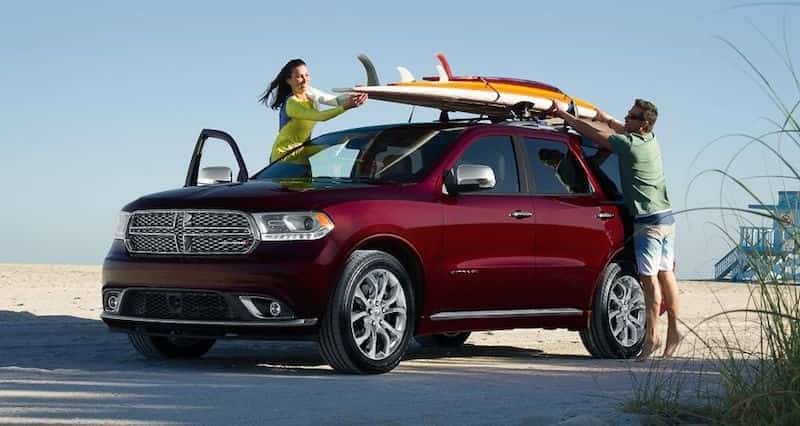 With all of these amazing, family-friendly features, there's almost no better vehicle for the busy clan on the move. Boasting some of the industry's most impressive safety and entertainment features to match an astoundingly large cargo space, the Durango offers just about everything to get your family where it needs to go in both comfort and style – and for the driver, a little bit of pride for having such an amazing vehicle.