Ram 1500 EcoDiesel Orders Come Flooding In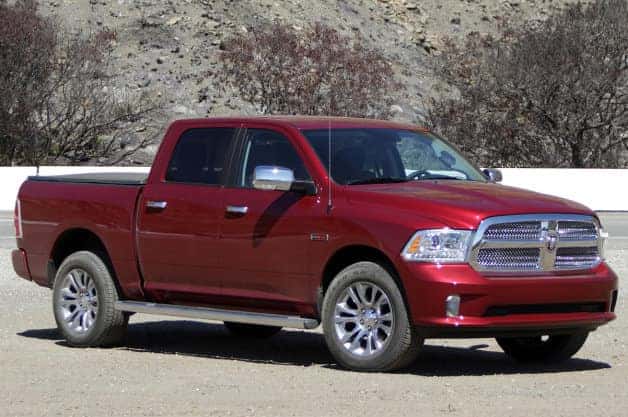 Chrysler entered the realm of the half-ton diesel, the Holy Grail of truck fans, for the 2014 model year with its Ram 1500 pickup. Needless to say, being first on the market is certainly paying off. They actually just revealed that the initial allocation of 8,000 EcoDiesel trucks has been filled by dealers in just three days. Being a Dodge Ram Miami dealer, we could not be more excited at the popularity of the EcoDiesel!
In a three day span in February, a new Ram record was born, as it was the most customer orders placed for a Ram vehicle in such a short period of time. In fact, EcoDiesel models accounted for over half of Ram 1500 orders over that period, even though the diesel option costs several thousand dollars more than a comparable gasoline-engined model.
"The Ram 1500 is the only half-ton truck available with a diesel, so we see this as incremental business by having the only truck that can offer best-in-class fuel economy of 28 MPG combined with 9,200 lbs. of towing capacity," said Reid Bigland, President and CEO – Ram Truck Brand, Chrysler Group LLC. "It's every truck manufacturer's dream to have this kind of initial order demand for a product. Fuel economy is the No. 1 request of half-ton buyers and the Ram 1500 EcoDiesel delivers without compromising capability."
Here is the run-down of the beast. The 2014 Ram 1500 sports a 3.0-liter EcoDiesel V6 and standard eight-speed TorqueFlight automatic, giving it 240 horsepower and 420 pound-feet of torque. That lovely combo makes it good for 9,200 pounds of towing. Its fuel economy is actually rated at 28 miles per gallon highway, the best for trucks in that class, 20 miles per gallon city and 23 miles per gallon combined. The Four-wheel drive variants only give up a single mpg along those categories, also!
Production started last month for the 2014 model-year, and shipments are occurring this month. Another 8,000 models are slated for March production, but it seems that they have room to ramp up production more if need be. Don't miss out on the amazing Ram 1500 EcoDiesel!