Ram and Case team up for unique Backhoe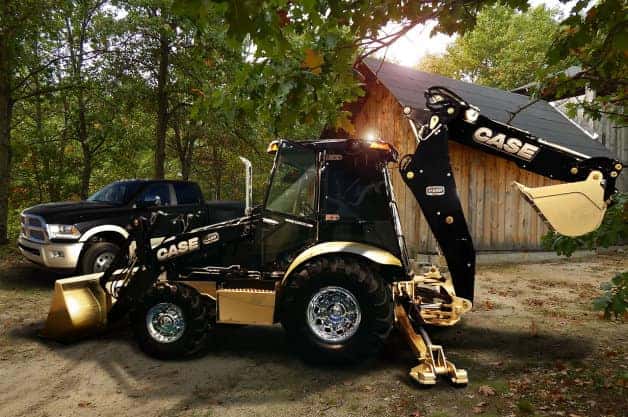 WHen you think about things that would typically go together, perhaps a partnership between Ram and Case would not come to mind. However, the partnership is pretty amazing. Their goal was to build a one-of-a-kind Ram 3500 with a matching, customized Case 580 Super N Wide Track Backhoe. Certain not something you'd see come through our Dodge Ram Miami dealer, but it'd be a sight for sore eyes on the construction site. The creation is currently on display at the CONEXPO-CON/AGG 2014 show in Las Vegas, NV, but will later go on tour for Ram- and Case-sponsored events.
"Countless contractors rely on both the durability and performance of Ram Trucks and CASE Construction Equipment," says Katie Pullen, brand marketing manager, CASE Construction Equipment. "Matching this truck and backhoe showcase two of the construction industry's most enduring jobsite images – the rugged Ram 3500 dually and the tireless CASE backhoe loader. Ram Truck is an excellent partner to CASE, and we're excited to spend 2014 showcasing these technologies together."
Granted, it is a pretty odd sight, as you don't often see a modified backhoe, but it's the interior that is out of this world. Both vehicles had the iconic two-tone gold and black paint scheme, and the backhoe's cab had been refinished to match the truck with shades of brown leather, Laramie badges and chrome trim. If we had to be out working in a backhoe all day, we would definitely try to get into this one (the chrome wheels help, too).
The backhoe is attached to a Ram 3500 Laramie Longhorn Crew Cab 4×4 with a 6.7-liter Cummins Turbo Diesel with 850 foot-pounds of torque, alongside an improved transfer case and heavy-duty transmission. The truck manages to offer the perfect blend of luxury and working ability, and it really exudes the excellence that is the Ram 3500.
"The Ram 3500 Heavy Duty is by far the most capable pickup truck on the market, and like CASE Construction Equipment, is no stranger to hard work. With its long list of best-in-class claims — including payload, power and towing – the Ram 3500 is well suited for the jobsite," said Reid Bigland, president and CEO – Ram Truck Brand, Chrysler Group LLC. "The award-winning Laramie Longhorn model is loaded inside and out with distinctive Western-style design cues. With its matching CASE backhoe, this rig is a show-stopper."