Ram "Built to Serve" Pickup Lineup Expands With Five New Options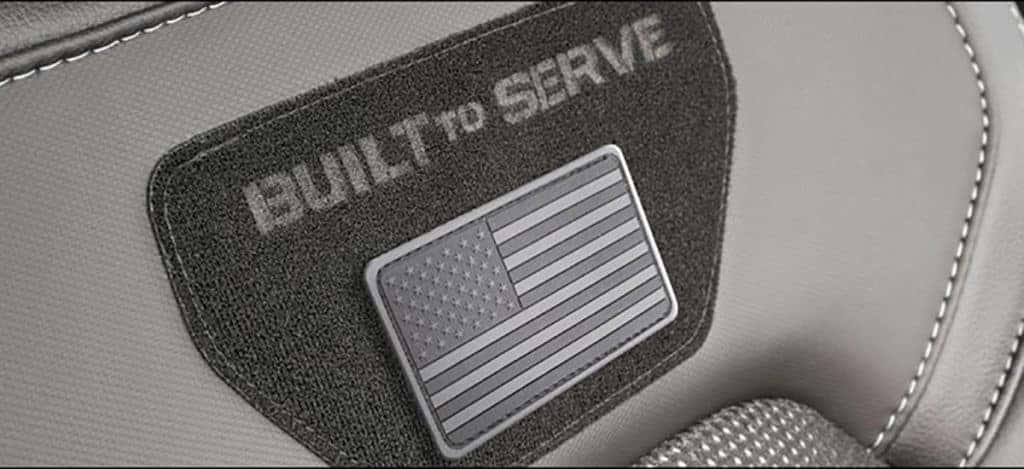 Photo credit: Ram
Ram has begun production of the second installment of the "Built to Serve Edition" pickup trucks at its Sterling Heights Assembly Plant in Michigan. Ram is honoring United States armed forces by way of the new "Built to Serve Editions" offered throughout the Ram 1500 pickups. This is the second wave that will honor the sea and air-based armed forces with several new body color options. The first wave introduced is the Ceramic Gray and Patriot Blue exterior color options that add a black leather interior with Light Ambassador Blue accent stitching. The launch started this past weekend on June 14th, aka Flag Day.
A Patriotic and Rare Find
This limited expansion is a positive move that Ram made to continue building and offering customers patriotic pickups. The "Built to Serve" trucks give a nod to those serving the country and will be a rare vehicle to find. Only 9,000 of these vehicles are to be made. Those who opt for one will gain not just the appearance of a bold and stylish truck, but a rare find. Ram hopes these vehicles are an uplifting and positive message given to all who have served.
"Ram truck owners, whether civilian or military, are familiar with the 'Built to Serve' adage as it's something we strive to build into every truck and van we produce. Ram honors those who serve or have served in the United States with distinction and we continue to welcome volunteers to our Ram Nation volunteer efforts," added Mike Koval, Head of Ram Brand, FCA North America.
The Ram "Built to Serve" Rollout Plan
This new second installment of the "Built to Serve Edition" trucks has begun and will run through 2021 with new editions coming out every three months. Every three months a new "Built to Serve" option will be available, honoring the different sections of armed forces. America's land, air or sea-based military branches are all a part of this collection. The exterior paint colors honor a distinctive service. Unique graphics are also added to signify its intent to honor service. An American flag has been added at the pickup's rear with a "Built to Serve" badge underneath. Each pickup will also receive 20-inch aluminum wheels in a Technical Gray finish. Body-colored wheel flares will also be added to the exterior.
To honor the U.S. Army, there will be Gator (1,000 units) and Diamond Black (1,000). The first option is honoring the U.S. Navy with Ceramic Gray (1,000) and Patriot Blue (1,000). Anvil (1,000) and Billet Silver (1,000) will honor the Air Force. Tank (1,000) and Flame Red (1,000) to honor the Marines. Spitfire (500) and Bright White (500) to honor the Coast Guard.
Amazing Detail Added to Each Ram 1500
Across each of these Ram trucks will be an all-black grille and surround, black bumpers and black-bezel premium lighting, black badges, black wheel-to-wheel side steps, and dual four-inch black exhaust tips. Inside, the "Built to Serve" Ram trucks represent each of the five military branches, accented with unique, corresponding color stitching: Light Frost, Light Ambassador Blue, Light Diesel Gray, Core Green or Orange. Other touches were added like the "Built to Serve" embroidered Velcro panels on each front seat and additional Velcro panels on each front seat inboard shoulder panel.
Owners can apply their own patches – regimental, flags, name tapes or slogans – to personalize their "Built to Serve Edition." Included with the purchase, all-weather rubber slush mats, all-terrain tires, tow hooks, front suspension and steering skid plates, as well as transfer case and transfer case skid plates. These vehicles will be able to handle off-road travels with ease thanks to heavy-duty off-road-calibrated front and rear shock absorbers and the protection offered with the skid plates. Best of all, Ram "Built to Serve Edition" packages are available on all body styles and all powertrains. Want to get started on securing a new 2020 Ram 1500 that provides the comfort and convenience of Ram pickups? Start shopping with our help.
Go With Kendall To Get the Vehicle You Want In Person or Online
Want to add a new pickup for business or lifestyle purposes? We're here to provide for our customers with exceptional deals and a new inventory of Ram 1500 pickups. Buying from home is easier than ever with our staff fully ready to handle all sales, trade appraisals and providing a stellar customer experience the whole way through with leasing and buying options.
Thinking about restoring your current ride? We can handle almost any job your vehicle should need from oil changes to rotating tires, checking and replacing brakes and everything else to make sure your vehicle stays running well. All you have to do is make an online service appointment right here with us and we'll take care of the rest at Kendall Dodge Chrysler Jeep Ram.