Ram Offers All-New "Backcountry" Edition For Upcoming 2022 Ram 1500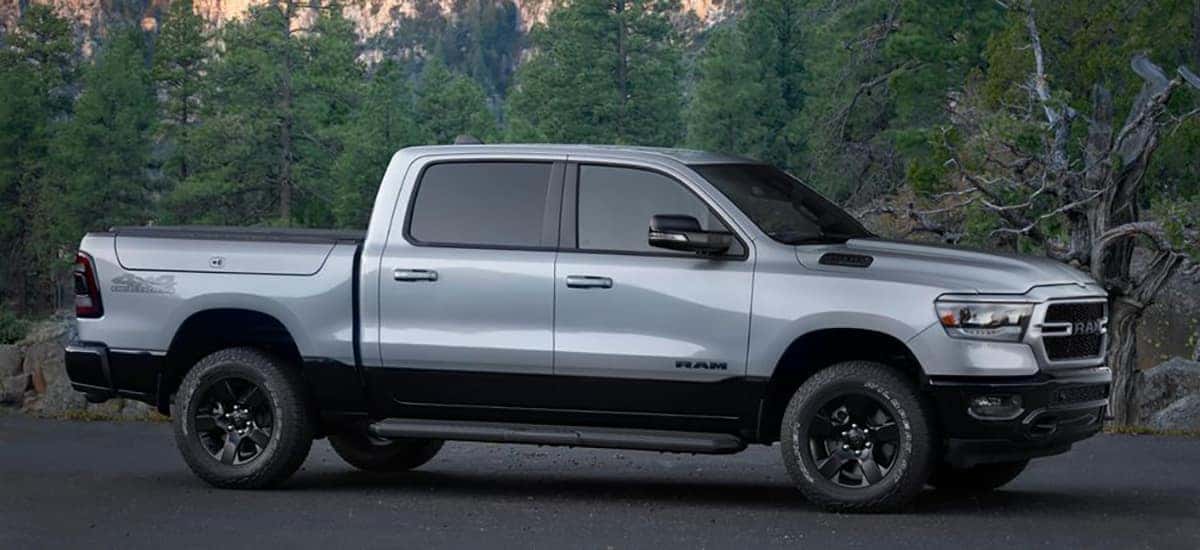 Photo Credit: Ram
The Ram 1500 defines what the Ram brand is capable of for customers. This current generation was defined by the approach Ram engineers took towards making in-cabin tech upgrades that were apparent from its debut with the 2018 Ram 1500 model year. Now, four years into this rebuild pickup, we are experiencing the fruits of the Ram engineers labor. The Ram pickup remains a hot seller and will now offer an even greater experience when driving off-road. In Ram Rebel TRX guise, it's great off-road too, but now there's a cheaper way to get your full-size pickup off-road kicks. Inside the 2022 Ram 1500 Backcountry fans will be impressed as the brand proclaimed this offering is unique. The Backcountry direction takes the already celebrated Ram 1500 Big Horn and Laramie trims. However, the Backcountry frames them with added shocks devised to work adequately off-road and huskier all-terrain tires, a collection of skid plates for underbody protection, and an electronically locking rear differential. The Ram 1500 is responsible for the latest direction Ram is going; focusing on luxury.
More On the 2022 Ram 1500 Backcountry
The 2022 Ram 1500 Backcountry is a more affordable and more modern option for customers over pickups like the rival Toyota Tacoma TRD Pro, a truck that is not nearly as off-road-focused. The Ram brand has created a tailor-made experience that allows owners to handle business on or off-road with ease. The Ram 1500 Backcountry is available with either the primary powertrain in the base trim is the 5.7-Liter HEMI or the e-Torque Hemi (which is awesome as the Ram mild hybrid system is quite excellent). Owners can opt for a quad-cab or crew cab and this pickup is exclusively only available in four-wheel drive.
Pricing for the Backcountry starts at $41,780 MSRP (Plus destination fee), and we should anticipate seeing it in dealers someday in the third quarter of 2021. The next wave of Ram vehicles is coming out and we're more than thrilled to see their arrival, but that doesn't mean a fantastic new 2021 Ram option isn't available for a test-drive. Rush over to Kendall Dodge Chrysler Jeep Ram today to begin the process of having the right Ram option that's capable of getting the work done, providing a glorious modern cabin, and ready to offer handling adventure in brand new ways. 
Shop For What Ram Fits Best At Kendall Dodge Chrysler Jeep Ram.
We cater our shopping experience to those buyers looking for a fantastic selection at Kendall Dodge Chrysler Jeep Ram. To begin the process of owning a new Ram 1500 pickup. We love our collection of Ram pickups. Are you hoping to drive the new 2021 Ram 1500? We also carry the newest Ram Rebel, so our customers can experience all the off-road fun today! Rush over to drive new Ram pickup trucks. We are ready for trade-ins and selling vehicles as well. We're ready to provide a solution for our customers and ensure a stellar experience the whole way through this summer and beyond.
Don't forget we have a trained service team that can help with an online appointment to get started on all maintenance work and repairs. At Kendall Dodge Chrysler Jeep Ram, we know what it takes to provide a worthwhile experience. Allow us the pleasure to help you today!