Ram Teases Debut of Rebel TRX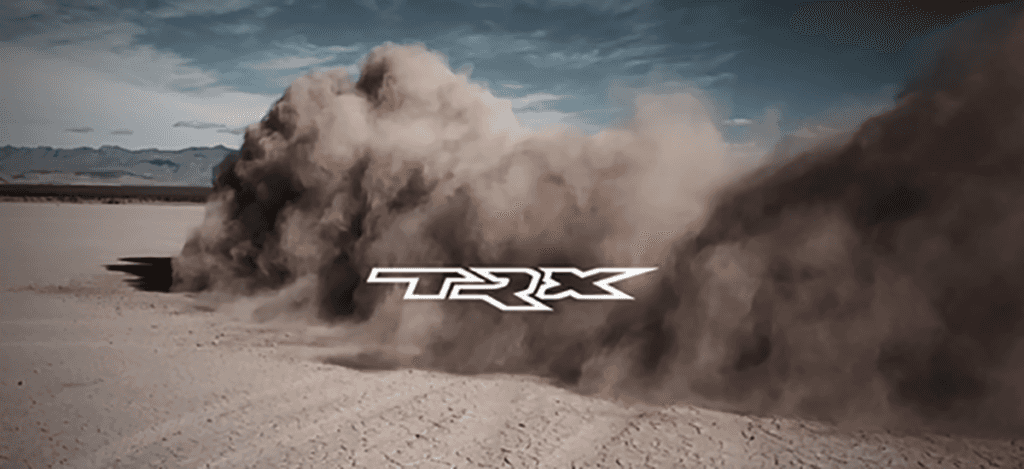 Photo credit: Ram
Ever driven a pickup truck with a Hellcat engine inside? The popular Ram 1500 is about to offer something unheard of within the 2021 model year. The 2021 Ram Rebel TRX will come stocked with a Hellcat engine that offers an immense amount of horsepower and torque. The competition in the off-road pickup segment doesn't stand a chance. 
Reasons Why Ram Has So Much At Stake
After building up the Ram 1500 with the latest generation that debuted in the 2019 model year, the Ram pickup finished ahead of every major pickup brand in total sales last year (with the exception of the Ford F-150) thanks to its impressive and luxurious line-up. However, as the growth of pickups has exploded in popularity, so has the expansion of options. Capitalizing on this trend to offer the best off-road pickup was a no-brainer. 
Ram has not even hinted at what the actual TRX will look like however. Going off of the concept vehicle that debuted in 2016, we know that the ram rebel TRX will be imposing and come with an array of features to help drivers go safely on various terrain, handle roads with ease and offer the ability to haul just about anything an owner could want. Ram has said in just several months the debut will take place. Summer 2020 is the target date for the debut and Ram and off-road enthusiasts are clamoring to know more about this vehicle.
Five Years In the Making
The parent company of Ram, Fiat Chrysler Automobiles (FCA), also produces the supercharged V8 Hellcat engine for its Dodge brand. More buyers have shifted from owning smaller vehicles, but not from vehicles that offer high-performance strength and engineering. At FCA's Capital Markets Day event held in Italy, Mike Manley, who was then the head of Ram but has since been moved to CEO, mentioned a goal was to pull ahead in the pickup segment. One way to ensure Ram can do that is to ensure it's audience ends up with the Ram Rebel TRX instead of the upcoming Ford Raptor. The expected price of the Rebel TRX is estimated around $56,000 MSRP (Plus destination fee), which would be far less than the Ford Raptor. Reports suggest the Raptor will cost upwards of $71,000 MSRP. Back when the 2016 Ram Rebel TRX concept debuted, the pickup was supplied with over 130 less horsepower, but the goal of the vehicle to offer immense speed was a focus.
"With 575 supercharged horsepower and a suspension system built to withstand an all-day hammering, the Rebel TRX concept can devour the roughest terrain at more than 100 mph and never look back," Mike Manley, CEO of FCA
Newest Pickup Will Become A Popular Option
FCA is working to handle demands for what promises to be a widely sought after pickup. New preparations for TRX production has been established, along with preparing each vehicle with COVID-19 safety precautions, at the Ram Sterling Heights Assembly Plant. This is the same plant responsible for producing the Ram 1500 pickup. Paperwork filed for an industrial facilities tax exemption says Ram is going to have a metering and sequencing parts facility added to the Sterling Enterprise Park. This will require the use of an entirely new building made to help build the new 2021 model year Ram vehicles. This goal is a $14.6 million investment that is drawing closer to finishing its goal of production. Once the building is made, a supplier will operate the day-to-day operations and FCA will have around 150-175 new jobs to add on three shifts that will be identical to the shift schedule at Sterling Enterprise Park.
FCA spokesman Kevin Frazier spoke about the production requirements involving "a process where parts are shipped from suppliers in large quantities and repackaged into smaller quantities, and then delivered to the assembly plant, sequenced in the exact order that the vehicles are built." Among the many parts will be items like the dashboard wiring harnesses, rear drive shafts, steering wheels and shocks. Building a pickup today requires more parts than ever before, but one thing customers can expect by late summer 2020, only one vehicle will carry over 700 horsepower standard; the Ram Rebel TRX. For those in search of a new pickup option, we are here to provide our top choices and wonderful solutions to help our customers.
Drive Home the Newest Ram Trucks At Kendall Dodge Chrysler Jeep Ram
We love our collection of Ram pickups. Are you hoping to drive the all-new 2020 Ram 1500? We also carry the newest Ram Rebel, so our customers can experience all the off-road fun today! Come to us to drive new Ram trucks. We are ready for trade-ins and selling vehicles as well. We're ready to provide a solution for our customers and ensure a stellar experience the whole way through.
Don't deal with the problems of a vehicle in need of repairs. Allow us to get your vehicle back into shape with a simple online service appointment. We can get started on making you a happy customer. Stop by today at Kendall Dodge Chrysler Jeep Ram!