Ram Trucks will Adopt Towing Capacity Standards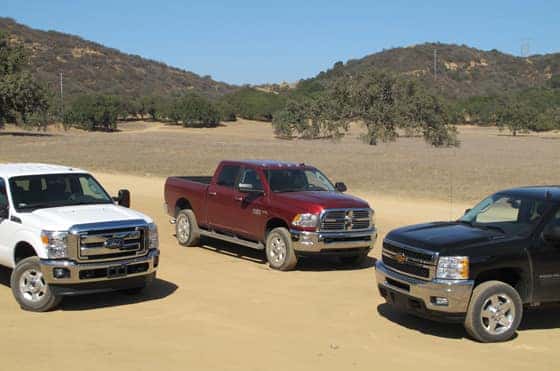 There is nothing better than driving down the road in your Dodge Ram pickup truck. Okay, maybe taking your Dodge Ram pickup truck off-roading is slightly higher on the scale of greatness. Either way, sitting behind the wheel and controlling all of the power underneath the hood of the fully-capable pickup truck, is enough to make anyone's day. Aside from off-roading, cruising, and doing some general hauling with your Dodge Ram truck, chances are you have also taken advantage of another great feature of being a pickup truck owner – towing.
Chrysler Group, General Motors, and Ford, have all announced that beginning with 2015 model year trucks, all light-duty pickups will have a streamlined towing capacity measurement system. In laments terms – it is going to be a lot easier for pickup truck owners of all types, to figure out what they can, and cannot tow. It seems like somewhat of a no-brainer, but Toyota is currently the only brand that has adopted the so-called SAE J2807 standards put forth by the Society of Automotive Engineers. While this is a great step in the right direction, it seems that the standards will only affect light-duty pickup trucks, for the time being. No plans for streamlining the towing standards of heavy-duty trucks have been announced, but it is likely in the future.
Nissan has decided to wait to adopt the new standards until the next-generation of its vehicles are released – so until then, they will be the odd man out. Chrysler Dodge Ram pickup trucks will have adopted the standards and all of the light-duty pickup trucks will have the same towing capacity standards as all others on the market. Hopefully this will give Ram owners a little bit of an easier time when it comes to deciding the all important question: "To tow, or not to tow?"