Ram's Outdoorsman is Ready for SEMA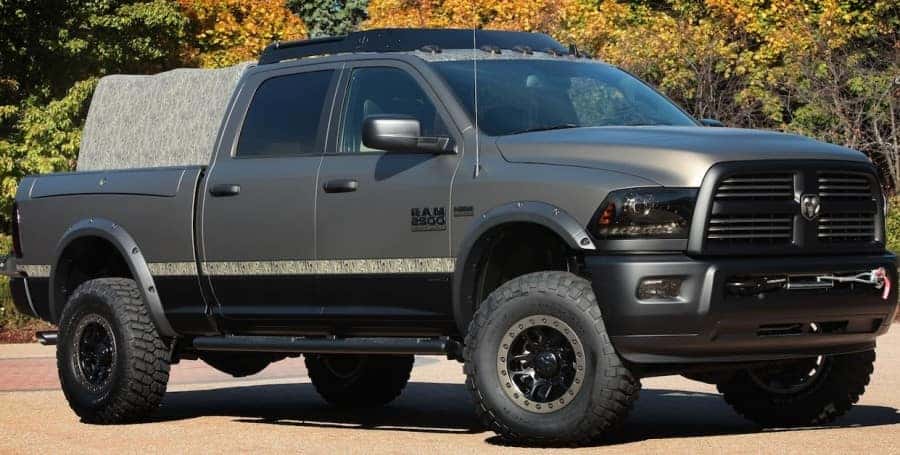 There are a lot of exciting concepts about to head to Vegas for this year's SEMA show, but Ram is going to steal some serious attention with their suited up Outdoorsman.
The 2500 you would find at a Dodge Ram in Miami already comes equipped to handle serious challenges. But the SEMA version has seen additions that make it even more appropriate for deep woods duty.
The Outdoorsman is a Power Wagon concept that's fully fitted for true, hardcore adventurers.
An Off-Road Focus
Because the Outdoorsmen is intended to go where other vehicles just can't hack it, it needed a few upgrades in preparation.
First it got a Mopar lift kit to provide additional clearance for taking on the roughest terrain. It also received Blistein shocks and very capable 35-inch BFGoodrich tires on 17-inch wheels.
In addition, it has been given a winch, which every off-roader should certainly have.
Campsite Ready
If you're going to take things that far into the wild, you ought to be ready to camp out. So with that in mind, the Outdoorsman has the gear for the job.
For starters, a roof rack has been included. Then a convertible tailgate was added. It can turn into a bench seat for two people, and it also has a step to help you get into the bed.
The rear has a Ram Box for equipment storage, and a set of hoops act as a tent frame over the bed. The frame is covered in Mossy Oak Bottomland camouflage fabric.
Trim along the sides, hood, and roof matches to add to the concept's woodsy feel. The paint job is Swamp Thing Green to incorporate a touch of humor and help it blend in with its surroundings.
Another SEMA Entry
Ram is also bringing their ProMaster to the show. It's going to be dressed as a Hospitality Van that would provide a lot of convenience for business owners.
It's designed as a lounge with counters, cabinets, and fixtures for display. Instead of the sliding door on the side, there's a big panel that lifts to give access to the interior.
The van even has a cooled compartment to keep drinks chilled. This ProMaster will definitely give onlookers a vision of the versatility Ram's commercial vans supply.