Reasons Why the 2019 Ram 1500 Is A Premier Pickup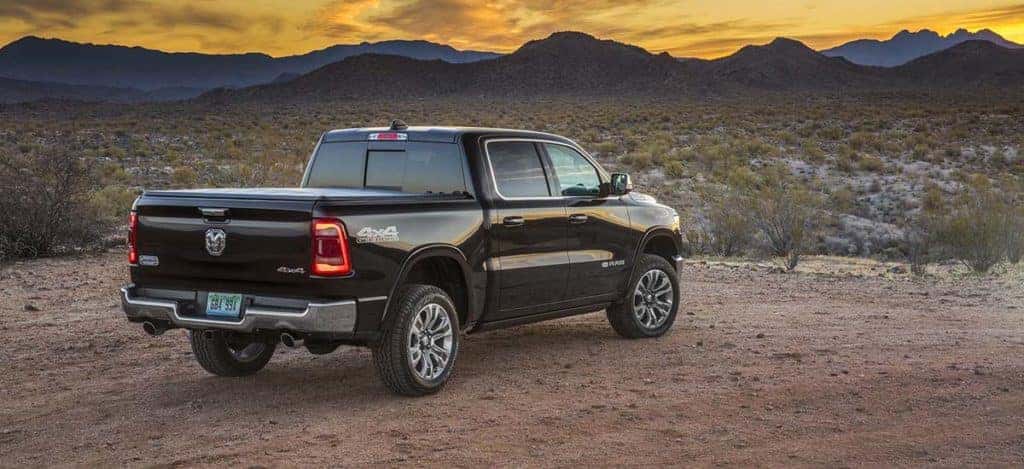 Photo credit: Ram
Ram is one of the premier truck brands because they offer buyers possibilities that aren't provided by other truck brands. Remarkable powertrains, bright colors, limited and exclusive edit on models, and dozens of trims make it accessible for people to get the best truck for their needs. On top of all of the available options, Ram also offers exceptional features that enhance the truck and set it apart from the competition. Aside from the remarkable interior that includes an available 12-inch touchscreen, the 2019 Ram 1500 is ahead of the curve in so many ways. Ram is always looking to improve their customers driving experience and reap the rewards for their innovation. Let's get into some of the reasons why Ram is superior and highlight aspects that have helped Ram win awards like MotorTrend Pickup of the Year that was won by the all-new 2019 Ram 1500.  
Premier Trucks, Premier Engines
The base engine is the upgraded 3.6-Liter Pentastar V6 with eTorque and owners gain Best-in-class standard V6 horsepower at 305 horsepower and 269 lb-ft of torque. The base powertrain has a max towing of 7,730 pounds. The Pentastar engine gets as much as 25 highway mpg thanks to its eTorque feature. Owners can opt for the first of two 5.7-Liter HEMI engines. One adds eTorque while the other does not. The one that does not gets up to 395 horsepower and 410 lb-ft of torque. This engine is good for 11,610 pounds of maximum towing.
The best engine belongs to the Best-in-class Available V8 4×4 combined fuel economy with the mild-hybrid 5.7-Liter eTorque engine is a staple of what helped the 2019 Ram 1500 draw attention. Among the light-duty pickups available, the Ram 1500 offers 19 combined MPG. Few engines are as powerful as this Ram powertrain option and none are as great as saving gas in the light-duty segment. This engine option also has a maximum towing capacity of 12,750 pounds. Impressed with Ram pickups yet?
Active-Level Four-Corner Air Suspension
A class-exclusive trait of the Ram 1500 is the available Active-Level Four-Corner Air Suspension. The Active-Level Four-Corner Air Suspension makes it easy for drivers of the truck to set the truck's ride height to five different heights, and that allows additional flexibility, enhanced handling and overall better driving experience. The air suspension is also noted for driving on different terrains thanks to the Off-Road 2 mode, which affords an extra degree of clearance when driving on rough or crude trails.
The air suspension works with well-engineered adjustable air springs that can boost or drop a vehicle. The vehicle's height can be corrected automatically or manually from driver input. Intelligent sensors sense if the truck is driving at highway speeds as the class-exclusive suspension allows the Ram truck to automatically lower the truck to help lower drag and raise efficiency.  Active-Level Four-Corner Air Suspension is standard on the Ram 1500 Rebel and Ram 1500 Limited models, and it is an available option on many other Ram trims.
Ram trucks allow for support and total comfort with Entry/Exit mode. Decrease your vehicle to make it easier to jump in and out of, store your truck bed or hook up to your trailer with the mere press of a single button on your key fob. The difference from normal is -2.1 inches front and -1.7 inches rear and owners enjoy this feature.
Want To Save Gas? Ram Has That Covered
Ram has added a Multi-Displacement System (MDS), a fuel-saving technology added to HEMI engines because it increases fuel economy when engine power is not demanded. The MDS shuts off half of an engine's cylinders when the truck is coasting because not all cylinders are required when cruising. This technology conserves gas without reducing HEMI power. MDS is not standard for all engines, but it is an available feature for owners of a Ram pickup with a HEMI and a great way to achieve better fuel economy as a driver.
Increased Storage Capabilities
A lot of the reasons why a pickup is purchased is to haul items and have the proper space to do the job right. Ram has implemented an all-steel frame to support the strength to carry out the heavy jobs and added more storage to allow a driver peace-of-mind knowing they can take everything they need and keep any valuables in a safe, secure place. The RamBox Cargo Management System provides that secure place directly on the truck bed.
The RamBox Cargo Management system also incorporates two lockable storage compartments found in the side rails of the truck bed. The storage compartments are lit and they have drains, which makes it a great place to store ice and drinks during tailgating events, fishing trips or just to enjoy being outside. These are just some of the reasons Ram has become as successful as it has been. Curious to get going in your own Ram truck?
Test-Drive the Latest Ram 1500 Today
Find the all-new 2019 Ram 1500, the consumer and critic approved pickup, available at Kendall Dodge Chrysler Jeep Ram today! Ram trucks boast the highest percentage of pickups still on the road over the last 30 years, and for good reason. Come to us to buy, lease or sell your vehicle or check out our newest vehicles or pre-owned vehicles today.
Should you need any servicing, repairing or maintenance we can help you get your vehicle up and running like new with an online service appointment and make a visit to our service center. We hope you visit us today for a total automotive experience at Kendall Dodge Chrysler Jeep Ram.