School in Coral Gables Gets Special Delivery Straight From NASA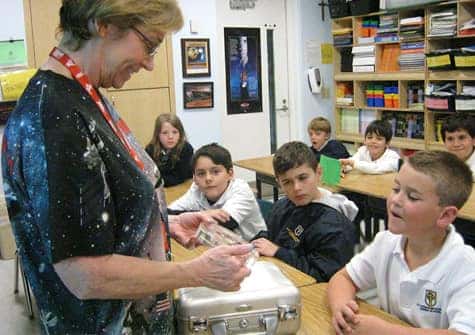 There are a lot of things that make living in south Florida pretty great. While most people may argue that the weather is the best feature of living in and around Miami, which allows them to drive around in their Jeep Grand Cherokee with the windows down. Others may claim the ocean, or the many activities available throughout the year. Children who are able to run around outside in the middle of December without worry about winter coats and gloves, is something that I think many of us may take for granted. Living so close to the ocean can make us forget just how special the beach is, and with the Kennedy Space Center only within a three hour drive, some of us may take for granted all the great resources available at our fingertips.
A group of lucky elementary students aren't taking that last fact for granted, especially after they received a special package straight from NASA earlier this month. St. Thomas Episcopal Parish School in Coral Gables, received a special loan from NASA for several weeks. The package included lunar rocks and soil samples taken from the moon, and were delivered in a heavy protective case to a teacher at the school. Barbara Gosney is a STEM teacher at the St. Thomas Episcopal Parish School. The STEM program is a nationwide education movement that works to increase skills and passion in students who are interested in technology, science, engineering, and math. Gosney was certified at the Space Exploration Educators Conference at the Johnson Space Center in Houston, before she was able to receive the special shipment of the rocks.
Students in the STEM program have been preparing by watching NASA videos, and studying the moon in a more in-depth curriculum. Along with the lunar rocks, NASA also sent the school a set of meteorite pieces to study that were collected from various locations across the United States.