Strategic Vision Loves FCA and You Will Too!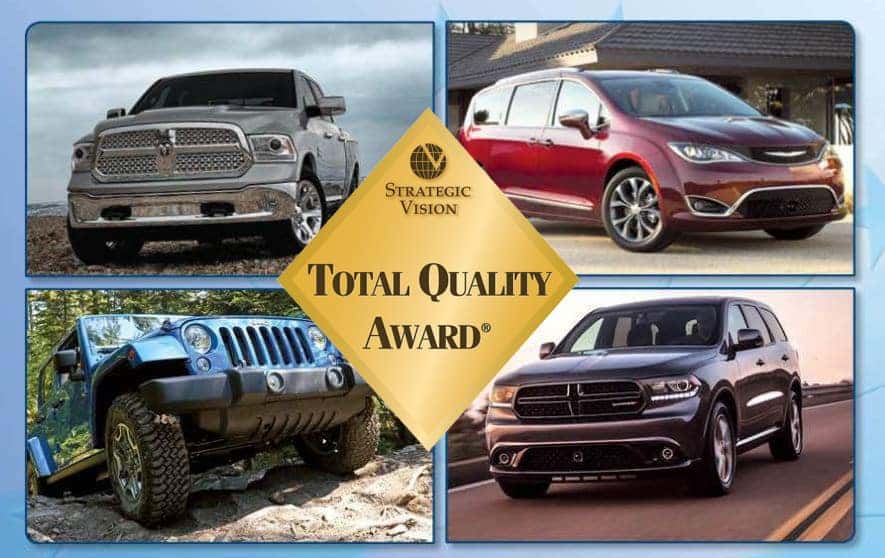 Strategic Vision just released the winners of the 2017 Total Quality Impact Awards (TQI). The TQI awards are the most complete measure of quality for a new vehicle according to Strategic Vision. The results show not only the quality of the vehicle, but the experience of owning and driving the vehicle as well. All results of the study are based on the emotional response and experiences of real consumers
How is TQI calculated?
TQI is calculated by consumer responses to surveys. The surveys include questions related to all parts of vehicle quality including problems reported, buyers opinions on tangible aspects of the vehicle, intangible aspects, and emotional aspects and feelings towards the vehicle. With that being said, this award truly shows the best of the best.
FCA and 2017 TQI Awards
Luckily for you, our FCA brands including Dodge, Jeep and Chrysler took home awards in four different categories.
Large Car – Dodge Charger
There is no surprise here! The Dodge Charger is the only four-door five-seat muscle car on the market. You just can't beat a "sedan" with engine options including a 3.6-liter V6, 5.7-liter HEMI V8, 6.4-liter HEMI V8, or the supercharged 6.2-liter SRT Hellcat V8 engine. The horsepower of the Charger ranges from 292 all the way up to 707 horses, wow! Plus the sedan comes with plenty of standard and optional technology and style features.
Small SUV/Crossover – Jeep Wrangler
The Jeep Wrangler winning the small SUV category also comes as no surprise. The Wrangler comes standard with a 4×4 drivetrain and a 3.6-liter V6 engine that can produce up to 285 horsepower and tow up to 3,500 pounds. There just isn't any other SUV on the road as off-road capable as the Wrangler. Depending on how adventurous you are, the trim levels vary in off-road features and systems, however all models come in four-wheel drive.
Midsize SUV/Crossover – Dodge Durango
The Dodge Durango is an awesome SUV because it can be a family car, a car for a new teen driver, or a vehicle for anyone who just needs space! We love the Durango because it comes standard with three rows and seven seats, but if you don't need all that space you can downsize to the five seater option. Until the Durango SRT is released later this fall, the Durango is available with two engine options including a 3.6-liter V6 and a 5.7-liter HEMI V8. Depending on the engine, this vehicle can produce up to 360 horsepower and tow up to 7,400 pounds.
Minivan – Chrysler Pacifica
The Chrysler Pacifica just won't stop winning! The Pacifica can seat up to eight passengers, it's an I.I.H.S. Top Safety Pick+ and it has over 100 safety features (standard and available), so it's not surprising it earned the top spot in the minivan segment! The minivan has a 3.6-liter V6 engine that produces up to 287 horsepower and has a towing capacity of 3,600 pounds. That is impressive for any car let alone a minivan!

All of these vehicles are capable, full of awesome features and clearly loved by consumers! Interested in any of them or a different FCA vehicle? Check out the inventory at Kendall Dodge Chrysler Jeep Ram here.