Thanksgiving Road Trip in the Chrysler Pacifica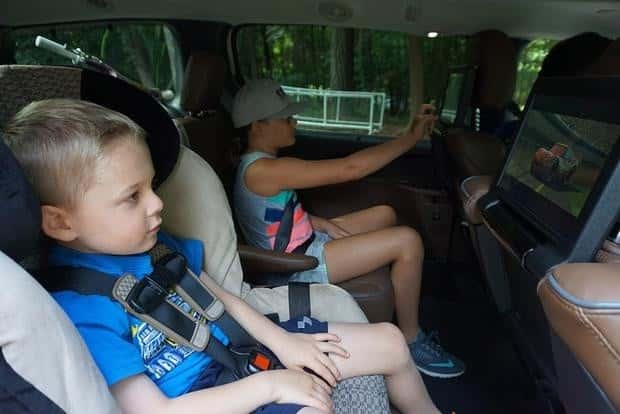 Packing up and headed on a road trip for Thanksgiving? Traveling can be complicated, especially if you have a big family, but the Chrysler Pacifica may be just what you need to have a fun and comfortable trip to wherever you are going for the holidays.
Why the Pacifica?
Seating
IS there such a thing as too much room? Obviously having plenty of seats is great, not just for big families, but even for small families. Not being cramped and everyone have plenty of room is key to a smooth trip (especially with kids!). The Pacifica offers seven-seats standard and an eight-seat option for those that need it.
Cargo
With up to 140.5 cubic feet of cargo space via the Stow n' Go seats and option of a roof rack, running out of room is basically impossible.
Safety
Of course, safety is important on a roadtrip! The Chrysler Pacifica has a five-star safety rating from the NHTSA and it is an I.I.H.S. Top Safety Pick+. In addition to great standard safety features, there are dozens of available advanced safety features.
Entertainment
Staying entertained is important too! Passengers and drivers will never be bored with the UConnect system, bluetooth connection, AUX and USB ports and more coming standard in the van. Looking for more? Dual UConnect 10-inch DVD players with USB and wifi connection and available as well.
Fuel efficiency
Save money on a road trip with a fuel efficient vehicle! The Pacifica offers a hybrid model that has a combined city/highway fuel economy of 84 MPGe (miles per gallon equivalent). If charging a hybrid isn't for you, even the gas model with a 3.6-liter V6 engine has an impressive fuel economy of 19 mpg in the city and 28 mpg on the highway.
Get the gift of the Chrysler Pacifica at Kendall Dodge Chrysler Jeep Ram today! Happy Thanksgiving from our family to yours!
Photo source: Auto Trader