The 2020 Jeep Gladiator Goes Where It Wants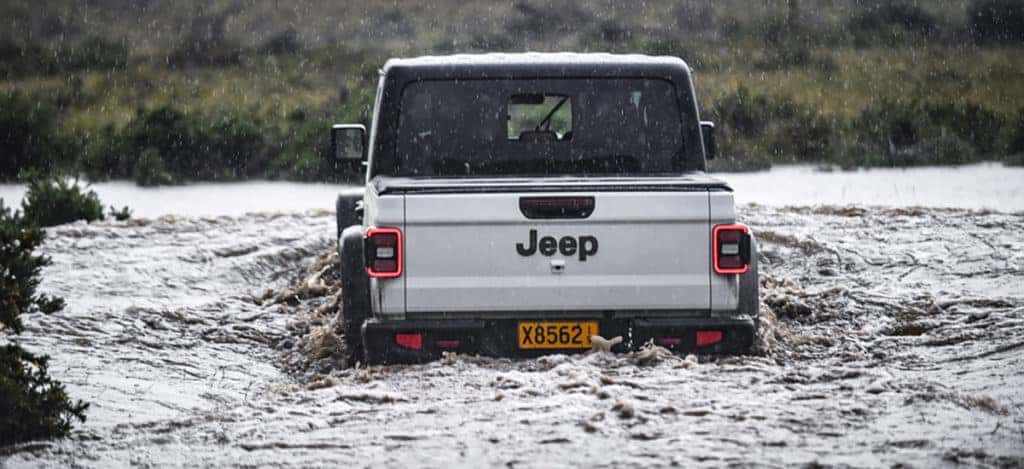 Photo credit: Jeep
The perks of the 2020 Jeep Gladiator are still being presented by the Jeep brand and felt by customers who are discovering the capabilities of the all-new Jeep Gladiator. A recent exploration of the New Zealand southern coast by the help at Robb Report cataloged their experiences driving the Gladiator. The Jeep mid-size pickup demonstrated its ability to handle the off-road travel, including waterfording up to 30 inches with ease. The ability of the Gladiator is unbound due to its traction, ground clearance and fully insulated electronic modules above the fording line. This allows the Jeep Gladiator to tolerate the waters when traveling through any areas of water. 
The Results of Jeep Innovation
Christian Meunier, the Global President of Jeep said, "We're going to make 4×4 cool again." And with the addition of the Gladiator into the Jeep lineup, this became a reality. Owners of the Gladiator have found something to rally behind as Jeep has not produced a pickup since 1992. Before that, Jeep had made nearly a fifty-year tradition of producing pickups, dating back to 1947 with the Willy's Overland pickup. Jeep has grown in leaps and bounds in recent history. In 2009, Jeep sold around 300,000 vehicles. To put everything in perspective, the results of 2019 saw Jeep sell more than five times that many vehicles. What is more impressive than what Jeep has done with its brand? Jeep has sought out ways to improve its line-up and offer more for their customers. Enhancing the Jeep Gladiator with the ability to go nearly anywhere is very much in line with the history of Jeep and showed on the run by those at Robb Report. Or, for those who first saw the Jeep Gladiator during the Super Bowl commercial with Bill Murray reprising his role from Groundhog Day. The 2020 Gladiator used in that vehicle is actually on sale for $55,000 right now, in case a super fan wants to get their hands on it.
The Pickup That Makes It All Possible
The powerful 3.6-Liter Pentastar V6 powertrain is a remarkable engine. The Jeep Gladiator has options that allow the driver to enjoy the fun of off-road with its "Off-Road Plus" button. This option works in both High and Low four-wheel-drive mode. The ability to rock crawl is uncanny, like that of a Jeep Wrangler. Protective skid plates made of steel are reinforced with the Gladiator, even in the lower trims like the Sport, Sport S, and Overland. The Rubicon supplies more than solid front and rear-axle electric lockers, more aggressive 33-inch-tall all-terrain tires with a front camera system that allows for making life easier for the driver. For those that want to embrace the Jeep adventures awaiting them, in the 2020 Jeep Gladiator, it's all possible with our help at Kendall Dodge Chrysler Jeep Ram. 
Jump In A Jeep Today With Our Help 
Come to us to find the Jeep vehicles that you want with our help. We're ready to provide an unmatched shopping experience. We have a passionate sales team that will make your buying, leasing or selling needs. Check out our newest vehicles and see what we have to offer. We're happy to be your dealership home. Considering a used vehicle? We have that as well!
Rush to us for any repairs and regular maintenance on your current ride. We hope to get your vehicle back into shape today. With a simple online service appointment, we can get started on making you a very happy customer after a visit to our service center. At Kendall Dodge Chrysler Jeep Ram, we are ready to help make your day easier!