The AEV Jeep Wrangler Unlimited Rubicon is an unrelenting machine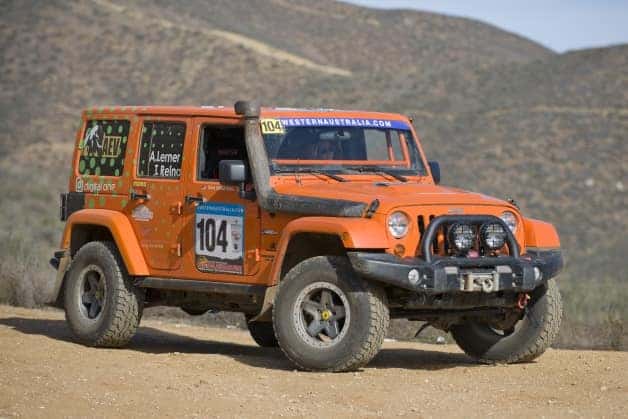 We love hearing Jeep success stories, and we wanted to share one with you today, since we will likely be hearing plenty about the 2014 Jeep Grand Cherokee! Back in 2007, a Hummer H3 failed Amy Lerner and her sister Tricia Reina during the brutal Rallye Aiche des Gazelles in Morocco. Afterwards, they began their quest to find the most capable production off-roader for their next competition. Naturally, they chose a 2012 Jeep Wrangler Unlimited Rubicon. Stock, it wouldn't have held up against the highly modded and configured competitors, and they were stuck with finding a trustworthy company to give them the perfect competitive edge.
After searching all avenues, they sent their bright orange JK (officially called Crush, like the soda… Mmm) to American Expedition Vehicles, known as AEV, for some modifications. The AEV team, based in Michigan, kept the 3.6-liter V6 and automatic transmission stock in the Jeep, but replaced the hood with a tall AEV Head Reduction Hood and added an AEV Snorkel Kit for water crossings, which also helps keep the air intake out of the kicked-up dust. Off-road bumpers were bolted in place, and AEV skid plates were added to provide additional undercarriage protection. A pair of IPF-900 off-road lights improve visibility, while a 10.2-gallon AEV Fuel Caddy added some range. They also upgraded the suspension with a 3.5-inch lift kit with Bilstein remote reservoir shocks and 35-inch Falken Wildpeak A/T tires were mounted on the AEV beadlock wheels.
Last year, Team Lerner Reina returned to Morocco with a goal of finishing the Rallye Aicha des Gazelles. In September, they then traveled to Western Australia's outback to race in the extreme Australasian Safari, where this amazing AEV Jeep Wrangler was the only production-based vehicle to finish. They were the fastest female team, and the winner of Production Class A1.2. A win in the Dakar Challenge earned them a spot in the 2014 Dakar Rally, and we are so happy. It just goes to show you how much a Jeep Wrangler can handle!