The Dodge Power Dollars Promotion Is Back With Thousands In Savings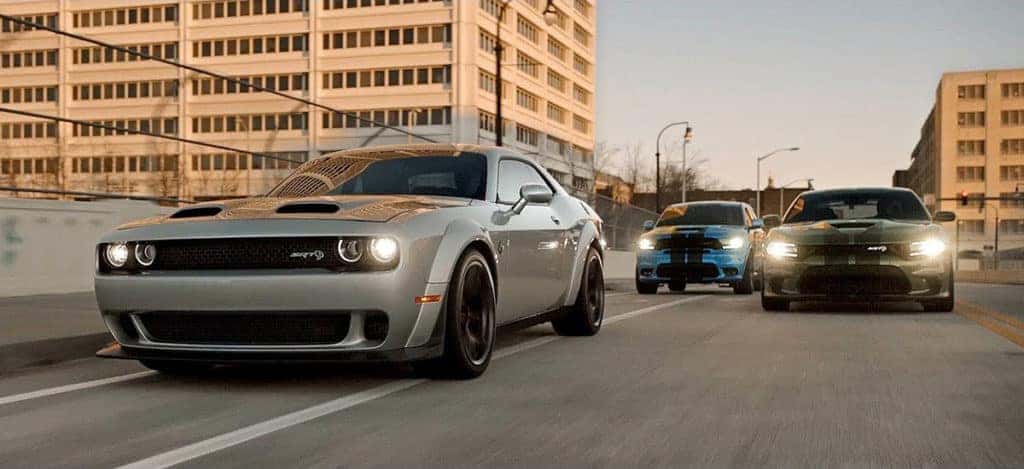 Photo credit: Dodge
The Dodge Power Dollars promotion has formally begun again, as Dodge is hoping to have customers save big time in 2020. Consumers can save a significant amount of cash when they buy any 2020 Dodge Charger or 2020 Dodge Challenger model. Buyers will save $10 for each horsepower their new vehicle has. The savings will be allotted in the form of an immediate cash allowance. Therefore, the more horsepower in the buyer's vehicle, the greater the cash allowance. For those looking to save thousands of dollars, now is the time to buy a new Dodge muscle car. Take a look at how much someone can save with the 2020 Dodge Challenger SRT Hellcat Redeye, the Dodge Power Dollars cash allowance provides up to $7,970. That's an incredible way to save and get all the muscle Dodge can provide for customers in a sedan. 
Dodge Power Dollars Ramps Up the Savings
Dodge is breaking out all the stops to let customers go wild with savings. The parent company of Dodge, Fiat Chrysler Automobiles (FCA), saw tremendous sales last year when the Dodge Power Dollars campaign first started. This year, they are hoping to see the same returns. In 2019, a record number of both Charger and Challenger models left dealerships to new homes. A grand total of 84,216 muscle cars were sold in 2019. Dodge sold the highest amount of Charger muscle cars since 2013 with 96,935 vehicles sold. The Dodge Challenger held its own with over 60,000 Charger models sold in 2019, that number was higher than twice than the year the Challenger came out back in 2008. 
"Our Dodge performance enthusiasts are drawn together by their love of American muscle. And Dodge Power Dollars has tapped into something very powerful. So we're now making Dodge Power Dollars available on any 2020 model-year Charger or Challenger to make it even easier for our fellow horsepower addicts to join 'The Brotherhood of Muscle." said Tim Kuniskis, Head of Passenger Cars – Dodge, SRT, Chrysler, FCA – North America.
Gain Muscle And Explore How Much You Can Save
Dodge and the Street Racing Technology (SRT) vehicles are more popular than ever. With 11 million followers across the various social media channels (Facebook, Twitter, Instagram), Dodge muscle car fans only grown in scope over the past decade and a half. In 2020, Dodge has made these vehicles even more exciting. Fan engagement is anticipated to grow and see a continued increase with the hashtag #TheMuscleBehindUs serving way to keep up with the new Dodge muscle cars. 
If any of our readers own any Dodge muscle cars, feel free to showcase the vehicle and join the "Brotherhood of Muscle". Dodge will be creating a new social series across all its platforms that will highlight fans across the world. Dodge muscle car owners are encouraged to add their own stories and images on their own social media pages with this unique hashtag. Last year, Dodge set a goal of selling between 485 to 500 million horsepower on the road by the end of the year. The goal was reached in sales, two months earlier than the expectation. 
The Dodge Line-Up Is Here At Kendall Dodge Chrysler Jeep Ram
Want to save on a new Dodge Challenger? We're more than able to assist our customers for any buying, leasing, selling or needs they may have. We can also help buyers trade-in their current vehicle. Our knowledgable sales team shows off all our newest vehicles and high-quality pre-owned vehicles with pride. 
Not sure if your current vehicle is running well or needs some work? We're here! We are able to make sure you're back on the road fast with our experienced service staff. Make an online service appointment and we can help you with your vehicle problems. We look forward to being your center for all things automotive. Stop by to see us today!