The Ram 1500 Fits Many Customer's Needs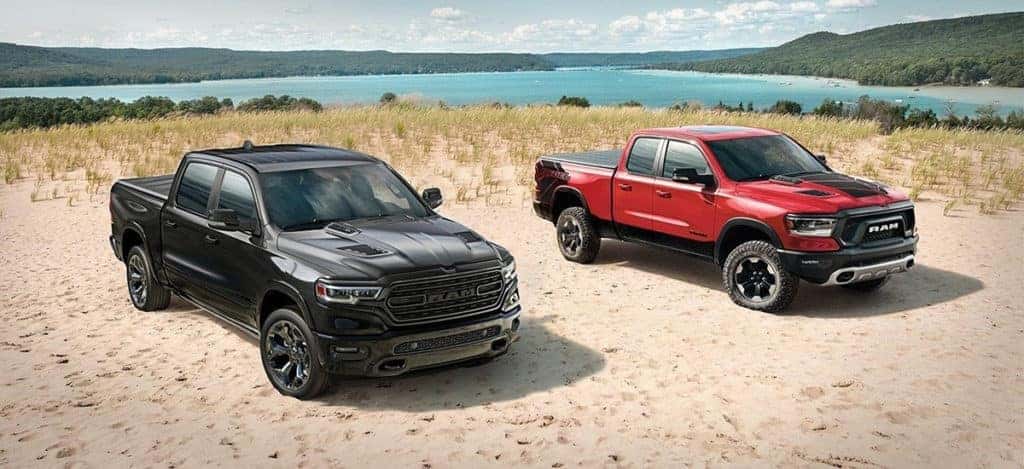 Photo credit: Ram
Thinking about driving away in a new vehicle for the holidays, but not sure of the right choice? Why not make the choice a Ram 1500 with our help. Not a whole lot of news has come out about the upcoming 2021 Ram 1500. Considering the massive jump the premiere Ram 1500 made with its newest generation last year and the fact the next-generation Ram pickups will not come out for several more years at the earliest, we can safely say the 2020 Ram 1500 is a great option. For those curious to know more about how the Ram 1500 has become such a popular choice, we can help explain. 
Inside the 2020 Ram 1500
The 2020 Ram 1500 added a new diesel engine, named the EcoDiesel engine, with the perks of saving gas evident in the 4×2 model, meeting 32 highway MPG. The 4×4 diesel-powered Ram 1500 models will hit 29 highway MPG. The 33-gallon EcoDiesel can go over 1,000 miles when filled up all the way. More than just economical, the Ram pick-up is a world-class experience inside. A comfortable cabin is supported by the centerpiece, an available massive foot-long touchscreen, and modern tech like Apple CarPlay and Android Auto capabilities are all provided. Customers can fully embrace buying one of the current models knowing they will be rewarded with a pick-up that offers so much for many different kinds of owners. 
Who Was the Ram 1500 Built For?
Thinking a Ram 1500 half-ton pickup is the right vehicle choice? For many, that is definitely the case. This vehicle was made for many customers in mind. Drivers who own a business and need a solid work truck, people who carry cargo often, or those that want a comfortable luxury truck to enjoy on road trips and everyday driving, the Ram 1500 is a great fit for all of those cases. The Ram 1500 pickup has become quite a popular option across all segments for various reasons. Publications have helped the Ram brand establish a better connection within the options in the pickup segment. Of course, the rest of the automotive world is trying to play catch up with Ram as of late. 
Awards and Recognition Galore
MotorTrend named the 2020 Ram 1500 as its 2019 Pickup of the Year and awards like this have only helped buyers appreciate all that Ram has done to upgrade their fleet and brand overall. The awards don't stop there either when considering the right fit, consider the Ram 1500. The 2020 Ram 1500 was named Edmunds Top Rated Truck for 2020, Business Insider's 2019 Car of the Year. Thinking about test-driving one to learn if the Ram pickup is the right choice? We can help show off a vehicle we are quite proud of today at Kendall Dodge Chrysler Jeep Ram.
Have You Tried Driving a Ram Before?
We are proud to welcome you to Kendall Ram Chrysler Jeep Ram. Our friendly team of professionals hopes to help you find just what you're looking for. Our wide selection includes both, the new 2020 Ram 1500 and the 2019 Ram 1500 Classic. If you're looking to test-drive one, we'll be happy to showcase our many options and highlight the differences for you.
Our service center can help your vehicle return back to form, even if you didn't shop with us. Allow us to provide you with quality service with a simple online appointment. Let us know what work you need to have done and we'll be ready! See you soon!