UConnect – Keeping you Safe and Entertained in your Chrysler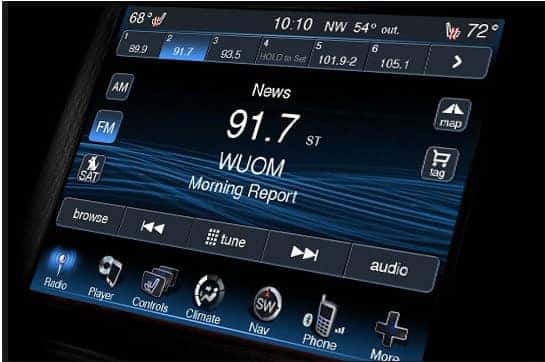 Photo source: UConnect
Vehicles are rapidly becoming more and more technologically advanced and many auto companies are developing their own versions of infotainment systems. Fiat Chrysler Automobiles has done just that and it's called UConnect. Uconnect makes it convenient and easy for drivers and passengers to change various controls in the car like the radio, climate and even answer phone calls if synced up with a user's phone.
There are currently three versions of Uconnect and they are Uconnect 5.0, Uconnect 8.4 and Uconnect 8.4NAV. Users access and control the Uconnect system via a touchscreen in the vehicle's dashboard and  vehicles that have Uconnect 5.0 have a five-inch touchscreen and vehicles that have Uconnect 8.4 or 8.4NAV have an 8.4-inch touchscreen.
The version of Uconnect a vehicle is equipped with varies from model to model as well as trim. For example, the Chrysler Pacifica LX comes standard with UConnect 5.0 and a five-inch touchscreen, but other Pacifica trims come standard with the 8.4-inch touchscreen. However, the Chrysler 300 actually comes standard with Uconnect 8.4 and the 8.4-inch touchscreen.
Standard Uconnect Features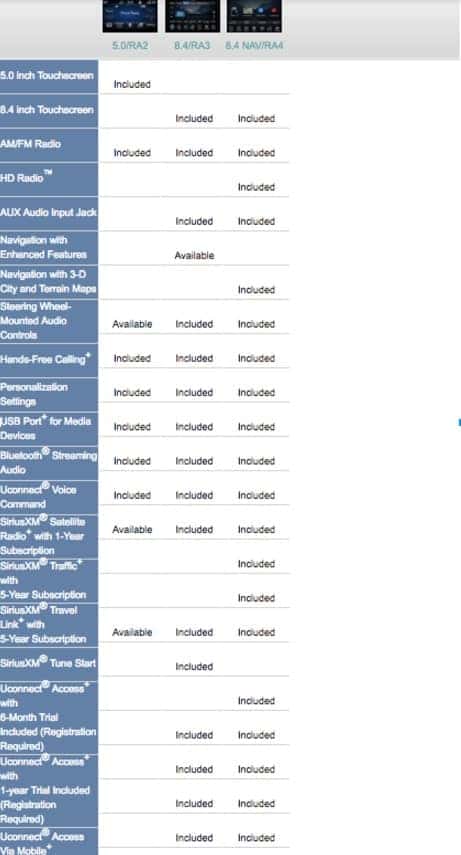 Photo source: UConnect
Additional  Uconnect Features
In addition to the standard Uconnect features, users can buy additional features and plans to make their user experience even better. Also, owners can generally upgrade a vehicle equipped with Uconnect 5.0 to Uconnect 8.4 or Uconnect 8.4 NAV.
Uconnect Access
In addition to the three versions of Uconnect, there is also Uconnect Access, which is a smartphone app that connects users to their vehicle via a smartphone app. When a user's phone is synced up to Uconnect Access they can remotely control various car features like locking and unlocking vehicle from phone, turning a vehicle on via remote start, locate their parked vehicle. Uconnect Access also provides users with a vehicle health report and health alert system, which is a great way for users to stay on top of regular car maintenance. Additionally, UConnect Access can also turn a vehicle into a 3G wifi hotspot for an additional fee. Uconnect Access is only available with Uconnect 8.4 and 8.4NAV.
We hope this was helpful! Follow Kendall Dodge Chrysler Jeep Ram on Facebook for more tips, tricks, and news regarding FCA vehicles. Feel free to browse our Chrysler inventory online here, no matter which new Chrysler model you choose, UConnect is always standard.