Great Used Pickup Trucks Await You in Miami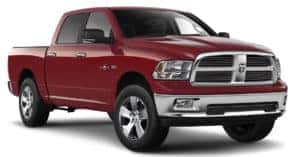 If you are in the market for used pickup trucks for sale in Miami you really need to take a long hard look at the 2012 Ram 1500.
First off the quality of the Ram is legendary for toughness and reliability and back in 2011 when the 2012 Ram 1500 was brand new truck enthusiasts couldn't say enough about the overall ride and smooth handling.
What comes to mind when you think of a used pickup truck? Sure, muscle, payload, engine size, torque, and hauling power. But what about comfort? Yeah, not usually. But that is what makes the 2012 Ram 1500 another interesting choice that sets the other used trucks apart.
Nestled in the cabin is the luxury of a high-end car, even though the exterior remains "tough as nails" and fully a truck. While the 2012 Ram 1500 is a full-size pickup available in multiple cab styles and bed lengths there are some standards that come into play.
The regular cab seats a maximum of three people on the standard 40/20/40 bench seat. If you are looked at the available extended cab you'll be surprised to find it can seat up to six in two bench rows and comes only with the 6-foot-4 bed. The crew cab model expands rear-seat legroom even farther, but is only available with a 5-foot-7 bed.
Also, Ram was forward thinking in the interior giving plenty of room for storage compartments and not getting clumpy in the quality of the materials used. In this era, there was a trend towards lower quality "cheaper" plastics. Over the years, makers that opted for that route have regretted that decision. Now that the trucks are getting a little older the poor quality materials show their age.
Luckily, Ram used high-end quality materials for the interior of the 2012 Ram 1500. They still hold their luster and quality.
From the engine side of things, the 2012 Ram 1500 comes with a standard V6 engine or two available V8 engines. Over the years, owners and reviewers of the truck have praised the engine for the power and torque not to mention the longevity of the engine with little-needed maintenance.
Today fuel economy is always on the minds of drivers. When looking for a used pickup truck for sale in the Miami area highway MPG is important. Fuel economy is an EPA-estimated 14/20 mpg city/highway for the 2012 Ram 1500 which isn't bad for the overall size of the truck and the class.
Overall the 2012 Ram isn't that old of a truck at the time of this writing but it is still a used vehicle. One that has retained value and will so long into the next decade. It is one of the reasons why it is recommended as a sturdy workhorse and a great value in the used truck market.
As far as 'tech' you really can't beat what is offered on the 2012 Ram 1500 especially for a truck of this class. Available features include power windows and door locks, satellite radio, a touch-screen media interface, a USB port, Bluetooth, navigation and a rearview camera.
So, we have established what makes the 2012 Ram 1500 a great vehicle…but why buy a used truck in the first place?
One of the main reasons comes down to financing. Often times financing a used truck is a lot easier than financing a new truck. Also, depreciation comes into play. At the age of a 2012 Ram 1500, you are basically going to purchase the truck for the actual value.
New trucks lose value quickly. On average, a new truck loses somewhere between 20 and 30 percent of the value as soon as you drive away in it. What's worse is that some cars can depreciate up to 50 percent in the first three years. That is a lot of money that you end up loosing in the end. You can avoid this when buying a used truck, especially one like the 2012 Ram 1500 that tends to keep its value over the years.
Another plus for purchasing a used vehicle is the negotiation. There are not a whole lot of ways you can negotiate the price of a new truck. Let's be clear. Negotiation is part of any sale and you certainly can get a decent round of price negotiating when you are talking with the dealership, but overall there is less "wiggle room" particularly when dealerships are often very competitive with their pricing from the start.
When buying a used truck there is more "wiggle room". Many times you can find a dealership that is going through a used truck super sale or some other way to get rid of extra inventory and may be willing to take an amount that is less than the truck is actually worth. Be on the lookout for used trucks that may have been a recently traded arrival.
With a used truck, you can also deduct cost based on flaws that will happen with any used vehicle. Dullness in the paint. A scratch. A small dent. A stain on the carpet or upholstery. A rip or a tear. A missing piece. All these little things can add up to BIG savings during your final price negotiation.
Once your price is set in stone another plus when buying used is the final buying process.
If you are buying a new or used truck from a dealership, most likely, you'll end the deal in the finance and insurance (F&I) office. If you are buying a car from a private party, you just have to make sure that payment is final and that the seller properly transfers title and registration to you. Regardless, make sure you close the deal completely. You don't want to the hassle of tracking down paperwork when it comes to registering or insuring your new purchase.
By the way, that is a big plus when purchasing a used vehicle from a dealership. The paperwork!
Sometimes with a private sale some crucial piece of paper might not have been completed during the time of sale. This can make registering yours new purchase a pain. Luckily, when purchasing a used vehicle from a dealership you can rest assured that the paperwork will be done correctly in most cases.
Overall, used pickup trucks for sale in Miami are in decent shape.
You should be able to find something very affordable and work on a great deal
on a new workhorse for around the yard or construction site.