Waymo Self Driving Vehicles Ready For Riders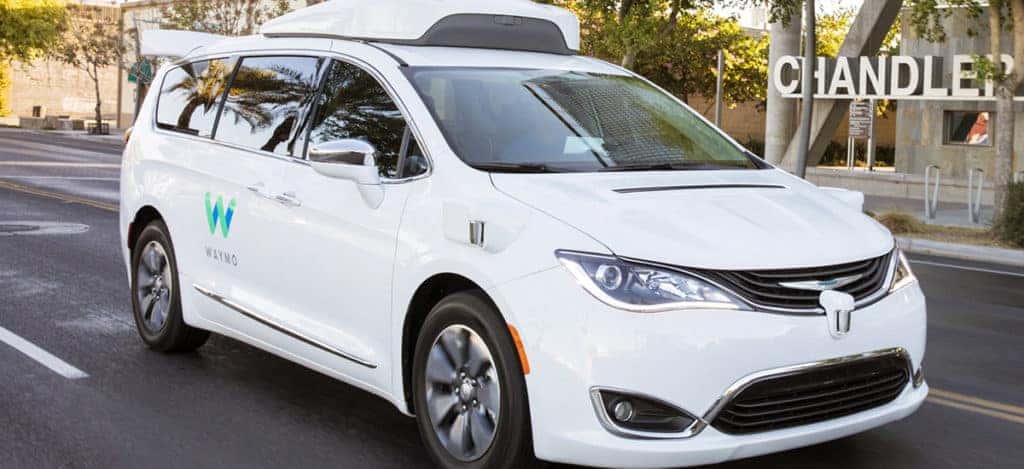 Photo credit: Waymo
Waymo One is now joining the ranks of Lyft and Uber as an option for customers. Simply download the app, select a destination and a Waymo vehicle, a modified Chrysler Pacifica Hybrid, will show up. The difference between Waymo and those other business models? Waymo saves money by not requiring a human driver. That's right, the customer experience involves an autonomous vehicle experience! Let's go over the history and the current product made by Waymo.
A Brief Waymo Background
Waymo was created in 2009 with the help from Google. Their creation started almost an entire decade ago with a self-driving project that is finally paying off today. Alphabet/Google owns the operation that has developed over those years and performed lots of testing for the driverless Pacifics to become a viable product for transporting paying customers to their destination. Waymo began with only 100 specialized vehicles back in 2016 and has grown to over 62,000 Waymo Chrysler Pacifica Hybrid units. (That's a lot of minivans!)
Hundreds of these self-driving Waymo Pacifica models have begun their service for an area of the Phoenix, which is about a hundred-square-mile space. The service will be known as Waymo One and be offered 24/7. The minivans will be maintained by Avis Budget Group and AutoNation to help with keeping the vehicles running smoothly. Waymo has selected Deborah Hersman, the former chairman of the National Transportation Safety Board and president of the National Safety Council, to be the company's chief safety officer.
"We're taking the next step in our journey with the introduction of our commercial self-driving service. Self-driving technology is new to many, so we're proceeding carefully with the comfort and convenience of our riders in mind," John Krafcik, Waymo's CEO, wrote in a blog post introducing the start of service.
Perks of Waymo One Versus Lyft, Uber Or A Taxi
After nearly a decade at the helm of producing these self-driving vehicles, customers should feel confident riding in these vehicles. Unlike a human driver, there's no peeking at a cell phone to make sure they are driving to the right destination. Waymo won't have distracted drivers, they won't be angry or tired ever and there's no tip expected. Waymo One has started their new service using only Chrysler Pacifica Hybrid minivans and expects to continue to roll out their driverless car program across the United States. Currently, only Chandler, Tempe, Mesa and Gilbert are the only Arizona suburbs to have Waymo One running.
"We're never done learning, and our early rider program will continue as a way for a select group to give us ongoing insights. They'll help test early features before graduating to Waymo One where new capabilities can be accessed at scale by the public over time," Krafcik wrote.
More About Waymo
Waymo is the very first company to be certified as a driverless transportation network in Phoenix, Arizona, and the first autonomous car to be granted a permit from the State of California to test and provide autonomous vehicles without a backup driver in the front seat. Currently, the testing will include a representative from Waymo inside the vans as a safe driver, but the van will be driven entirely by the vehicle alone. As we approach a new decade, we're that much closer to a future with self-driving vehicles as something we overlook and become used to. But, before that happens, we're happy to announce we have the latest Chrysler vehicles ready to drive and love!
Drive Chrysler With Us Today
We encourage people to check out the latest 2019 Chrysler Pacifica Hybrid and upgrade to the "Family Car of the Year" according to Cars.com. Our friendly staff can help you go through our entire new vehicles and pre-owned vehicles you'll be sure to love.
Your current vehicle not running well? We can make sure you're back on the road quickly with our experienced service staff. With a simple service appointment, our experienced service team will help your vehicle problems be resolved in a timely fashion. We hope you visit us now!