What Your Jeep Can Do With A Moose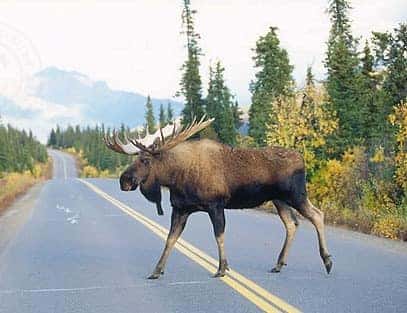 Jeep dealerships around the United States have been selling the new Jeep Cherokees as fast as they appear on showroom floors. The fully capable SUV is an all new re-designed version of the popular vehicle, and has been turning heads since it first appeared on highways across the country. Jeep vehicles undergo a very unique screening prior to being released to the public. Because Jeep vehicles are expected to perform on AND off road equally as well, product testers put the Jeep through a gauntlet of tests before it went on sale. One independent magazine, Teknikens Varld in Sweden put the Grand Cherokee to a special "Moose Test" back in 2012, in which it famously failed.
Moose tend to pose the highest risk to drivers and vehicle passengers when hit by a car. The large animal is both tall in stature, as well as heavy in weight. The original test that the Grand Cherokee was given back in 2012, was basically set up so that the car would have to avoid hitting a moose in the middle of the road. The Cherokee failed. The good news? Jeep engineers took the footage and information gained from that encounter and improved the traction control system on the new Jeep Cherokee. The results? The new Jeep Cherokee aced the "Moose Test," and regained the great reputation of being able to handle anything, back in pristine condition.
While the Moose Test was in no way a sanctioned test by Jeep, the fact that the newest member of the Jeep family has been able to ace the test, is nothing but good for the company. So, next time you find yourself navigating through the winding mountains of Montana, or the rolling hillsides of Sweden, rest easy knowing that the Jeep Cherokee you are driving is well-equipped to dodge any Moose it may come in contact with.