Which 2019 Jeep Wrangler Should You Drive?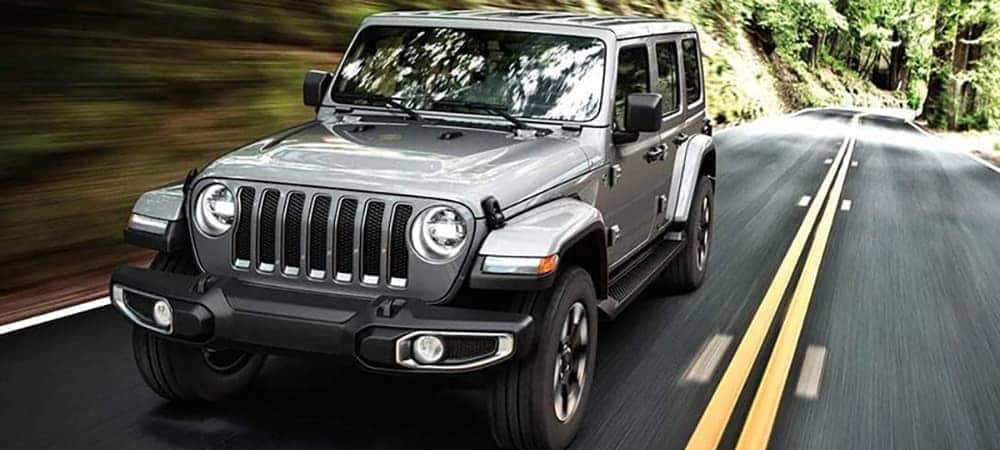 Photo credit: Jeep
Not sure which Jeep Wrangler to take home? Before any test-drive, we have some facts customers should consider before coming in. Many are not aware there are two-door and four-door Wrangler models. The latest Jeep Wrangler is the 2019 Wrangler JL, upgraded with more comfort to drive and even better to handle off-road excursions. First, let's get into all the goodies available with owning a new 2019 Jeep Wrangler.
What To Expect In A Wrangler
Driving a Jeep Wrangler is more fun than the average everyday vehicle. No many vehicles supply the fun and adapt to the rigors of the road as a Wrangler can. Concerning the new 2019 Jeep Wrangler, let's start off with the basics. There are just three trims for the 2019 Wrangler, including the Sport, Sahara, and Rubicon. Every 2019 Jeep Wrangler provides a USB audio input, eight speakers, an auxiliary port as well as 12-volt power outlets. All Wrangler options provide 23 city and 25 highway mpg and carry hard or soft-top options that are easy to take off.
The 2019 Jeep Wrangler begins at $28,045 MSRP (plus destination fee) and provides the entry-level 3.6-Liter Pentastar V6 engine for drivers to enjoy all it's 285 horsepower and 260 lb-ft of torque. This is a trusted engine that supplies more than ample power for any driver to appreciate and enjoy.
Higher Trim Powertrain Options
Other powertrain choices for the 2019 Jeep Wrangler include the all-new 2.0-Liter turbocharged four-cylinder, delivering 270 horsepower and 295 lb-ft of torque. Unlike the V6, this four-cylinder comes with a start-stop system, electric power assist, and an extended fuel shut-off. Gain excellent gas mileage with the turbocharged engine or wait for the forthcoming 3.0-Liter V6 CRD Diesel with the fuel-saving start-stop engine system. This engine will be an option for the 4-door Unlimited Sport, Sahara, and Rubicon models.
For those looking for more strength to handle off-road traveling, there's plenty of might in the larger engines. For those that are serious about using their Wrangler to conquer the adventures awaiting on off-road excursions, we recommend the premium Rubicon trim.
Rubicon: The Premium Trim
The 2019 Jeep Wrangler Rubicon begins at $39,450 MSRP (plus destination fee). The highest trim provides a standard 7-inch touchscreen with an available 8.4-inch touchscreen with a navigation system. What helps set the Wrangler ahead of the competition is versatility and ability to go off-road. Adaptive cruise control and forward collision warning are new to the 2019 Wrangler. Driving a Wrangler has never been better with exceptional steering and handling with world-class suspension. The Rubicon provides more underside protection for offroad travels and a front anti-roll bar to help gain more articulation from the front axle.
The interior has been upgraded and the electrics in the infotainment system are water-resistant. Owners will enjoy the benefits of climate control functions as well as graphics that show the status of the difference locks and engine instruments. Android Auto and Apple Car Play make life easier for drivers to stay connected to their smartphone without having to use it. The 2019 Jeep Wrangler Rubicon provides standard 32-inch wheels with a longer wheelbase to make traveling much enjoyable on trips. To test drive the 2019 Jeep Wrangler, we know exactly where to find them.
Secure the Newest Jeep Wrangler With Us
At Kendall Dodge Chrysler Jeep Ram, we want to take care of our customers. Let us help you decide which Wrangler works best for your situation. From sales to servicing, we're here to help! If you're wondering if you should go off-roading, we can help make sure your Jeep is ready to handle the journey. If you're wondering if you should buy or lease? We have a fantastic Jeep collection of both new Jeep vehicles and pre-owned Jeep vehicles that are in excellent condition.
Dealing with any issues or any maintenance issues with your current ride? Get back on the road quickly with our experienced service staff with a simple online service appointment. Our friendly service team will help your vehicle problems be resolved in a timely fashion. We hope you visit us today!