Which Ram 1500 Option Is Right For You?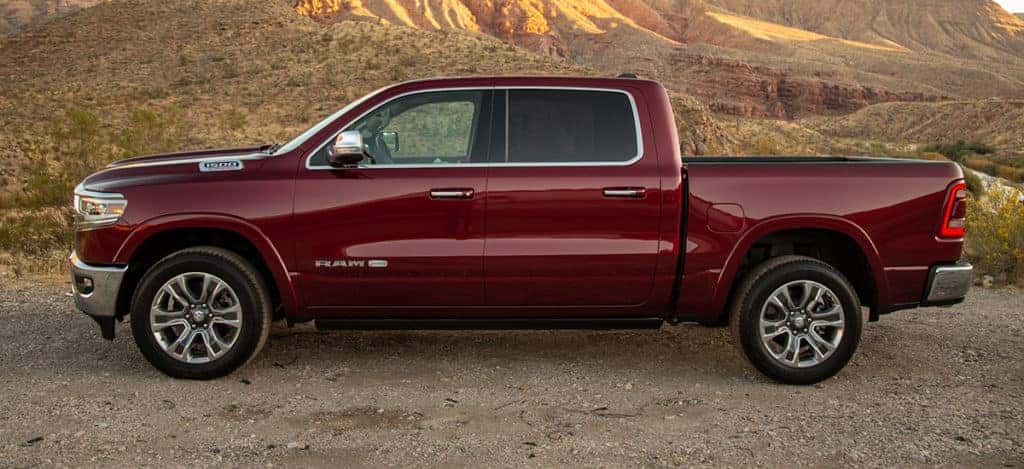 Photo credit: Ram
What will 2020 bring for the Ram brand? The parent company of Ram, Fiat Chrysler Automobiles (FCA) is more than pleased with its Ram sales after setting record sales for back-to-back years. The Ram pickup lineup has never been stronger boasting 633,694 total trucks sold, an 18% increase from 2018. The future for this decade is to increase fuel economy for drivers and to continue pushing the envelope in regards to luxury afforded to owners. Any buyer that is considering adding a new or pre-owned pickup truck, start that journey looking at a Ram. We've already seen a drop off for both Chevrolet, finishing behind Ram and a drop off of 1.4% for Ford in comparison to last year's total sales. We're more than happy to show off how Ram has made this happen with a test-drive today. For those who want to know more, let's get into the important factors we know our customers have raved about.
Breaking Down the Ram 1500 Line-Up
Starting in 2019, the latest generation Ram pickups hit dealerships. The previous-generation Ram 1500 became the Ram Classic and today, buyers can opt for the new 2020 Ram 1500, the 2019 Ram 1500, and the updated 2019 Ram 1500 Classic. Each vehicle carries highlights that have helped sales continue to grow. Across the many trims and bed options, customers can pick the right options that work best for both budget and practicality. 
The 2019 Ram Classic
The Ram 1500 Classic is available across four trims; the Tradesman, Express, Bighorn, and Warlock. Drivers will appreciate the available 5.7-Liter HEMI V8 engine that provides 395 horsepower, 410 lb-ft of torque and pulls up to 10,710 pounds. This powertrain yields best-in-class available V8 4×4 combined fuel economy. Owners can opt for the 3.6-Liter Pentastar V6 engine that generates 305 horsepower and 269 lb-ft of torque or hold out for the forthcoming 3.0-Liter Ecodiesel V6 engine. The EcoDiesel is going to generate an exceptional 420 lb-ft of torque as well as give owners best-in-class gas mileage as well. Drivers can expect substantial driveability as well as fuel economy since the 2019 Ram 1500 Classic gets up to 17 city mpg and 25 highway mpg. Not convinced? Maybe the newest, eighth-generation Ram 1500 is more accommodating. The 2020 Ram 1500 is a pleasure for owners to drive.
2020 Ram 1500 Is Award-Winning For A Reason
The Ram 1500 is widely regarded as a phenomenal option for buyers looking to handle work and play. The 2020 Ram 1500 has taken that approach to a new level of comfort and productivity. Most recently named MotorTrend's 2020 Truck of the Year, we love the space this vehicle provides for drivers and passengers alike, the up-to-date interior and high-class materials. Not to mention, the power the Ram 1500 provides is unmatched. How do 12,750 pounds of maximum towing capacity sound? A driving range of over 1,000 miles? Yep, the newest Ram 1500 has that going for it also.
For the family, this is a spacious choice that has trim levels up that incorporate available luxurious elements including a massive 12-inch touchscreen, Nappa leather seating, the RamBox Cargo Management system and more wonderful features that set the Ram ahead of rival brands. The perks of deciding between the new 2020 Ram 1500 or the Ram Classic comes down to preference. Better gas mileage, improved drivability, and better resale value are the main reasons, among others. Talk with our friendly staff to make the right choice.
Drive Ram With Us Today
We have the all-new 2020 Ram 1500, new 2019 Ram 1500 pickups as well as the 2019 Ram 1500 Classic. If you're looking to get started in owning one, we can help out today. If you're searching for select pricing options to drive home the vehicle you want, our friendly financing team can make all dreams a reality. Do you want to sell or trade-in your current vehicle? Ask us for our assistance to make that possible. 
Never-ending car problems? We have the perfect solution to solve those issues, allow us to provide you with quality service with a simple online service appointment. Let us know what work you need to have done and we'll look out for you.