Why Not a Widebody R/T Scat Pack?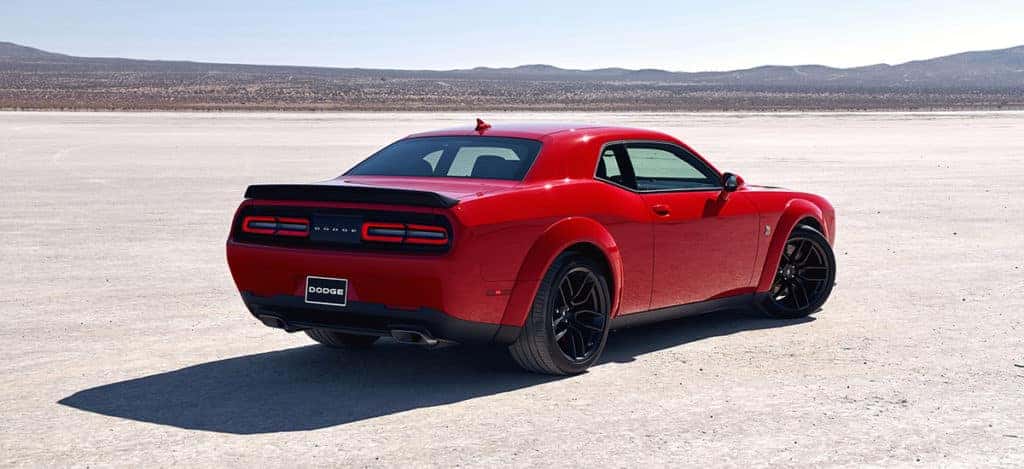 2019 Dodge Challenger R/T Scat Pack Widebody Photo credit: Dodge
Dodge is known for bringing out the best in their muscle cars. The upgrades were quite obvious with the latest 2019 Dodge Challenger, in particular, the R/T Scat Pack 392 Widebody. For those who are looking to drive a remarkable muscle car, this is the vehicle that provides a solid bang for their buck. Owners will receive a vehicle that has improved upon brakes, suspension, wheels and tires from the previous model year. This particular Challenger trim, the R/T Scat Pack 392 Widebody, is not only comfortable with the upgraded interior, but enjoyable to drive. Owners gain a vehicle that drives in a superior fashion while the handling is even better thanks to the grippy, large tires over the non-widebody options. The best part of this vehicle? This is not the top-tier trim, but it maxes out a strong return on the investment.
An In-depth Look At The Scat Pack 392
The 2019 Dodge Challenger provides many options, from the base trim to the full-throttle experience of the Dodge Challenger SRT Hellcat Redeye. While the strongest engine is not in the R/T Scat Pack 392, there's no denying a 6.4-Liter V8 engine is a fantastic choice that is out right a monstrous powertrain! Not many engines will give drivers a heart racing 485 horsepower with 475 lb-ft of torque engine. The strength of this Challenger is truly nothing to scoff at.
The best part about the Widebody version is gaining that extra 3.5-inches of overall width. With the special 05/35ZR20 Pirelli tires that go on 11-inch-wide wheels, drivers gain solid traction both in a straight line and when taking corners. Improved stopping power is provided with the six-piston Brembo brakes up front. This trim offers a more complete Challenger experience for enjoying any road with ease.
Not just fast and capable of high-performance driving, the available 8.4-inch Uconnect system is a modern infotainment system that makes accessing a smartphone easier and provides that critical aspect of allowing drivers more time to focus on the road rather than their phone. Dodge Challengers are iconic for their driving ability and quick acceleration, but this current Challenger might be remembered for the wonderful interior and fast response time for the infotainment system. Class-leading passenger and cargo space are great for guests or storing equipment, and the Challenger has seating for five and presents a great option for the driver and passengers alike.
More Reasons To Go With A Dodge?
Not many vehicles on the road carry the style and immediate presence like a 2019 Dodge Challenger. The dual-snorkel hood inspired by the 1970s Dart Stinger and 2018 Dodge Challenger SRT Demon look fantastic. The history of the Dodge Challenger will make others notice, honk or wave at the sight of one and this is due to the enduring legacy Dodge has earned with its pedigree of successful muscle cars like their iconic Challenger. The starting price of the 2019 Dodge Challenger R/T Scat Pack Widebody, the first of its kind, is $44,995 MSRP (plus destination fee). Now, the question becomes, where does someone go to buy one?
Drive A Dodge Challenger With Us
Not every muscle car is alike and we want to show you our entire lineup of new Dodge Challengers, like the 2018 Dodge ChallengeR R/T Scat Pack. Experience the difference in how we treat all our customers at Kendall Dodge Chrysler Jeep Ram. We will help our customers with any buying, selling or leasing needs and trade-in offers.
Come to us to have any questions answered as we'll provide you with a test-drive on both our new vehicles or pre-owned vehicles. Having car issues with your current vehicle lately? We can make sure you're back on the road quickly with our experienced servicing staff. With a simple appointment, our friendly service team will help your vehicle problems be resolved in a timely fashion. We can't wait to see you!