Why the 2019 Jeep Wrangler Has Won So Many Awards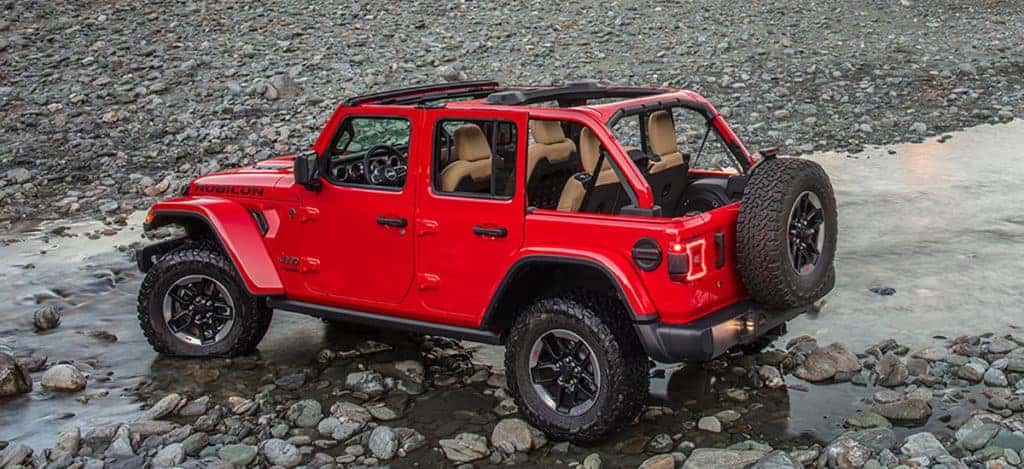 Photo credit: Jeep
Jeep has been busy in 2019 collecting more awards and accolades for their vehicles. The year began with a win for the Motor Trend "2019 SUV of the Year" award for the 2019 Wrangler, quite an honor. The awards that have followed honoring the Jeep brand are quite impressive. FOUR WHEELER gave the latest Wrangler the "2019 SUV of the Year" The prestigious Kelley Blue Book has named the 2019 Jeep Wrangler the Most Awarded Car of 2019. If that's not a perfect description of what Jeep has earned, their customers can speak to their love of their vehicles. 
Out of over 350 automotive models that were available to earn the award, the 2019 Jeep Wrangler stood out the most to Kelley Blue Book (KBB). KBB had their line-up of experts go through all the vehicles and brands that were most recognized this year and select their choice based on the facts. The 2019 Wrangler has fantastic handling, driver visibility, 4WD system selection and performance, high-end suspension. These are some of the reasons for the most recent award. 
High Praise From Kelley Blue Book
Kelley Blue Book hosts an annual award program that includes many categories. Among the most well-known are their Best Buy Awards, Best Resale Value Awards and Brand Image Awards. KBB has made lists of various vehicles that are apart of their 10 Coolest Cars Under $20,000 and Best Family Cars. From all of their research and hard-work are the results that showcase just how beloved the iconic Jeep Wrangler is. The 2019 Jeep Wrangler is one to behold as it built on the all-new 2018 Jeep Wrangler, the latest-generation Wrangler. With a new eTorque 2.0-Liter mild-hybrid engine and better gas mileage, owners can't help but love the fact FCA and Jeep raised the bar on the beloved mid-size SUV. 
More Awards For the 2019 Jeep Wrangler
The 2019 Jeep Wrangler has become a hit in terms of sales as well as accolades. The 2019 Jeep Wrangler was on KBB.com's list of 10 Best SUVs Under $30,000 and won the Best Resale Value award as well as their 5-Year Cost-to-Own award. Keep in mind, the latest Wrangler has made sure each trim is Trail Rated, meaning they can handle off-road travel and allow drivers to feel confident about doing so. The traction and ground clearance that the Wrangler provides is above the competition. For those looking to really experience the best that the Wrangler offers, we can't say enough good things about the Rubicon trim. Each 2019 Jeep Wrangler Rubicon offers the most up-to-date infotainment system including a 7.0-touchscreen, front and rear Dana 44 axles, 33-inch BF Goodrich K02 All-Terrain off-road tires, it's signature red towing hooks and an electronic sway bar disconnect. 
"Delivering an unmatched combination of leading 4×4 capability, increased fuel efficiency courtesy of several powertrain options, including our new 2.0-liter mild hybrid with eTorque technology, more ride comfort, more interior comfort and advancements in safety and technology, the newest generation of our Jeep Wrangler is a one-of-a-kind SUV that consumers everywhere want to own," said Jim Morrison, Head of Jeep Brand – North America.
To test-drive the latest Jeep Wrangler, the award-winning 2019 model, come to Kendall Dodge Chrysler Jeep Ram. We are here to help our customers be able to drive-off with the newest Jeep vehicles.
Take Home A Jeep at Kendall Dodge Jeep Chrysler Ram
We have the latest 2019 Jeep Wrangler, the newest Wrangler available and want you to test-drive with us at Kendall Dodge Chrysler Jeep Ram. We are happy to assist our customers to find a vehicle that provides everything they're looking for. Our sales team provides help with buying, leasing, trade-ins and selling a vehicle. 
Seeking a trusted repair shop to handle your vehicle needs? We are here and can begin assisting with an online service appointment and visit to our service center. We look forward to seeing you soon at Kendall Dodge Chrysler Jeep Ram.