Your Favorite County Fair is Back!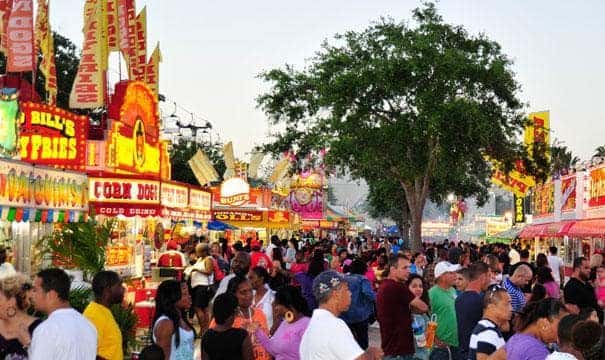 That's right, Miami's 63rd annual county fair is back at Tamiami Park, and it is packed with new rides, new food and new exhibits everyday until March 30. It started up on the 13, and so far it has been going great. As a Miami Dodge dealer, this is one of the things we look most forward to in March. Let's get a closer look at the fair!
This year, fair-goers can sample from over 170 concession stands, go see close to 50,000 different students, with a whopping number of rides to choose from (nearly 100). "Most guests don't realize that we in Miami-Dade County have the largest fair in the state of Florida," said Bob Hohenstein, president of Miami-Dade County Fair and Exposition Inc. "The Miami-Dade County Fair is the 31st largest fair in North America. It's the biggest fair in 33 states." In other words, it is a big fair!
Given that it is a larger fair, that also means that it can afford to be a more generous one, as Hohenstein notes that each year the nonprofit that organizes the event is able to give more back to the community. "A few years ago we weren't giving near $100,000 in scholarships. We have tried very diligently every year to increase the number of scholarships, to increase the number of cash premiums, to support the infrastructure here at Tamiami Park." Last year, the Fair gave out about $300,000 in academic prizes. This year, Hohenstein anticipates giving about $350,000. Since they started selling beer in 2010, the numbers have greatly increased. Fellow craft beer geeks, this year they have a craft beer location!
We had mentioned some new rides, so here is a run-through of a few:
Backdraft – Fire-themed, seven-car roller coaster for the brave teens & adults.
Crazy Dance – A rotating platform on a 7.5-degree incline with spinning cars inside for riders. Don't eat right before this one.
7D Cinema – a "seven-dimensional" simulator that takes fair-goers to both prehistoric times and awe-inspiring enchanted worlds.
General admission is only $12, with free entry for children 5 or under and adults 65 and over. Military discounts are available, as well as a $4 discount for bringing two cans of food, as the fair has teamed up with the Miami Rescue Mission. 3 p.m. weekdays and noon on weekends, and noon daily from March 21-30.