1,200 Horsepower Challenger SRT Hellcat Redeye Could Be A Reality For Some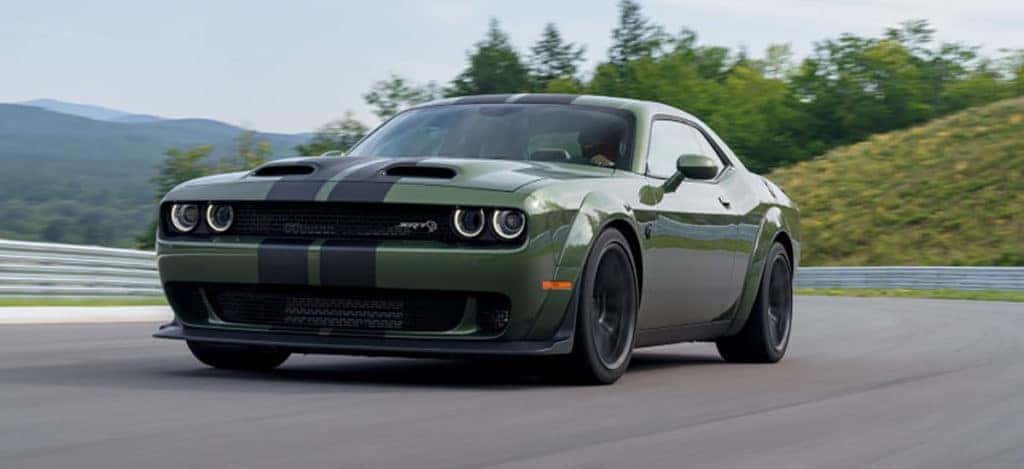 Photo Credit: 2019 Dodge Challenger SRT Hellcat Redeye Widebody – Dodge
Having trouble getting to places on time? The production 2019 Dodge Challenger SRT Hellcat Redeye provides a stunning 0-60 time of 3.4 seconds and hits a 10.8-second quarter-mile time. With speeds like that, drivers might get to work earlier than ever, or at least enjoy every last second of the rush hour drive along the way. The SRT Hellcat Redeye owns an unreal 797 horsepower and 707 lb-ft of torque, cementing its place as the strongest muscle car available from Dodge. So with this high-performance offered straight from the dealership, what would make a car buyer desire anything else? The Hennessey Performance Engineering company has reasons.
Going From Fast to Fastest
Most drivers on the road today has never experienced the power offered in the extraordinary 6.2-Liter supercharged V8 engine that comes standard with the Hellcat Redeye. But, as expected, some people can't be satisfied with a good thing. The fastest Dodge SRT (street racing technology) vehicle available on the market has been upped thanks to Hennessey Performance Engineering. (They've found a way to make the SRT Hellcat Redeye even more intense than it already is.)

1,200 Horsepower: Unmatched Performance

The 1,200 horsepower Hellcat Redeye is not a stretch of the imagination thanks to Hennessey, which has worked on revamping vehicles since 1991. They're a true American tuning house keen on pushing the limits on even the most ridiculous vehicles ever assembled. Their HPE1200 package increases an additional 503 horsepower on the newest 2019 Dodge Challenger SRT Hellcat Redeye. Last year, their HPE1200 package was added to the 2018 Dodge Challenger SRT Demon. The SRT Demon already had 840 horsepower, but not even that matched their distinctive modifications incorporated in their special HPE1200 package. After the modifications, the SRT Demon hit 1,200 horsepower. Thanks to the forthcoming HPE1200 package that commands 1200 horsepower, this year's SRT Hellcat Redeye will be even with last year's SRT Demon as the fastest Challenger ever constructed. Fans of muscle cars can rejoice, there is a new king in town; Long live the king!

The King of Muscle Cars

The 2019 Dodge Challenger SRT Hellcat Redeye, with an upgrade from the Hennessey HPE1000 Hellcat Redeye package, is the new champion for the road and drag strip. With an included 4.5-Liter engine with a Supercharged pulley upgrade, new throttle body upgrade, high-flow catalytic converters and a high-flow air induction system to help promote the 1,000 horsepower. This new package will allow the Redeye to gain even more power with greater results. The HPE1200 will expand the muscle car to 1,013 horsepower and 954 lb-ft of torque at the rear wheels, which by comparison the HPE1000 package "only" hit 880 horsepower and 806 lb-ft of torque at the wheels. Combined with the front wheels, they are set to an even 1,200 horsepower. Incredible and unmatched among the spectrum of muscle cars of today.

A Hellcat Unlike Any Other

With the lone year of the SRT Demon officially over, there is no other vehicle as fast or as unbelievable as the 2019 Dodge Challenger SRT Hellcat Redeye. This is especially true when outfitted with the upcoming HPE1200 package. The supercharger will run at 14.5 psi of boost, higher than the previous 11.6 psi. That's all thanks to the reinforced connecting rods and pistons that can handle the added pressure. The price for the SRT Hellcat Redeye starts at $69,950 MSRP (plus destination fee and gas tax). The HPE1000 and HPE1200 packages run extra and include a 1 Year / 12,000-mile limited warranty from Hennessey. This future package was reported by CarBuzz and it's not presumed to live as a rumor for long. For those itching to get their hands on the latest SRT vehicles, please pay a visit to Kendall Dodge Chrysler Jeep Ram today.
Can You Handle The 2019 Dodge Challenger?
Not every muscle car is the same and we can show you our entire lineup of new Dodge Challengers, like the 2019 Dodge Challenger. We welcome you to learn the difference in how we treat all our customers at Kendall Dodge Chrysler Jeep Ram. Our special collection of Dodge vehicles is second-to-none. Come for help with any buying, selling or leasing needs and trade-in offers and we'll do our best to make sure you drive home happy.
Come in for a test-drive on any of new vehicles or pre-owned vehicles. Experiencing car issues with your current vehicle? Let us make sure you're back on the road quickly with our experienced service staff. With a simple service appointment, our friendly service team will help your vehicle problems be resolved in a timely fashion. We look forward to helping you today!