2015 Chrysler Town and Country vs. 2015 Toyota Sienna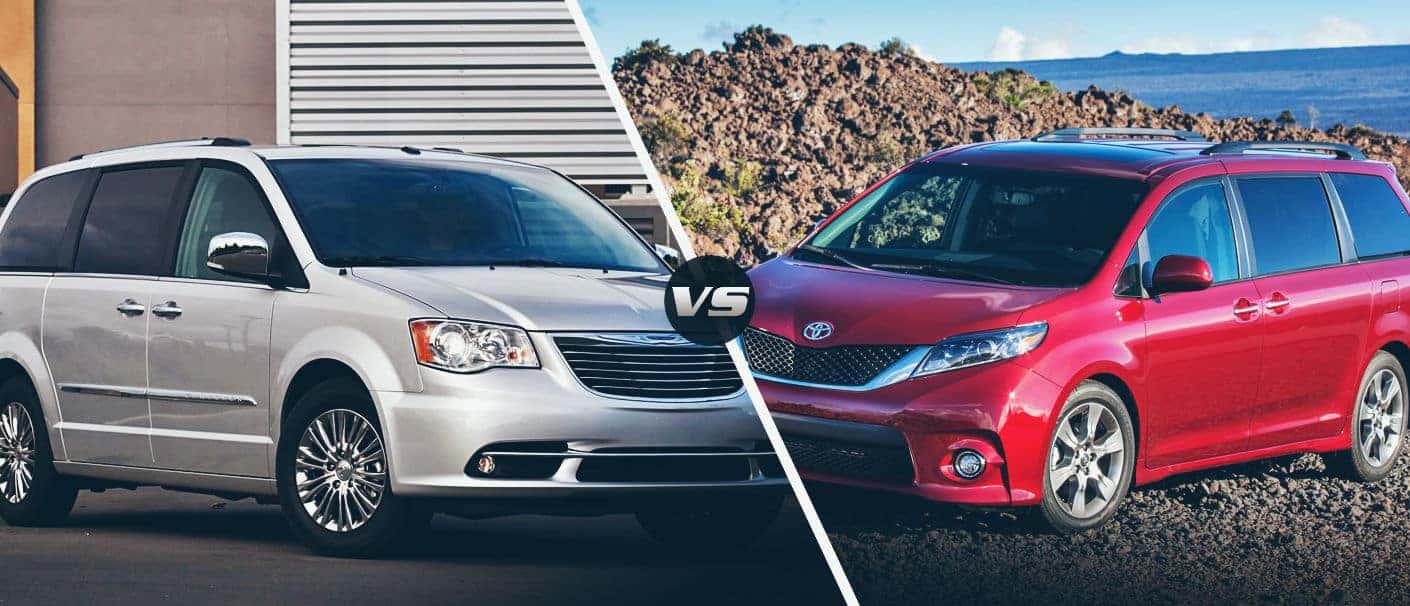 The minivan remains the quintessential family vehicle. It provides plenty of room for multiple children and their friends, plus all the gear that comes along with them. At the same time, the minivan provides better fuel efficiency than other full-size vehicles like an SUV, as well as better safety ratings.
The minivan hasn't always had the best reputation thanks to its dowdy appearance. It's not the "cool" car that parents want to drive. However, that has changed in recent years as the minivan has undergone a design revolution.
Today's minivans are stylish and sophisticated, and they have so many technology features that they seem almost like mini-tour busses.
The 2015 Chrysler Town and Country is a leading minivan in its class. It has some of the most cutting-edge features and some of the highest safety marks. It also provides exceptional performance and fuel efficiency.
The 2015 Toyota Sienna is one of the Town and Country's prime competitors. While it is a worthy competitor, the Town and Country wins out for overall value.
Here's how the 2015 Chrysler Town and Country compares to the 2015 Toyota Sienna:
Engine and Performance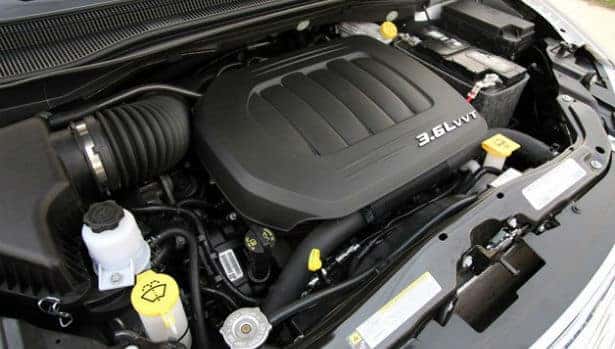 The Town and Country may look like a mild-mannered minivan, but it packs quite a punch under the hood. It comes with a 3.6-liter V6 engine that puts out 283 horsepower and 260 pounds per feet of torque. The engine is paired with a six-speed automatic transmission with easy shifting.
It also has load-leveling suspension for a smoother ride.
The Town and Country also saves gas mileage by being able to maintain the torque-converter lockup for longer periods. The minivan gets 17 mpg in the city and 25 mpg on the highway. The 2015 Toyota Sienna has similar stats, but its performance falls slightly behind that of the Town and Country.
The Sienna has a 3.5-liter V6 engine with 266 horsepower. The engine is also paired with a six-speed automatic transmission.
One area where the Sienna edges out the Town and Country in performance is the optional all-wheel drive. It is actually the only minivan that offers all-wheel drive, which makes it somewhat special. However, in practical terms, you are unlikely to need to navigate rough terrain in a minivan.
Exterior and Interior Design
The 2015 Town and Country has a boxy and proud look that is reminiscent of classic minivan styling and provides a bit more interior space. It isn't flashy on the outside, but it is full of wonderful surprises inside and out.
The roof has crossbars to stow additional luggage, and the side doors and lift gate are powered for easy opening. Chrome accents provide a nice touch on the exterior.
The Town and Country really shines on the interior, where it has features like leather upholstery, rear climate controls and stow-and-go seating. The second row of seats folds flat and is stored in the floor, creating much more cargo room. Optional design accessories include a sunroof and power-folding third seat.
The 2015 Toyota Sienna has a sleeker design with a more aerodynamic front and back end. The rounded rear end cuts off the cargo space a smidge, which can defeats part of the purpose of owning a minivan.
The interior of the Toyota Sienna looks nice enough, but its primary selling feature is its ability to seat eight with bench seating in the second and third row. The additional space can come at the cost of comfort though.
Without that open space in the second row, passengers will have a difficult time squeezing around the second row to get to the back seats. When you have a full house, passengers can start to feel a bit cramped.
Convenience and Safety Features
Both minivans are loaded with technology and safety features that will enhance the ride. The 2015 Town and Country has interior features like a tilt and telescoping steering wheel, three-zone climate control, Bluetooth capability for hands-free calling, satellite radio, and a Uconnect system with a 6.5-inch touch screen.
The system includes voice commands, a navigation system, and a rearview camera.
Higher trim levels offer even more features, such as heated seats, heated steering wheel, driver seat memory settings, auto-dimming mirror, and a premium audio system with nine speakers. Optional features include a DVD system for the rear seats, WiFi capability, and a trailer towing package to increase hauling capacity.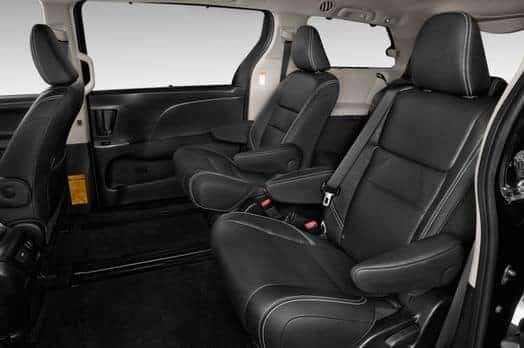 Safety features on the Town and Country include anti-lock brakes for all four wheels, traction and stability control, and additional airbags, such as front side-mounted airbags and head airbags for the third row.
The 2015 Toyota Sienna boasts plenty of excellent convenience and safety features, as well. It stands out from the Town and Country primarily in its slightly larger touch screen (7 inches) and in offering the DVD entertainment system as a standard option.
Most of the 2015 design focuses on minor tweaks over the previous models. For example, the 2015 model adds an additional LATCH location (four instead of three) and adds another air bag (for a total of eight).
Pricing
The 2015 Chrysler Town and Country is priced slightly higher than the 2015 Toyota Sienna, but the difference is worth it when you consider all the features that the minivan offers. The 2015 Chrysler Town and Country has an MSRP of $32,460 for the base model, which is a bit north of the $29,585 MSRP for the 2015 Toyota Sienna.
Affordable leasing options are available for both models. Leasing offers are around $538 per month for the Town and Country and around $367 per month for the Sienna.
Of course, how much you actually end up paying to buy or lease either model will depend in large part on where you live, when you buy and what your credit is like. You can snag a great deal if you shop for a previously owned model and you're good at negotiating.
But even if you buy at the full MSRP, you'll still be getting a great value for everything these minivans offer.